Financial planning
Deakin's financial planning courses are professionally oriented and aimed at those aspiring to a career in financial planning, as well as those currently employed in the industry.
Our financial planning program is specifically designed to meet the education needs of the financial planning industry.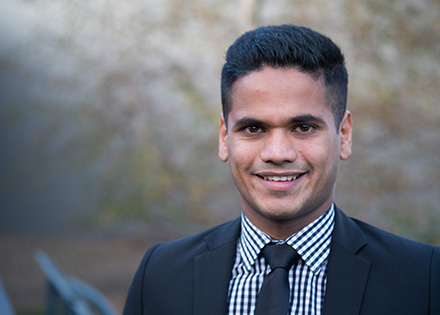 Shehan Rauff
Client Services Officer
Financial Planning by Design
Master of Financial Planning 2014
---
Undergraduate
Financial planners have the necessary financial skills and knowledge to assist individuals and businesses in achieving their financial objectives. Financial planners are innovative and lateral in their thinking, they are up to date with the latest changes and are committed to providing sound, independent and ethical advice.
Financial planners specialise in key financial areas such as retirement, taxation, investment and estate planning. This major examines both the theoretical framework of financial planning, plus the practical application of the theories and strategies.
Career opportunities
As a financial planning graduate, you may find employment in financial planning firms, accounting firms and corporate financial institutions.
Postgraduate
Deakin's Master of Financial Planning is aimed at those aspiring to join the financial planning industry, as well as those currently employed in the industry.
The course provides financial planning skills with students required to collect, analyse and synthesize financial planning information to prepare financial planning solutions, and effectively communicate these solutions to the client. There is an emphasis on professional responsibilities of the financial planner both in an ethical and in a compliance sense.
A graduate certificate and graduate diploma offer pathways into the Master of Financial Planning.
---
Commerce at Deakin
Deakin's Bachelor of Commerce is a popular choice, with its solid foundation in business studies and flexibility to choose from more than 20 major sequences. As a Bachelor of Commerce student, you will study a common first year of units, then choose your major sequences as you progress through your degree. This flexible structure enables you to tailor your degree for maximum employability. Valuable work integrated learning opportunities are available, giving you professional work experience in your area of specialisation and enhancing your career prospects.
Why study at Deakin?
Professional recognition
The Master of Financial Planning has been assessed as an approved Degree by the Financial Planning Education Council. Graduates are eligible for entry into the CERTIFIED FINANCIAL PLANNER® Certification Program which is offered by the Financial Planning Association of Australia.
Successful completion of the Master of Financial Planning also provides advanced standing for three of the five CFP® Certification subjects, namely CFP 2, CFP 3 and CFP 4.
Scholarship opportunities
Generous scholarships are available to students studying in their second or third year of the Bachelor of Commerce, majoring in Financial Planning.
The Platinum Asset Management Scholarships provide assistance during your study, and the opportunity to gain paid work experience in Sydney in association with the Neilson Foundation and Platinum Asset Management.

Platinum Asset Management is an Australian based fund manager which specialises in investing in international equities.
---
Leading Australia with international recognition
Deakin's Bachelor of Commerce is internationally recognised and EPAS accredited by the European Foundation for Management Development (EFMD). EPAS is an international quality benchmark for business programs worldwide. Deakin is the only Australian university with EPAS accreditation for its Bachelor of Commerce.
Study abroad
Gain a competitive edge with an international study experience, and earn credit towards your degree. The Faculty of Business and Law offers a number of unique study tours throughout the year to destinations such as India, China and Europe. Or consider one of the many study abroad opportunities offered by Deakin. Find out more.
Our courses are flexible
You can study when, where and how you like, and tailor your study around your work and lifestyle commitments. Deakin's trimester system offers three study periods each year, enabling you to commence your course at different times of the year. It also enables you to speed up or slow down your study while still completing your course within the normal time frames.
---
Gain experience while you study
Work experience can make all the difference when you graduate and are applying for jobs. You can gain work experience and credit towards your degree with Work Integrated Learning (WIL). The Faculty of Business and Law offers several flexible WIL programs suitable for most students in all disciplines and levels including those from other faculties and universities. These include business internships, community-based volunteering, work-based learning, team-based learning and industry-based learning. Read more.
---
More information
Page custodian: Faculty of Business & Law Last updated: