Deakin students awarded prestigious China scholarships
Three Deakin undergraduate students have recently been awarded full scholarships from the Chinese Government to study in China for a year.
International Studies student Brant Johnston, International Studies and Commerce student Madeleine Nemecek, and Arts and Law student William Tennant have been granted prestigious scholarships to study at a Chinese institution for one year, with tuition, board, and most other expenses covered by the Chinese Government.
The 'Chinese Government full Scholarship for Australians Studying in China' is the result of a bilateral partnership between the governments of Australia and China, and features an extremely competitive application process. The Deakin awardees were among candidates short-listed by the University for their outstanding academic success, and they all had to prepare personalized China study plans as part of the application process.
Only eleven scholarships were handed out this year through the Chinese Consulate General in Melbourne, which makes it particularly impressive that Deakin students successfully secured three of the awards.
'We are extremely proud of the achievements of the scholarship recipients,' says Deakin Director of Student Mobility Ben Stubbs. 'Deakin is committed to encouraging students to think globally in their outlook, and the awarding of these scholarships from the Chinese Government demonstrates just how committed our students are to successfully engaging with the larger world.'
Brant enrolled in Deakin's International Studies course because he felt that it had a broader selection of subjects that also displayed more depth and personality than other university programs. In addition to his studies, Brant serves as an Educational Adviser at the Unites States Consulate in Melbourne and works for a think tank attached to the Ministry of Defence. He believes that his year in China will be an important step in preparing him for his professional life.
'I am going [to Beijing] to study the language, but this is also an opportunity to learn about the culture and to make contacts that will help me later,' he says, adding that he is particularly excited about the possibility of exploring the dialects and cultures of rural China.
Scholarship recipient Madeleine Nemecek has been enamoured with Chinese culture since childhood, largely from hearing stories from Chinese friends. A school trip to China at age 14 and high school studies in the Chinese language prompted her to continue learning about the language and culture during her university career. Like Brant, she also recently participated in an intensive language class in Nanjing.
Madeleine will also be studying at Beijing Language and Culture University next year, even though it means deferring the final year of her International Studies and Commerce degrees. 'I didn't even think twice [about deferring],' she said about jumping on the chance to head to Beijing.
Madeleine hopes in the future to meld her interests in China and commerce to become engaged with international businesses that operate in the Asia-Pacific region, but for now her driving motivation for overseas studies is simply to be immersed in a culture that she has long admired and sought to understand.
'The program [in Beijing] is just the language,' she says, 'but I want to learn everything about the people there and the environment. I just want to communicate on a decent level with Chinese people and know their culture, their etiquette, their traditions.'
The Chinese Government Scholarship Programs offers scholarships annually, so students should look forward to the 2015-16 offerings in the coming year. Deakin University also offers its own array of Study Abroad and Volunteering options in countries around the world.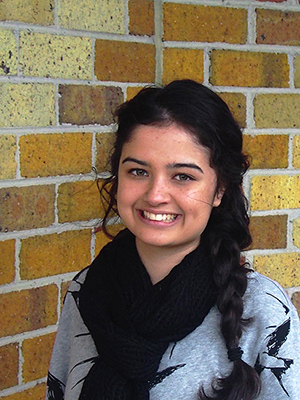 Page custodian: Deakin International Last updated: