Parent information
Deakin provides resources and holds events designed especially for parents, to help you understand the study decisions facing your child.
eNews Subscription
Subscribe to our eNews bulletin for parents.
Subscribe Now
Important dates
The table below outlines important dates for parents and students for the remainder of 2013.
Trimester dates
Learn more about important dates to do with your enrolment, including teaching periods, holidays, census dates, withdrawal dates, exam periods and deadlines for application to graduate.
---
Publications
We provide a range of publications designed especially for parents of students. Get key information about university life, student transition, support strategies, study support tips, news, key dates and more.
If you would like to receive a printed version of these documents please email enquire@deakin.edu.au.
We welcome comments and suggested improvements to our resources for parents. Please use the "Feedback" link at the bottom of this page to let us know what you think and how we can better prepare our resources to support you and your child.
Parents' Guide to Tertiary Study
PDF
1 MB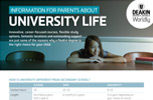 University Life (English version)
PDF
0.18 MB
2013 Calendar - Year 12 and your child
PDF
2.41 MB
University life
2013 Calendar - Year 12 and your child