Richard Colman OAM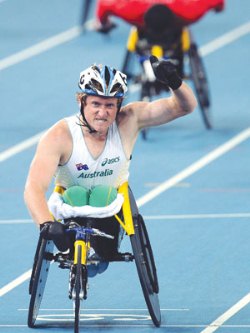 Richard Colman OAM – BCom 2010
Deakin Young Alumni of the Year Award for outstanding service and achievement in his profession
In recognition of his outstanding sporting achievements particularly in wheelchair athletics
Richard Colman is an OAM recipient and one of Australia's most successful male Paralympians.
Born in Norway, the Geelong-based athlete specialises in wheelchair track events and first represented Australia at the 2002 World Championships in France, where he competed in five events - an outstanding effort for his first international competition.
At the 2004 Athens Games, Mr Colman became an Australian sporting great by taking home the gold medal in the T53 800m as well as breaking the Paralympic record and taking over the number one world ranking. In Beijing he won a silver medal in the 200m and a bronze medal in the 400m and followed this up with silver at the 2010 Commonwealth Games in Delhi in the 1500m and then won gold at the 2011 IPC World Athletic Championships in the T53 800m and a silver in the T53 400m. He currently holds numerous Oceania and Australian records.
Mr Colman also works with Junior and developing athletes in the region as well as across Victoria and Australia developing the next generation of Paralympic Stars. Mr Colman also does work with international athletes seniors who visit Geelong to train with him during the Australian Summer.
Mr Colman recently represented Australia again in style at the 2012 London Paralympics where he won Gold in the T53 800m Wheelchair Sprint and Bronze medals in the 400m Wheelchair Sprint and the 4 X 400m Relay.
Mr Colman became the first person to Goal Umpire an AFL game in the Geelong Football League in 2007.
*Image of Richard supplied courtesy of Athletics Australia
Page custodian: Vice-President (Advancement) Last updated: