Overview
Complex global markets and reporting requirements mean that never before has accounting been a more dynamic and exciting profession. Accountants are finance and information specialists who inform business decision making within a wide range of organisations. Businesses and individuals rely on accountants to assess their financial situation, prepare reports and give advice on financial dealings.
It's a very fulfilling journey, assignment writing, despite the hard work – especially when all your reading and research gradually falls into place.
Akash Punjabi
MASTER OF INTERNATIONAL FINANCE/MASTER OF PROFESSIONAL ACCOUNTING
Graduate as an accredited accountant
We'll prepare you to become a professionally qualified accountant before you graduate. Get a head-start with our accredited Bachelor of Commerce – an internationally recognised and accredited business degree.
Accounting courses
Study with Deakin and we'll help you transform your passion into a successful and rewarding career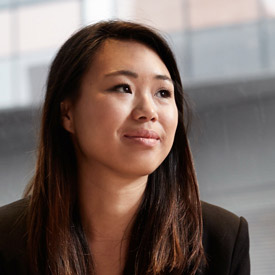 Research with us
Develop independent research skills that'll enable you to pursue your own theories and ideas at a high conceptual level. Research in accounting and you can cover topics from corporate social responsibility and ethics, through to financial planning and assessment.
Accreditation
CA Program of the Chartered Accountants Australia and New Zealand (CAANZ)
Associate Membership for the CPA Program CPA Australia
IPA Program of the Institute of Public Accountants (IPA)
Exemptions may apply for the Association of Chartered Certified Accountants (ACCA)
Financial Planning Association (FPA)
Australian Computer Society
Career opportunities
Yes, accountancy is about doing other peoples' tax. But now, the role of an accountant has undergone a shift towards wide-ranging advisory roles including working as the following:
adviser in mergers and acquisitions
financial planner
investment adviser
market analyst
treasury banker
tax consultant.
What do our students and staff say?
Deakin Commerce Alumni
The Deakin Commerce Alumni is an active chapter that offers meaningful ways for our business graduates to stay connected and involved with Deakin. Core activities include networking, social and professional development events.
Browse other disciplines within business
Choose an area that you're interested in and learn how Deakin's extensive range of study options and experiences can help turn your dreams into reality.
Still haven't found what you are looking for?