If you had to choose between spending summer kicking back with your friends or time in an office for an internship, what would you choose? For Matthew Corr, a Deakin Bachelor of Commerce graduate, the decision was a no-brainer. He chose an internship.
The opportunity of working with Findex, a leading provider of financial and accounting services, was too good to turn down. Matthew chose to complete the internship as part of his Bachelor of Commerce, allowing him to get a taste of the workforce while earning credit towards his degree. The summer spent building practical experience paid off and at the end of the internship, Matthew was offered an ongoing position in Findex's Financial Planning sector.
We spoke to Matthew and his manager, David Dovgan, about why Matthew was selected for an ongoing role.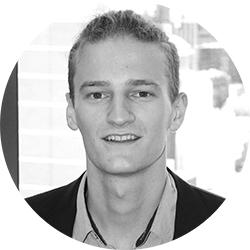 Matthew Corr
David Dovgan
Turning theory into practice
As he neared the end of his course, Matthew was keen to get serious about his career. 'I spent my last year of university on exchange in the Netherlands, studying and working as a barista at a restaurant in the middle of Amsterdam,' he says. 'It was lots of fun, when I got back I realised I needed to get some practical experience that was relevant to my study. That was the motivation for me to apply for the internship.'
The internship provided a steep learning curve for Matthew. 'Its's ridiculous how much you can learn in a couple of months,' he says. 'At university you have one assignment and you have ten weeks to get it completed and you can put an hour in on Monday and an hour in on Wednesday. It's a different work flow: you come to work and you are productive for eight hours of the day.'
Matthew's manager, David, sees this primary difference between university and the workplace as one of the reasons students should seek out some practical experience. 'When you do an internship you get exposure to real case scenarios,' he says. 'Most of the time when you're working on a real world project there will be problems; something missing or additional information needed. Not every scenario is the same and you need to apply critical thinking. Everything that they teach you at university has to be put into practice.'
Bringing a positive attitude
David says he was impressed with Matthew on a number of levels. 'There are a couple of things an intern needs to do in order to be considered for a position,' he explains. 'The first one relates to attitude – having a positive attitude and a willingness to learn. Matt's attitude was great. He was asking a lot of questions which is always good and he was the first one in the office in the morning so his work ethic was impressive.'
David also looks out for an intern's ability to take constructive feedback from the leader of a project. 'When I provided Matt with feedback he took it as an opportunity to improve and become a better worker,' he says. 'Asking for help and learning from mistakes is part of the job. If Matt made a mistake we could discuss it and he didn't make the same the mistake again. Some other interns may not have cared as much.'
Having a clear career goal
Matthew was very keen to make a good impression. 'I was very focused on networking: I tried to make an effort with everyone. As it was a summer internship there were lots of opportunities for drinks after work so it was a good chance to get close to my managers and colleagues.'
For Matthew it wasn't about putting on a show. 'I was just being myself and treating people the way I would treat anyone but I also made it known to management very early in the piece that I wanted to continue to work here. Wanting to be there is a big thing; you have to show that you are enjoying work, listening and learning.'
Luckily for Matt this is exactly what David was looking for. 'For me the biggest deciding factor for securing a graduate position is that interns demonstrate that is where they want to be,' David explains. 'I like to see that they are enthusiastic and that going forward, this is their career.'
Matthew made it clear that he wanted to do this work long term. 'We had five graduates and if I compare Matt to the others he was the only one who said he would like to stay in the Financial Planning industry,' David says. 'People who want to stay in the industry are willing to learn, they are asking questions and their attitude is different – you can see the difference straight away.'
Matthew says it was his time at Deakin and the practical experiences embedded in the course that prepared him to step up for the internship. 'The course absolutely gave me confidence,' he says. 'If you are not studying over the summer semester, there's really no excuse not to do an internship'
Interested in getting a degree that gives you a practical edge? Learn more about the Bachelor of Commerce.