About us
About us
It is our role to offer support to students to find somewhere to call home while they study at Deakin. The service maintains a housing database of local properties available for rent by students. Once signed into the site, students can search for long term, short term, casual and temporary accommodation options. Newly arrived international students can register for Rental Information Workshops.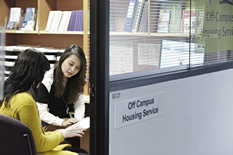 ---
Students can also get assistance with:
completing rental forms and applications
understanding your rights and responsibilities as a tenant
tenancy issues.
---
The service has online resources to assist you with understanding:
when to start looking for accommodation
costs associated with finding accommodation
things to consider at inspections
signing forms and paying money
starting a tenancy.
---
Page custodian: Division of Student Life Last updated: