Study options
The goal of the medical school is to contribute to the improvement of the health and wellbeing of Australians by creating a cohort of new doctors who are skilled and motivated to pursue a career in medicine in rural and regional areas either as specialists or general practitioners.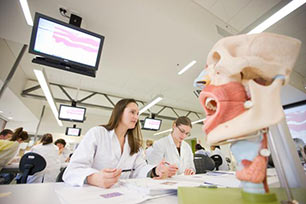 Location and Facilities
The Deakin Medical School is located in an extensively renovated building which has been purpose designed to deliver the medical course.
---
Honours courses
The Bachelor of Health and Medical Science (Honours) is specifically designed to provide students from diverse undergraduate backgrounds with an opportunity to undertake research in a wide range of health and medical science disciplines, including basic biological sciences, population health, clinical practice, medical ethics and medical education.
Research degrees
Find a comprehensive list of supervisors and their research interests
Page custodian: Faculty of Health Last updated: