Environment
Whether you'd like to conserve animals and plants for future generations, study diverse marine and freshwater ecosystems or contribute to environmental management and sustainability, Deakin's environment courses offer you a range of exciting choices.
What can I study?
Environmental management and sustainability is a multidisciplinary field which focuses on finding solutions to the world's most pressing environmental problems. Focus on real-world problem solving and the development of applied solutions to environmental issues at local, national and international levels.
Focus on real-world problem solving and applied solutions to wildlife and conservation issues. Gain theoretical and practical experience in wildlife ecology and research, landscape and vegetation management, and biodiversity conservation and management.
Marine biologists study how marine organisms interact with their living and non-living environments and how marine ecosystems function. Study temperate marine biology in a marine environment with some of the highest biological diversity in Australia.
The first course of its kind to be offered at Deakin University, the Master of Science (Research) is distinctive. Comprising a unique combination of coursework and research, it provides the ideal pathway between undergraduate study and a doctoral degree. Students have the flexibility to choose from a range of specialisations according to their research interests and career aspirations.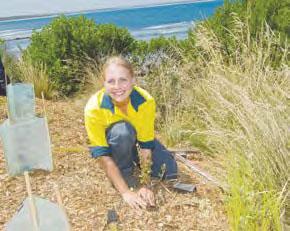 Anna Cuttriss
Bachelor of Environmental Science (Wildlife and Conservation Biology)
Read Anna's story
Globalisation, population growth, economic structural adjustments, and climate change are having an impact on regional and rural economies, environments and communities around the world. This is cause for major concern, but through targeted analysis and proper planning these changes can be harnessed to create new economic, social and environmental opportunities for regional/rural areas and communities.
Related study areas
If you're interested in environment courses, you may also wish to consider our science related study areas including:
Zoology and animal science
Biological science
Science
Biomedical science
Forensic science
---
Why study environment at Deakin?
Hands-on learning
Deakin's environment courses have a strong focus on fieldwork. They take you out of the classroom and into the field to give you the opportunity to gain the practical skills that only experience can provide. Depending on your course, field activities can include learning how to handle native animals, coastal planning, surveying wildlife populations, conducting sustainability assessments, and studying seals and penguins.
First-class facilities
Deakin's environment programs are supported by a range of facilities including a Geographic Information Systems (GIS) lab, wildlife tracking technology, aquaculture facilities, infrared motion sensing wildlife cameras, and high-tech research labs. In marine biology, experience the environment firsthand through state-of-the art equipment, including research vessels and remotely-operated underwater vehicles which beam images from the sea floor.
See our students in action and experience what studying environmental science at Deakin is really like!
Follow the adventures of our students and staff. From experiences out on field trips to travels around the World, this website showcases the great experiences our students have and the wonderful places they go.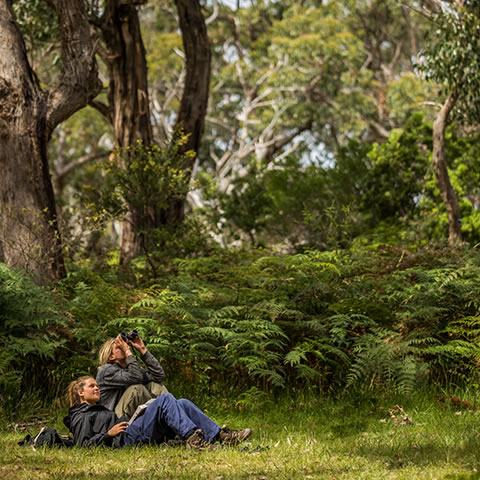 Gain professional experience
Deakin's environment courses have a core professional practice unit that includes a discipline-specific industry placement. This puts you in touch with the environment industry through involvement with local councils, community groups and businesses dealing with environmental health issues like pollution control, recycling, ecotourism, as well as biodiversity conservation and management.
Flexible options
Our environment courses are flexible so you can choose specialist areas as you progress through your course, and tailor your degree to match your career goals. Our courses will give you a qualification that combines the skills for a specialised career with more generic skills that, as a graduate, will provide you with job flexibility and broad career options.
Links to industry
Relationships with organisations such as the Department of Sustainability and Environment, Parks Victoria, the Department of Primary Industries, Catchment Management Authorities, private consultants and local councils ensure Deakin's environment courses are relevant, responsive and progressive.
Want to study overseas as part of your degree?
Maybe you should apply for the Global Science and Technology Program. The program enables students to achieve their dreams of a truly global education and includes a $3000 scholarship. Visit the Global Science and Technology Program website to find out more about the program, how it works and where our students are studying overseas. You will also find information about how to apply for this amazing opportunity.
Honours study
Honours is an optional specialised year of study that allows you to draw together the theory and practical skills gained in previous undergraduate studies. It is offered in all the Deakin environment degrees and gives you the opportunity to refine your analytical and research skills while expanding employment and study options. You will develop an in-depth knowledge of your particular discipline through research, additional coursework and training in research techniques.
Scholarships
Deakin University offers scholarships for academic excellence, access and equity, accommodation and to increase the participation of Aboriginal and Torres Strait Islanders, ensuring higher education is accessible for all members of the community.
Career opportunities for graduates
Graduates have the potential to be involved with environmental developments that hold the key to the future. The hands-on experience gained in Deakin's environment courses, combined with the theoretical knowledge learned, provides graduates with a mix of skills highly valued by employers. Graduates may find opportunities to work in the public, private and not-for-profit sectors in a wide range of fields, including, but not limited to:
wildlife conservation and management
environmental management and sustainability
fisheries and aquaculture
marine biology
agriculture
natural resources management
Page custodian: Faculty of Science, Engineering & Built Environment Last updated: