Environment
Whether you'd like to conserve animals and plants for future generations, study diverse marine ecosystems or contribute to environmental management and sustainability, Deakin's environment courses offer you a range of exciting choices.
At Deakin you can choose to pursue your passion for the environment through courses which span land and water environments, allowing you to tailor your studies for the career you want.
---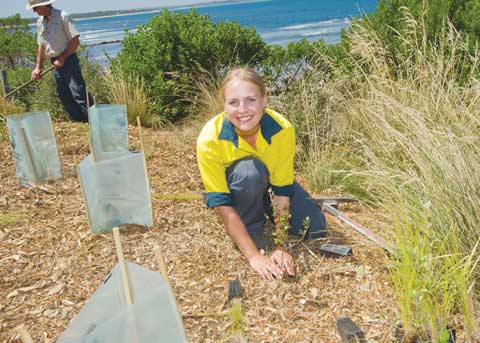 Student snapshot
Anna Cuttriss
Bachelor of Environmental Science (Wildlife and Conservation Biology)
Melbourne Burwood Campus
'The camps and field trips have always been so much fun and I feel like I have learnt more by doing things, rather than just learning in a classroom environment.
'These trips have given me hands-on skills that cannot be replicated in a classroom, including radio-tracking skills, GPS and GIS experience, mammal trapping, macroinvertebrate collection and vegetation analysis.
'Currently I have a seasonal position as a Project Fire Fighter for Parks Victoria and I also have a cadetship with the Department of Sustainability and Environment so, already, I am using the skills and knowledge that I'm learning at Deakin.
'Many of my lecturers and tutors are still contributing to research. Their practical knowledge makes them very inspiring and interesting people to learn from, and I know that what I'm learning is completely relevant to my future career.'
---
What can I study?
Our courses take you out of the classroom and into the field to give you the opportunity to gain the type of practical skills that only experience can provide. This hands-on experience, combined with the theoretical knowledge you will also learn, provides you with a mix of skills highly valued by employers.
---
Why study environment at Deakin?
Research and teaching excellence
Our teaching and research staff are experts in their respective fields, with broad national and international links and experiences.
For example, research programs have led to the active involvement of staff in environmental issues of national significance such as river management, salinity control, forest conservation, landscape ecology, coastal management, wildlife conservation and sustainable fisheries.
In areas such as these, which are often highly contentious and widely debated in the media and at public forums, our research groups are frequently involved in the decision-making process itself. As a result, our research groups have had a direct influence in shaping environmental management outcomes of critical importance to Australia and the international community.
Much of Deakin's environment research is conducted in partnership with government departments, industry and leading international scientists, and is funded by national and international agencies, often through successful competitive grants. We have ambitious and cutting-edge research programs around our research strengths in wildlife and landscape ecology, marine and freshwater science, environmental management and sustainability, and global change.
Hands on learning
Deakin's environment courses have a strong focus on fieldwork. You will benefit from the experience that only field trips can provide and have the opportunity to gain real field-based - and job-ready - skills. Depending on your course, field activities can include learning skills such as how to handle native animals, measuring the health of freshwater environments, coastal planning, surveying wildlife populations, conducting sustainability assessments, and studying seals and penguins.
First-class facilities
Facilities that support our environment programs include a Geographic Information Systems (GIS) lab, wildlife tracking technology, aquaculture facilities, infrared motion sensing wildlife cameras, and a NATA-accredited water quality laboratory and high-tech research labs.
The study of marine biology allows you to experience the environment firsthand through state-of-the art equipment, including research vessels and remotely-operated underwater vehicles which beam images back to the boat as they are being generated on the sea floor.
Industry learning
The environment courses at Deakin have a core professional practice unit that includes a discipline-specific industry placement. This puts you in touch with the environment industry through involvement with local councils, community groups and businesses dealing with environmental health issues like pollution control, recycling, ecotourism, as well as biodiversity conservation and management.
Further, as part of your environment studies, you could also have the opportunity to apply for the Department of Sustainability and Environment Cadetship Program, the Science and Technology Work-Integrated Learning (WIL) Program, Earthwatch projects, as well as work towards becoming a Certified Environmental Practitioner through the Environment Institute of Australia and New Zealand.
---
Careers for environment graduates
Graduates have the opportunity to work in the public, private and not-for-profit sectors in a wide range of fields, including, but not limited to:
agriculture
wildlife conservation and management
environmental management and sustainability
fisheries and aquaculture
natural resources management
marine biology.
They have the potential to be involved with environmental developments that hold the key to the future.
---
Study overseas
Give yourself the competitive edge after graduation. Discover and live in a new country and make friends all around the world. With a Deakin Education Abroad program, your degree can take you where you want to go.
Exchange and Education Abroad programs are available to all students, including international, postgraduate and off-campus students.
The Faculty of Science, Engineering and Built Environment is introducing the new Global Science and Technology Program to help high-achieving students add an international experience to their studies.
---
Environment courses
View all environment courses at Deakin. Courses include but are not limited to:
Undergraduate studies
Bachelor of Environmental Science (Environmental Management and Sustainability)
Bachelor of Environmental Science (Marine Biology)
Bachelor of Environmental Science (Wildlife and Conservation Biology)
Bachelor of Fisheries and Aquaculture
Postgraduate studies by coursework
Graduate Certificate of Applied Science
Graduate Diploma of Natural and Cultural Resource Management
Master of Applied Science
Postgraduate studies by research
Master of Science
Doctor of Philosophy