Cyber security
Take an exploratory journey and gain sound knowledge and understanding of imminent threats and challenges, and the concepts and practices applied in cyber security.
Why study at Deakin?
Secure your digital future
Cyber security extends the traditional view of information security which only encompasses three components — confidentiality, integrity and availability. Become capable of identifying, diagnosing, analysing and handling the challenges of: computer crime and digital forensics, evaluating software for security vulnerabilities, designing secure databases, securing operating systems, assessing and reinforcing the security of websites, integrating security requirements into new developments, designing secure network architectures, performing risk assessments and responding to cyber security incidents.
Practical experience
As a Deakin cyber security student you gain an edge in the job market through the combination of hands-on experience and high-level theoretical training that our courses provide. You learn by doing, rather than just seeing.
Modern facilities with the latest technology
Deakin continually invests in its facilities and IT programs, ensuring you have access to the latest software in fully equipped computer labs from day one of your course.
Professional recognition
Professional accreditation by the Australian Computer Society (ACS) means your degree is recognised in industry, resulting in stronger job outcomes. You can also choose to study units at Deakin that lead to Cisco certification, giving you a relevant, practical qualification.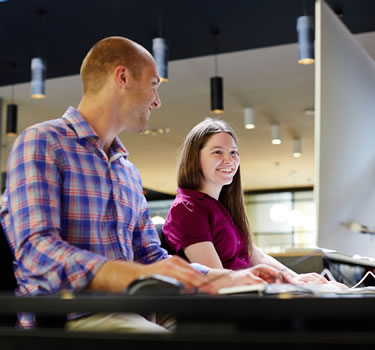 Learn from experts
Our staff conduct high quality research, generating new, fundamental knowledge which assists industry to advance their technologies and to maintain a competitive edge.
Flexible study options
The Bachelor of Cyber Security can be studied full-time or part time, in Geelong, Melbourne or via cloud learning (off-campus, online), where Deakin embraces the best of new and emerging technologies.
Fight cyber-crime
You also have the option to combine cyber security with criminology, which covers a range of topics concerning the meaning of crime; different forms, causes and consequences, along with the different institutions and
processes developed for preventing and controlling crime; and, in the context of cyber security, securing data and data communication, as well as investigating, analysing and providing solutions to computer crime
Industry experience
Every IT student at Deakin undertakes an internship, providing you with an opportunity to apply your learning and gain valuable industry experience which is credited towards your degree. An internship enables you to experience a professional work environment, develop professional networks and explore career opportunities before you graduate.
High achieving students also have opportunities to apply for full-time, part-time or short-term industry-based learning placements, with industry-funded scholarships on offer.
Scholarships
Deakin University is committed to attracting more female students to its information technology courses. Designed to 'ignite' female interest in non-traditional areas of study and work, IGNITED Scholarships are awarded to successful applicants commencing an undergraduate degree in information technology.
Deakin University also offers scholarships for academic excellence, access and equity, accommodation and Aboriginal and Torres Strait Islanders, ensuring higher education is accessible for all members of the community.
Experience the world while you study
Study Abroad
Our Study Abroad and Exchange Office offers various programs, including exchange, study abroad, short- term study programs, study tours and international volunteer opportunities.
Global Science and Technology Program
The Global Science and Technology Program at Deakin is designed to add an international experience to your IT degree, supporting you to develop new skills and a broader world view while studying overseas.
Maintaining relevance
We recognise the importance of being closely aligned with the IT industry, maintaining strong industry links through IT representatives from organisations such as Telstra, ANZ and Computershare. These industry representatives provide us with curriculum advice, keeping our courses current and relevant to industry needs, which is key in a sector where change is constant.
Well-rounded graduates
IT skills are applicable in more than just the information and communications technology (ICT) sector and can open up employment opportunities in just about any industry. You will also develop important employability skills in critical thinking, analysis, investigation and evidence-based decision making.
Page custodian: Faculty of Science, Engineering & Built Environment Last updated: