Exhibitions
Deakin University Art Gallery runs a program of exhibitions and arts events. These include curated exhibitions drawn from the University's Art Collection, group and solo exhibitions by significant contemporary Australian artists, travelling exhibitions and selected student, staff and alumni work.
Exhibition Program, February - July 2015 (PDF, 632.2 KB)
All the information in this program is correct at the time of publishing; however exhibition dates can be subject to unexpected change. Please call 03 9244 5344 prior to visiting to avoid disappointment.
More information about upcoming exhibitions and past exhibitions.
---
Current exhibition
FOUND IN TRANSLATION: DEAKIN UNIVERSITY ART GALLERY
28 April - 29 May
FOUND IN TRANSLATION: DEAKIN UNIVERSITY ART GALLERY is part of Gosia Wlodarczak's ongoing Instruction Drawing project. Taking a drawing produced during a residency at the Western Washington University Art Gallery in 2012 as her starting point, Wlodarczak has developed two pictorial alphabets, each letter of the English alphabet represented by a small detail of this drawing.
Using these pictorial alphabets, Wlodarczak has created a series of three site-specific wall drawings, each containing encoded texts. The first has been completed by the artist; the second, by Deakin University Art Gallery staff using a manual provided by the artist, INSTRUCTION FOR THE MAKER; and the third will be a collaboration with visitors to the exhibition. Texts selected by the artist and University staff, which relate to project and to the specific context of the University setting, are encoded within two of the drawings, which may be decoded using a set of instructions provided by the artist: INSTRUCTION FOR THE VIEWER. Visitors to the exhibition are invited to contribute a word to the project, which the artist will translate into a third wall drawing during a four day residency from 28 April to 1 May, culminating in a collaborative concrete poem.
Gosia Wlodarczak extends the practice of drawing in performative, interactive and conceptual projects that respond to her direct environment and explore the idea of drawing and language being coded modes of communication.
Read more about the exhibition in this essay by Curator, Emma Cox. (PDF, 699.1 KB)
In conversation: Gosia Wlodarczak
Join the artist and curator Emma Cox for a discussion about the FOUND IN TRANSLATION project at Deakin University Art Gallery.
Friday 1 May, 12.30pm
Deakin University Art Gallery
Cost: Free
Please rsvp to artgallery@deakin.edu.au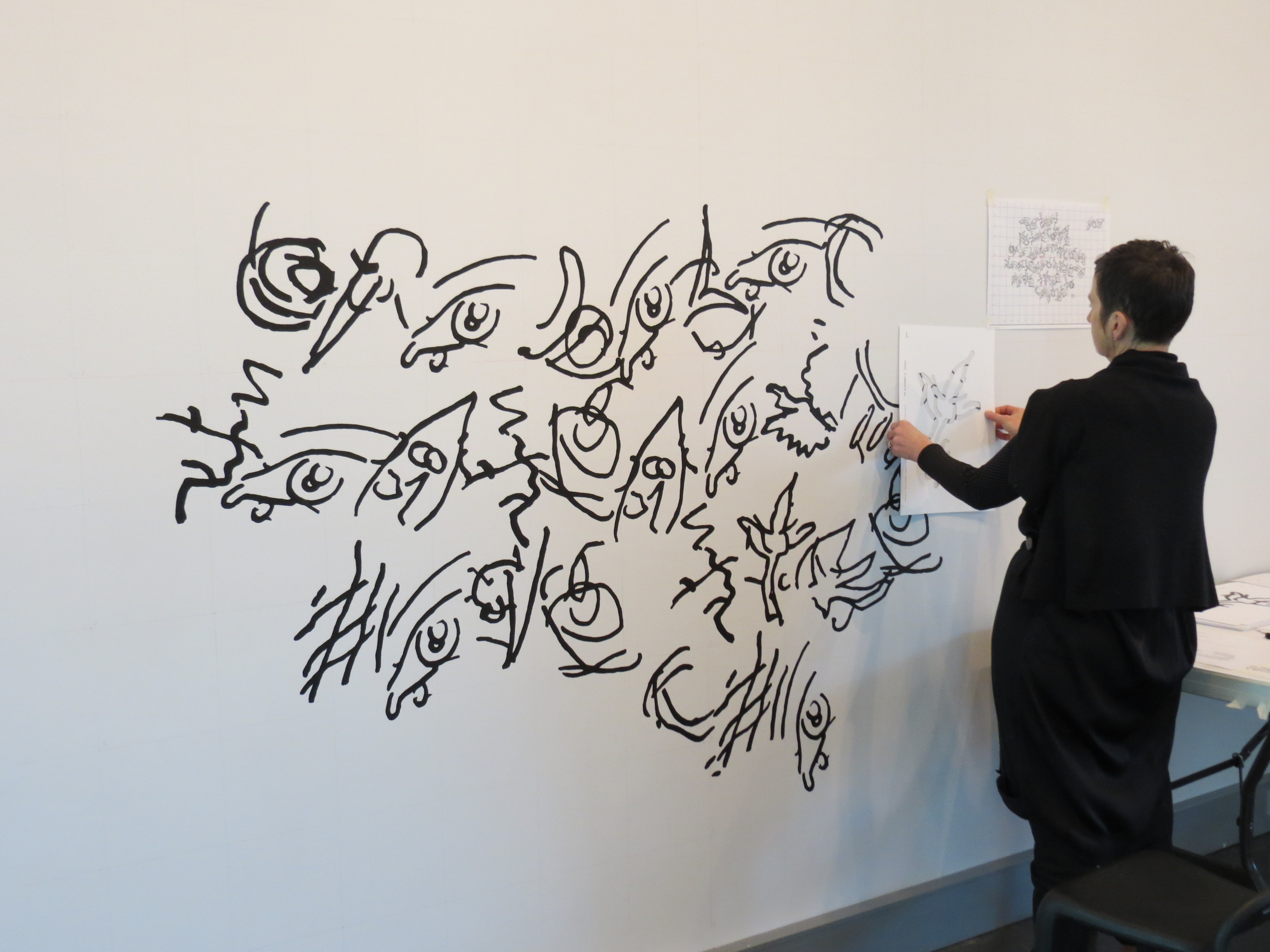 Gosia Wlodarczak installing FOUND IN TRANSLATION, Interpretation Drawing #2: SIGNS, 2015
Deakin University Art Gallery
Photo: Longin Sarnecki
Page custodian: Vice-President (Advancement) Last updated: