Exhibitions
Deakin University Art Gallery runs a program of exhibitions and arts events. These include curated exhibitions drawn from the University's Art Collection, group and solo exhibitions by significant contemporary Australian artists, travelling exhibitions and selected student, staff and alumni work.
2014 Exhibition Program (PDF, 472.1 KB)
All the information in this program is correct at the time of publishing; however exhibition dates can be subject to unexpected change. Please call 03 9244 5344 prior to visiting to avoid disappointment.
More information about upcoming exhibitions and past exhibitions.
---
Current exhibition
Trajectories
23 July to 30 August
Trajectories showcases the creative practice of six artists who differ markedly in media and process, but share commonalities: all have graduated from the PhD program of Deakin University and all are regionally-based, female artists with connections to South West Victoria. Regional artists can experience disadvantage compared to metropolitan practitioners in terms of networking and professional opportunities, but Trajectories confirms that this field may be negotiated, and demonstrates that creative practice can thrive in regional locales. Trajectories will comprise a range of artwork in various media including painting, printmaking, drawing and photography with work by Victoria Dunn, Annette Iggulden, Marion Manifold, Liza McCosh, Noela Stratford and Carmel Wallace
Curator: Dr Liza McCosh, Deakin University.
Open Sunday 24 August, 10am–4pm for Burwood Campus Open Day
Catalogue available. Please contact artgallery@deakin.edu.au to purchase.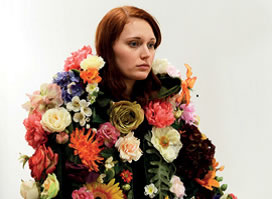 Carmel Wallace
Flowers for Gardens Cloak modelled by Arna-Marie Sagen, 2013
Photograph by Carmel Wallace
---
Page custodian: Vice-President (Advancement) Last updated: