Exhibitions
Deakin University Art Gallery runs a program of exhibitions and arts events. These include curated exhibitions drawn from the University's Art Collection, group and solo exhibitions by significant contemporary Australian artists, travelling exhibitions and selected student, staff and alumni work.
Below is a list of upcoming exhibitions for 2016.
All the information included below is correct at the time of publishing; however exhibition dates can be subject to unexpected change. Please call 03 9244 5344 prior to visiting to avoid disappointment.
More information about past exhibitions.
---
Current exhibition
Still in Progress…
An exhibition of work by current Deakin University PhD Students enrolled in the School of Communication and Creative Arts launched by Professor Brenda Cherednichenko.
More detailed information here...
http://www.deakin.edu.au/news/latest-media-releases/2016-media-releases-archives/still-in-progress...phd-student-artworks-at-deakin-art-gallery
Exhibition dates: 13 April to 27 May 2016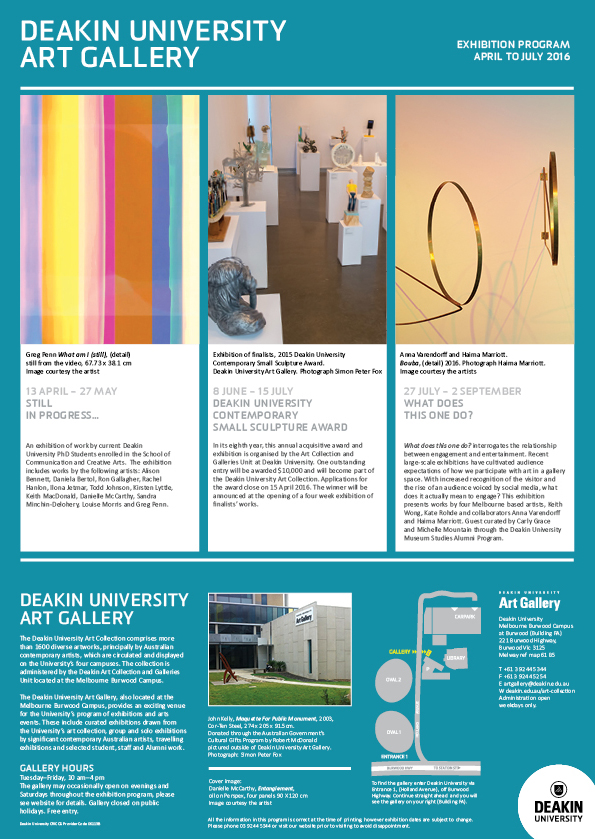 ---
---
Deakin University Contemporary Small Sculpture Award
In its eighth year, this annual acquisitive award and exhibition is organised by the Art Collection and Galleries Unit at Deakin University. One outstanding entry will be awarded $10,000 and will become part of the Deakin University Art Collection.
Exhibition dates: 8 June to 15 July 2016
Exhibition launch: Thursday 16 June 6.00 pm
---
What does this one do?
What does this one do? interrogates the relationship between engagement and entertainment. Recent large-scale exhibitions have cultivated audience expectations of how we participate with art in a gallery space. With increased recognition of the visitor and the rise of an audience voiced by social media, what does it actually mean to engage?
Guest curated by Carly Grace and Michelle Mountain through the Deakin University Museum Studies Alumni Program.
Exhibition dates: 27 July to 2 September 2016
Exhibition launch: Wednesday 27 July 6.00 pm
---
Scanlines
Scanlines surveys the heritage of new media art in Australia since the 1980s. Selected from dLux MediaArts' this major national survey exhibition includes rare early works and well-known works by Australia's internationally celebrated filmmakers, contemporary artists and scholars.
Exhibition dates: 14 September to 21 October 2016
Exhibition launch: Wednesday 14 September 6.00pm
---
Page custodian: Vice-President (Advancement) Last updated: