Exhibitions
Deakin University Art Gallery runs a program of exhibitions and arts events. These include curated exhibitions drawn from the University's Art Collection, group and solo exhibitions by significant contemporary Australian artists, travelling exhibitions and selected student, staff and alumni work.
2014 Exhibition Program (PDF, 472.1 KB)
All the information in this program is correct at the time of publishing; however exhibition dates can be subject to unexpected change. Please call 03 9244 5344 prior to visiting to avoid disappointment.
More information about upcoming exhibitions and past exhibitions.
---
Current exhibition
Lloyd Godman: A PHOTO:synthetic pathway
10 September to 18 October
Lloyd Godman: A PHOTO:synthetic pathway traces the evolution of the artist's practice from traditional photographic techniques through to his innovative suspended rotating living air plant sculptures. Through parallel practices as artist and organic gardener, and making a connection between photosynthesis and the role of light in photographic practice, Lloyd Godman presents living plants as 'super-sustainable' sculpture. There is a strong environmental thread that binds his diverse oeuvre then opens a portal to conceive the planet as a "giant living abstract living photograph" with a consequential shift from environmental art as comment to environmental activism. Curator: Leanne Willis, Deakin University.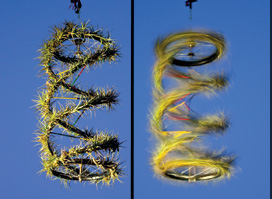 Lloyd Godman
Nature reclaims the Helix, 2012 (detail)
recycled bicycle wheels steel, Tillandsia plants – super sustainable rotating Tillandsia air garden, ecologically active art
80 x 50 x 50 cm
---
Page custodian: Vice-President (Advancement) Last updated: