John's Story
Indigenous Access Scholarship
Growing up in Darwin you see the gap between Indigenous and non-Indigenous people every day, but for me, it was seeing some of the injustices faced by Indigenous people and our legal system that made me decide to study Law at Deakin University.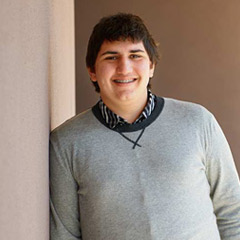 It really drove me to want to make a change to the world and to leave a footprint here.I want to show that Aboriginal people can achieve great things given the chance of an education, and with my law degree I want to provide greater access to the legal system for Aboriginal people.
My mum and my grandfather are so proud that I'm studying law at university, and also that I am able to spend a lot of time with other Aboriginal people at Deakin's Institute for Koorie Education where I can strengthen my culture.
I study at Deakin in Geelong, but my Aboriginal country is south west of Darwin with the Marrathiel people. It's important to me that I always remember where I come from.
The scholarship support I receive helps me immensely with my accommodation costs and textbooks.
Before the scholarship I depended on my grandfather to help pay for my textbooks, which can cost up to $600 a trimester - a huge amount of money for him.
At the end of high school I also had to make the difficult decision to leave home. The cost of accommodation is beyond my means as a student, so I am staying in temporary share accommodation with other teenagers facing difficult circumstances.
The scholarship money means I can now have some financial stability, can pay for my own books, and can start to make plans to move into a proper house.
I feel like now I can go on and do great things, not just for myself, but for my community.