Key facts
Overall IELTS score of 6.5 with no band less than 6.0 (or equivalent). More information is available at www.ielts.org
1 year full-time or part-time equivalent
Current Deakin Students
To access your official course details for the year you started your degree, please visit the handbook
Course information
Advance your knowledge of food and nutrition science by undertaking an honours degree at Deakin.
Designed for students with a strong undergraduate academic record, the honours year combines coursework and an original piece of research under the guidance of a supervisor. You will gain an understanding of research methods and design as well as experience in project planning and implementation.
Examples of previous honours research pieces include:
Dietary sources and sodium content of food provided to pre-school aged children in childcare centres.
Does diet quality matter in women who have had gestational diabetes?
Does a healthy lifestyle score predict cardiometabolic risk?
International household food providers trust in the food supply.
Studying this course lets you dive deeper into a food and nutrition topic of interest. You will also be able to apply to study postgraduate studies by research.
Read More
Course structure
To complete the Bachelor of Food and Nutrition Sciences (Honours) students must attain 8 credit points, including two coursework units in research methods and research issues and an independent research project. Part-time students are required to complete the coursework components in their first year of study.
Attendance and presentation at the School Honours Conference is a hurdle requirement.
Students are required to meet the University's academic progress and conduct requirements. Click here for more information.
Key information
Award granted
Bachelor of Food and Nutrition Sciences (Honours)
Year
2019 course information
Approval status
This course is approved by the University under the Higher Education Standards Framework.
Australian Quality Framework (AQF) recognition
The award conferred upon completion is recognised in the Australian Qualifications Framework at Level 8.
Campuses by intake
Campus availability varies per trimester. This means that a course offered in Trimester 1 may not be offered in the same location for Trimester 2 or 3. Read more to learn where this course will be offered throughout the year.
Trimester 1 - March
Start date: March
Available at:
Honours applications close 23 November 2018 to commence in 2019
Deakin splits the academic year into three terms, known as trimesters. Most students usually undertake two trimesters each year (March-June, July-November).
Additional course information
Course duration - additional information
Course duration may be affected by delays in completing course requirements, such as accessing or completing work placements.
Mandatory student checks
There are no mandatory student checks required for this course.
Workload
You should be able to commit 35 hours a week to your honours degree
Participation requirements
Engagement with online course material and scheduled classes (on campus). Regular meeting with project supervisors. On campus participation in other course events as required.
Reasonable adjustments to participation and other course requirements will be made for students with a disability. Click here for more information.
Entry information
General admission requirements for entry into undergraduate courses for international students at Deakin are summarised in the undergraduate admission requirements table.
Attainment of Bachelor Degree or major in a related discipline with a WAM of at least 65 in all level 3 and level 4 units (for Deakin awards) or final year units (for awards from other providers)
OR
Other evidence of academic capability judged to be equivalent
Students must also meet the undergraduate English language requirements.
2019 Honours projects are available here
2019 Project Preference Form is be available here
Applicants are required to contact the Supervisors of the projects they are interested in applying for before submitting the Project Preference form.
Allocation to research projects is a competitive process and an applicant cannot be assured of being assigned to their choice of research projects.
Fee information
Estimated tuition fee - full-fee paying place
The tuition fees you pay are calculated depending on the course you choose.
The 'Estimated tuition fee' is provided as a guide only based on a typical enrolment of students completing the first year of this course. The cost will vary depending on the units you choose, your study load, the length of your course and any approved Credit for Prior Learning you have.
Each unit you enrol in has a credit point value. The 'Estimated tuition fee' is calculated by adding together 8 credit points of a typical combination of units for that course. Eight credit points is used as it represents a typical full-time enrolment load for a year.
You can find the credit point value of each unit under the Unit Description by searching for the unit in the Handbook.
Learn more about fees and available payment options.
Scholarship options
A Deakin scholarship could help you pay for your course fees, living costs and study materials. If you've got something special to offer Deakin - or maybe you just need a bit of extra support - we've got a scholarship opportunity for you. Search or browse through our scholarships
Career outcomes
The course provides four credit points of research training and four credit points of applied research project, therefore directly fostering the skills and capabilities required for progression to higher degrees by research and then to roles involving research in industry or academia. For students not wishing to pursue a research-focussed career pathway, the course equips them with research project management, problem solving, critical appraisal and high-quality communication skills to assist with employability in a range of food, nutrition, health or related sectors.
Professional recognition
Not applicable
Course learning outcomes
Deakin's graduate learning outcomes describe the knowledge and capabilities graduates can demonstrate at the completion of their course. These outcomes mean that regardless of the Deakin course you undertake, you can rest assured your degree will teach you the skills and professional attributes that employers value. They'll set you up to learn and work effectively in the future.
| | |
| --- | --- |
| Graduate Learning Outcomes | Course Learning Outcomes |
| Discipline Specific knowledge and capabilities | Acquire advanced knowledge of the philosophies, ethics, methods and principles of research in one or more discipline areas of practice in food science and nutrition. Apply this knowledge to plan and execute a substantial research project. |
| Communication | Demonstrate advanced oral and written communication skills in the clear and coherent communication of research questions, design and outcomes to a diverse audience. |
| Digital Literacy | Acquire advanced skills in using digital technologies to research, analyse, synthesise and disseminate evidence-based information to an academic audience and specialists in the field of food science and nutrition. Use appropriate technologies to manage data and apply methodologies applicable for the food and nutrition sciences. |
| Critical thinking | Employ intellectual independence to critically analyse, evaluate and synthesise scientific literature and to apply appropriate methodologies and analytical techniques to answer the research question. Apply advanced theoretical knowledge to interpret outcomes and to identify how they contribute to advancing the field of food and nutrition science. |
| Problem Solving | Identify an original research question and, under supervision, apply appropriate theories and methodologies to address this question in an ethical manner. |
| Self-management | Take initiative to identify personal learning goals and needs in order to undertake and manage an independent research project including the communication of research outcomes. |
| Teamwork | Contribute constructively and collaboratively as a member of research and professional team of specialists, peers, academics and others from a range of disciplines and backgrounds. |
| Global Citizenship | Apply ethical standards governing research and professional practice in the field of food science and nutrition whilst maintaining confidentiality, and respecting inclusive, cultural sensitivities. |
How to apply
Apply direct to Deakin
Applications must be made directly to the University through the Applicant Portal. For information on the application process and closing dates, see the Apply web page. Please note that closing dates may vary for individual courses.
Apply through Deakin
---
Deakin International office or Deakin representative
---
Need more information on how to apply?
---
Entry pathways
This course is a pathway into Higher Degrees by Research.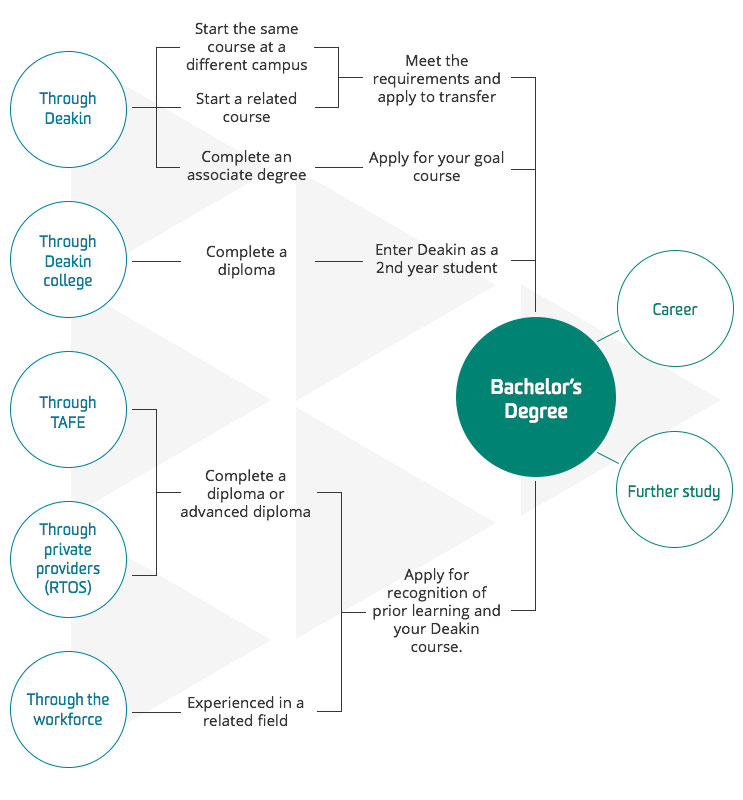 Tap image to expand
Disclaimers:
Through Deakin College and TAFE: Completion of diploma and minimum academic requirements apply to enter Deakin University.
Through Deakin: Transfers within Deakin are subject to availability and meeting minimum academic requirements.
Still haven't found what you are looking for?