Career development skills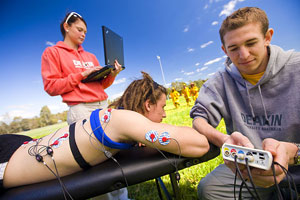 Employers seek graduates who have general employability skills as well as specific discipline knowledge and skills, as these contribute to people becoming effective employees in the workplace.
Employability skills include generic skills and personal attributes and are developed during your course, through work experiences and by participating in extra-curricular activities.
Employers are interested in your activities, but more so in the process of you recognising when and how you acquire the skill and what you have learnt from it.
Communication:
This skill relates to how you communicate with others at university, work and during your free time. It includes written, verbal and visual communication. You can develop this through:
* essay or report writing
* oral presentations
* debating
Teamwork:
Group working skills are highly valued as they include people working cooperatively towards common goals, negotiating and listening to other team members. You can develop this through:
* laboratory work
* fieldwork
* group projects
* sport
* your employment
Problem solving:
Being creative and thinking of possible solutions to problems. Thinking big picture and breaking the problem down into achievable smaller tasks. You can develop this through:
* fieldwork
* problem based learning
* setting goals for yourself and how to achieve them
* industry based learning projects or placements
Planning and organisation:
Managing time and setting goals. Allocating resources and people to task within timeframes. Using your initiative and thinking of contingencies. You can develop this through:
* researching a topic
* assignments
* events
* prioritising activities
Self management:
Involves taking responsibility for your own learning and reflecting on feedback given to improve the work in the future. Gather, process and use information. You can develop this through:
* lecturer or tutor feedback
* study skills such as: time and task management; reading, literature searching; interpreting and paraphrasing complicated scientific literature; writing literature reviews, critical essays; critically analysing data and writing scientific lab reports
Technology:
The ability to apply basic IT skills to different software programs. Use technology to present or sort information. You can develop this through:
* using spreadsheets, email, internet or word processing
* online study
Learning:
Applying existing and newly acquired knowledge to new situations. Being adaptable and receptive to new learning situations. Contribute to a learning community. You can develop this through:
* professional development activities such as courses and conferences
* writing publications for industry and academic journals
Personal attributes include:
* enthusiasm
* reliability
* humour
* attention to detail
* ability to handle pressure
Make the most of your time at Deakin
University is about much more than just going to classes. It can also provide great opportunities for self development that will literally pay off. Employers seek students who get involved in extra-curricular activities that showcase their interests and strengths and which add real value to their academic studies.
How will you get involved?
Volunteering
Volunteering in sport is one of the best ways to get a foot in the door and start your career. VicSport provides information on volunteering in sport and all the state sporting organisations. Most state sporting organisations have information about volunteering in sport.
You can also be a volunteer at Deakin by becoming part of the crew at Deakin University Student Association (DUSA), and improve your public speaking skills when assisting in hosting events.
Become a DUSA student representative and put your organisational and leadership skills to use by organising events and addressing advocacy issues for students.
Volunteering at other community based organisations.
Sports
Be a team player who plays collaboratively, sets goals, thinks strategically and keeps fit. You may even get to represent Deakin at the Southern University Games and Australian Uni Games. See the DUSA website for more information about university sport.
Employment
Jobshop has vacancies listed for part time, casual, full time and tutoring positions which can introduce you to the world of work. If you need assistance with creating a resume then attend one of the resume workshops at Careers and Employment.
Deakin alumni - career and information interviewing mentoring program (CIIMS)
CIIMS allows final year undergraduate and all postgraduate students to connect with members of the alumni for purposes of career development and information in order to help improve graduate employment outcomes.
Duke of Edinburgh Awards
Attain the internationally recognised Duke of Edinburgh Award (Gold level available) whilst at Deakin. The Award provides opportunities to set goals, undergo personal development, pursue your interests and gain a range of practical skills. Learn more about the award.
Student societies
Joining a student society related to your course can be a great networking opportunity. Meet with people who have similar interests to you, get to know the employers in your field and access opportunities available for work experience.
Examples of relevant societies:
* Deakin Uni Sport Studies Club (DUSSC)
* Physical Education Student Society (PESS)
* Food and Nutrition Science Students (FANS)
* Deakin Promoting Health Network (DPHN)
Information about all of these student societies is available on the DUSA website.
Recording skill development:
Keep a record of your skill development (which means what you did, where you did it, where you did it and how it was developed) to refer to in your resume, covering letter or job interviews. Register with Jobshop and Career Hub and use My Profile to record your achievements and skill development.
Log into the Deakin Careers Website:
for help with resumes go to 'resume builder'
for help with covering letter go to 'career guides and resources'
Career advice:
You can go to the 'Careers and Employment' office on your campus for resources or you can make an appointment to see a careers counsellor. You will also be able to seek information and advice on your specific career goal by approaching your lecturers.
Page custodian: Faculty of Health Last updated: