Master of Clinical Exercise Physiology
The Master of Clinical Exercise Physiology is the first clinical exercise course in Victoria to achieve accreditation with Exercise & Sports Science Australia (ESSA). Although the course only commenced in 2011, it is already achieving outstanding levels of teaching excellence, clinical supervision, learning outcomes and employment in the sector. The teaching team has expertise across all of the pathology areas needed for clinical exercise practice. The clinical practicum program covers all of the requirements for AEP accreditation and features the award winning Clinical Exercise Learning Centre at Burwood (Melbourne).
---
Why study the Master of Clinical Exercise Physiology at Deakin?
Become an Accredited Exercise Physiologist (AEP)
AEPs are the only exercise professionals in Australia that are educated and accredited to provide clinical exercise services for patients with chronic disease. AEPs have access to Provider Numbers with Medicare Australia, WorkSafe Victoria, DVA, TAC, and other compensable fund schemes and the range of AEP services is unparalleled anywhere in the world.
Complete a postgraduate degree at a reduced Commonwealth Supported Place fee rate
While most postgraduate courses offer only full-fee paying places, there are a limited number of Commonwealth Supported Places available for this course, alongside full-fee paying places. Students who obtain a Commonwealth Supported Place pay the cheaper fee rate for the entire duration of the course.
Obtain hands-on experience in a clinical setting through a range of internal and external clinical practicum experiences
Students undertake study and hands-on experience in a clinical setting in Deakin's award-winning Clinical Exercise Learning Centre at Burwood, where students develop practical skills under close supervision and mentoring. Students then embark on a range of external clinical practicum experiences organised by the University, designed to optimise students' exposure to a wide range of clientele, practitioners and institutions.
Career
Since 2006 AEPs have been formally recognised by the Federal Department of Health and Ageing into allied health to deliver Medicare-compensable exercise services for those with chronic conditions or complex care needs. This has increased the career opportunities for those with an AEP recognised qualification.
Graduates are likely to gain employment in medical hospital/clinic rehabilitation, occupational, community, or sports rehabilitation, or in case management through compensable schemes such as Medicare, Worksafe, or the TAC.
Research
As a Deakin sport student you will have opportunities to benefit from and participate in the latest research, and have access to professional networks and contacts in industry and the sports sector. You may also be able to undertake an honours year. Honours is a specialised year of study that allows you to draw together the theory and practical skills gained in your undergraduate sport degree, and develop an in-depth knowledge of your particular area of interest through training in research techniques and the completion of a research project.
---
Student experience
Sophie Cook "I chose to undertake the course at Deakin as I wanted to do a balanced course in a respected university, with staff that I know are some of the best in their field."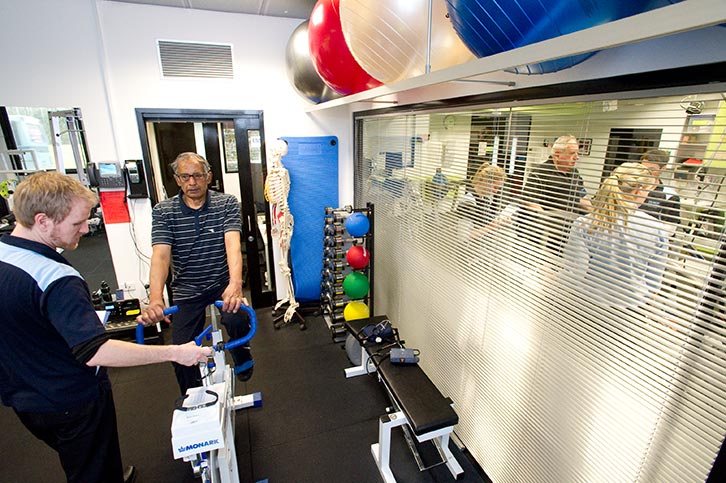 Detailed course information
Page custodian: Faculty of Health Last updated: