News and events
2014 Peter Quail Oration: Breaking New Ground in Disability Service Provision
A talented range of speakers from the National Disability insurance Agency, Deakin University, and speakers with the lived experience of disability presented the 2014 Peter Quail Oration at the Geelong Clinical School Lecture Theatre on Tuesday 29th July. The Peter Quail Oration was well attended by a 70 plus audience as well as streamed to sites at Deakin Warrnambool & Burwood as well as Hamilton.

Breaking New Ground in Disability Service Provision: A National Disability Insurance Scheme (NDIS) to support all Australians with a Disability as well as their Carers
Guest Speakers:
Ms Louise Glanville (Deputy CEO of the National Disability Insurance Agency) discussed the three pillars that underpin the NDIS, how the National Disability Strategy fits into Australia's obligations under the convention and why the NDIS is a significant economic as well as a social reform.

Professor Susan Balandin (Chair in Disability and Inclusion, School of Health & Social Development, Faculty of Health, Deakin University) discussed the expertise and objectives of Disability at Deakin, the role of research and the importance of links between universities and communities in meeting the challenges of facilitating meaningful choice for groups of people with a disability Ms Tina Gulino and Ms Krystyna Croft (Speakers with the lived experience of disability): Two Leading, Educating, Advocating for Disability members (LEAD) spoke about the lived experience of engagement with the NDIA- a spokesperson with a disability and a parent or carer of a person with a disability
Deakin Cloud link:
http://air.deakin.edu.au/public/media/Peter+Quail+Oration+NDIS+speakers/0_hahp41d3​
(Note: Click along tracking line to fast forward presentation)
---
Peter Quail Oration 2013 "Where next for prevention of chronic disease? Scaling up from community based obesity prevention in schools to whole populations"

Dr Steven Allender , Professor of Population Health and Co-Director of the World Health Organization (WHO) Collaborating Centre for Obesity Prevention at Deakin University presented the 2013 Peter Quail Oration: "Where next for prevention of chronic disease? Scaling up from community based obesity prevention in schools to whole populations" on Tuesday 22 nd October at Deakin University's Waterfront Campus. Steve has an ongoing program of research on the burden of disease and obesity prevention. Recent work has seen a particular interest in the emerging burden of chronic disease in developed and developing countries and the possibilities for using complex systems approaches for community-based intervention.
Steve presented a summary covering the first ten years of the WHO Collaborating Centre for Obesity Prevention and the current program of research relating to the development of novel obesity prevention as well as scaling up from community-based obesity prevention in schools to whole populations.
The Peter Quail Oration was filmed for distribution as a Deakin Cloud link and was well attended and enthusiastically received by a large 80 plus audience.
Place Based Community Strengthening Forum
Associate Professor Mardie Townsend presented the 2012 Peter Quail Oration: "Green Spaces and Wellbeing; Social Inclusion via Nature Connections" on Tuesday 4th September at Deakin University's Waterfront Campus
The Peter Quail Oration is an annual initiative of the Deakin/DH/DHS Strategic Alliance and is held in memory of Mr Peter Quail, a valued DHS colleague and founding champion of the partnership between Deakin, Department of Health and Department of Human Services. Peter's career in the Victorian public service spanned three decades. Peter's work ethic was grounded by the principles of social justice and he used every opportunity to improve service delivery to the most vulnerable in our communities. The aim of the Peter Quail Oration each year is to engage and inform the community and health service professionals on a topical and relevant regional health and wellbeing issue. For the first time the Peter Quail Oration was successfully incorporated into the Deakin Week program of events and filmed for distribution as a You Tube link
Associate Professor Mardie Townsend teaches in the areas of Public Health and Family and Society in the School of Health and Social Development in Deakin University's Faculty of Health. She is currently collaborating with a range of organisations including Parks Victoria, G21, the Austin Hospital Group and the City of Melbourne. Her research interests include the human health benefits of interaction with nature; urban and rural contexts for health and wellbeing; social and health impact assessment; and housing and homelessness.
The 2012 Peter Quail Oration theme "Green Spaces and Wellbeing; Social Inclusion via Nature Connections" focused on the human health benefits of interaction with nature and the environmental determinants of health. Associate Professor Townsend's outlined the human need for nature and the health benefit of green spaces. She provided compelling case study examples for her theme covering
Nature connections and disadvantage
Nature connections and mental illness
Environmental volunteering as a mechanism for inclusion
Nature connections for indigenous wellbeing
The Oration was well attended and enthusiastically received by an audience who were passionate about the topic and generated a lively debate in the open discussion section of the program.
Reference PDF Resources from the 2012 Peter Quail Oration
Glenelg Shire Workshop: March 18 2012
Background
The Southern Grampians and Glenelg Primary Care Partnership (SGGPCP) recognize the impact of Climate Change on health outcomes for our community. Publication of Climate Change Adaptation: a Framework for Local Action by PCP in 2008 identified five areas of action to reduce the direct impacts of climate change. These areas included household energy use. SGGPCP conducted a demonstration project with a small township (Merino) which led to the current Pass the Parcel Project which is funded by Sustainability Victoria. This project has enabled further investigation of strategies to improve energy efficiency and comfort for low income households while building capacity of PCP partner agencies to respond. The SGGPCP strategic Plan
2009 - 2012 states that our vision is through capacity building for collaboration, enhance the health and wellbeing if our community.
Through the Deakin/DH/DHS Strategic Alliance Community Capacity and Engagement in Public Health Funding, SGGPCP partnered with Glenelg Shire to facilitate an Energy Efficiency Workshop for Home and Community Care (HACC) Support Staff and others working with vulnerable groups.
The Workshop
Kildonan Uniting Care has a long standing reputation working with the community around energy efficiency. Kildonan facilitator Sue Fraser ran the workshop for 20 HACC/ support staff from the Glenelg Shire.
The workshop enabled participants to consider the importance of energy efficiency while gaining a better understanding of the impact on their client group. Participants spent some time examining electricity bills and developing a better understanding of the information presented on the bill. Participants discussed household energy use and running costs for appliances. This conversation enabled further discussion around calculating running costs and using appliances appropriately rather than purchase of new appliances. A range of tips to save energy were presented and major discussion focused on transferring this knowledge to the client group.
The topic around assistance programs and financial counselling provided participants with a range of options to support their clients including financial counselling, hardship programs, rebates, the No Interest Loans Scheme(NILS), Good Shepherd Buying Service, CentrePay and links to other programs
Energy Efficiency flyer SGG 2012 (PDF, 72.6 KB)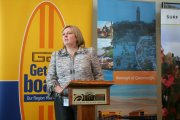 G21 (Geelong Region Alliance's) Report "Growing up in G21: The health and wellbeing of children 0-8 years in the G21 region" was launched by the Minister for Children and Early Childhood Development, Wendy Lovell on Monday 17th October 2011
The G21 Geelong Region Alliance's Growing up in G21: The health and wellbeing of children 0-8 years in the G21 region paints a detailed picture of how local children are faring.Taking in the City of Greater Geelong, the Borough of Queenscliffe and the Surf Coast, Golden Plains and Colac Otway Shires, the G21 is a formal alliance of government, business and community organisations. Recognising the importance of a child's early years, the report aims to build a regional picture of the challenges local children face, while recognising areas where they are flourishing. The results will be used to influence policy decisions and to shape the services available to children aged 0-8 and their families. Ms Lovell congratulated members of the G21 Geelong Region Alliance on their achievement, and for their work in the community.
"The Victorian Government has a clear focus on the importance of the early years and your efforts to understand the needs of children in your region are complementary to that work," Ms Lovell said.
"Growing up in G21 recognises that building a regional picture of the lives of our youngest community-members is fundamental if governments and the community are to do more to promote their development and wellbeing."
Key findings from the report include:
Children in the region are meeting or exceeding literacy benchmarks.
Kindergarten participation rates are above the state average across the region, enhancing their development and better preparing them for school.
A majority of parents say their region is a safe place to live.
The region has a relatively high number of one-parent families.
Immunisation rates are low compared to state levels, particularly for six year old children.
"Reports like this are crucial as they provide government and other agencies with a regional perspective of children, helping them to better understand the needs of children in the region," Ms Lovell said.
"Systems Thinking to Advance Population Health" presented by Dr Alan Shiell
Director of the Centre of Excellence in Intervention and Prevention Science
Thursday 6th October 2011 at the Deakin University's Waterfront Campus.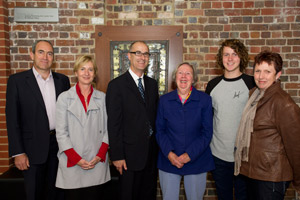 Dr Alan Shiell is the Executive Director of the Centre of Excellence in Intervention and Prevention Science (CEIPS) in Melbourne, a new research centre established by the Victorian Department of Health in 2010. CEIPS will work with the Department of Health and university based researchers on the implementation and evaluation of the State's investment in building a prevention system. Dr Shiell outlined system thinking prevention concepts aimed to advance Victoria's Population Health. The feedback from the event was universally positive with comments on the excellent and refreshing content as well as excitement with developing new partnership networks with CEIPS.
Please see attached an I lecture link of the Oration:
To open and view the Oration on your computer in streaming mode:
select one option from Flash streaming or Quicktime and open
recommend to first try Flash version: video streaming medium mode selection
when the I lecture screen loads select continue button to run
It is running if the counter numbers are moving
If there is no sound check your computer speakers are not set on mute
The Process of Engaging and Empowering the Community
Camperdown Golf Club, 23 March 2011.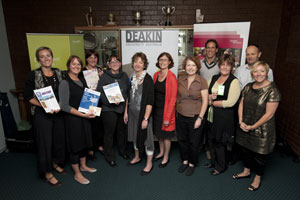 A Community Capacity Building Workshop, 'The Process of Engaging and Empowering the Community' was successfully held at the Camperdown Golf Club, 23 March 2011. The purpose of this workshop was to explore the diverse range of processes whereby communities can be engaged and empowered. The Workshop was well attended by 70 participants across a spectrum of practioners and managers in community health services and local government a swell as researchers and educators in the region.
The keynote Speaker: Professor Jane Farmer (La Trobe University) drew on her international experience and policy understanding to explore good practice in a diverse range of processes to engage and empower communities. Jane Farmer is Head, Rural Health School, La Trobe University (Bendigo). She was previously Chair, Rural Health Policy and Management, and Co-director, Centre for Rural Health, University of the Highlands & Islands (UHI), Inverness, Scotland. Jane has lead many research projects and written extensively on rural health services. (j.farmer@latrobe.edu.au)
Following the keynote address a selection of five best practice community capacity-building activities were showcased as small and interactive group discussions in a 'marketplace' format:
1. Pass the Parcel: A Story of Community development: Ms Joanne Brown, Project Officer, Southern Grampians Glenelg PCP provided an outline of the community development process used to engage the local community in understanding the opportunities and threats posed by climate change. Existing social networks within the community were engaged to distribute temperature data loggers (i buttons) and became the focal point to increase participation, interest and conversation in the program. (Joanne.Brown@wdhs.net)
2. Deadly Teeth: Ms Lynda Smith, Health Promotion Officer, Portland District Health outlined a project to improve the oral health status of Indigenous children (0-5 years) living in the Glenelg and Southern Grampians catchment area. Various workshops were held with children, families and Elders of the Winda Mara Aboriginal Corporation to discuss oral health priorities and concerns. Dental Health Services Victoria - Smiles4Miles program and three key messages- Eat Well, Drink Well and Brush Well were used as a basis for discussion. Results of these collaborative workshops with the Gunditjimara people to date include engaging an indigenous artist to depict the oral health messages on three canvases (displayed at the International Arts in Health Conference, 2010); developing 3 oral health family tip cards and an ongoing initiative to further develop an Indigenous specific oral health program (0-5 years). (lmsmith@swarh.vic.gov.au)
3. RU OK Day : Ms Toni Van Hamond, Manager, Headspace Barwon, Geelong provided an overview of this social marketing approach to raise awareness about suicide prevention and encourage individuals and community groups to reach out to others. RU OK Day aims to reduce the number of suicides each year. Research has shown that talking about suicide with someone at risk reduces the chance of them taking their own life. (toniv@gpageelong.com.au)
4. North Portland Neighbourhood Planning: Ms Fontella Koleff, Community Development Officer, and Ms Adele Kenneally, Group Manager, Community Development, Glenelg Shire Council developed a project to engage disadvantaged public housing residents in the North Portland area in the neighbourhood planning for their community. The program outlined a series of community events, open house forums and school holiday activities used to engage the community and encourage participation in neighbourhood planning. Three members of the public housing estate have been recently nominated as members of a foundation neighbourhood planning committee. (fkoleff@glenelg.vic.gov.au) (akenneally@glenelg.vic.gov.au)
5. Food Security on the Northern Bellarine Peninsula: Ms Anita Thomas, Health Promotion Mentor, Bellarine Community Health Service, Point Lonsdale provided an overview of how Bellarine Community Health Services engaged the community of Bellarine Peninsula to better understand local health and wellbeing needs, and then identified suitable solutions to address them. The process outlined two phases of community consultation and engagement. Phase 1 - a concurrent process undertaking a community health and wellbeing needs assessment at local markets and conducting a comprehensive food security audit. Phase 2 - work in partnership with the community to identify and implement various strategies, including PortProduce (weekly fruit and vegetable market at Portarlington Primary School), a community kitchen in St Leonards, and a café meals program. (Anita.thomas@bch.org.au)
In the afternoon participants choose from two concurrent sessions:
1. Creating community action plans for better health: The ANGELO (Analysis Grid for elements linked to Obesity) process and its application to health issues. Mr Chad Foulkes, Research Fellow, WHO Collaborating Centre for Obesity Prevention, Deakin University took participants through the ANGELO process - which has been successfully used in Australia, New Zealand, Fiji and Tonga to engage communities in the design of effective community based obesity prevention interventions. The ANGELO process comprises four phases: i) a socio-cultural analysis of barriers to achieving health; ii) meetings with stakeholders to frame issues for discussion; iii) prioritisation workshops; iv) and drafting an action plan. (chad.foulkes@deakin.edu.au)
2. Golden Plains Shire Community Capacity Building project: An award winning community capacity building approach and strategy. Ms Louisa White, Manager Community Development, Golden Plains Shire, unpacked the rationale behind the development of township and community plans within a rural shire and the process of facilitating community engagement, community ownership, as well as council and other organisations' support for community-driven priorities. (lwhite@gplains.vic.gov.au)
Workshop Impact Evaluation Report: A preliminary review of workshop evaluation survey indicates the program was well received by participants. Content, information to engage with the community, variety of program and location all scored in the satisfactory to high range. The most popular presentations were the keynote speaker (Prof Jane Farmer) and the afternoon Golden Plains presentation (Ms Louisa White). These were closely followed by a high approval rating for the marketplace presentations with RUOK the most highly rated. An impact evaluation will be undertaken in the next few months to follow up three action outcomes indicated by participants in their evaluation form as well as other outcomes and network contacts.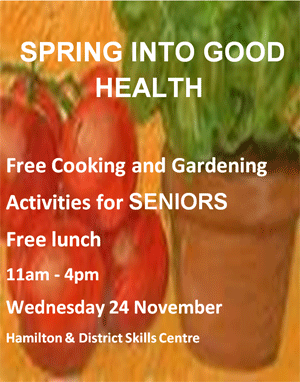 The Southern Grampians and Glenelg Primary Care Partnership presented an interactive workshop Spring into Good Health at the new Hamilton and District Skills Centre on Wednesday 24 November.
Being physically active and good nutrition plays a major role in maintaining health and wellbeing for seniors. "This workshop was designed specifically for seniors to come along and participate in the free gardening and cooking activities "said Janette Lowe, Executive Officer at PCP.
Local identity and Chef Tony MacGillivray demonstrated cooking techniques while horticulturist Rebecca Phyland who shared tips on easy vegetable growing.
Page custodian: Faculty of Health Last updated: