Indigenous partnerships
The Faculty is committed to 'Closing the Gap' in life expectancy and disadvantage between Aboriginal and Torres Strait populations and the rest of Australia.
The Faculty is working in close partnership with the Department of Human Services in developing programs to improve health outcomes for the Aboriginal communities in Victoria.
Through this partnership, the Faculty is working with Aboriginal Community Controlled Organisations to deliver and evaluate tailored intervention programs.
Through an internal partnership with Deakin University's Institute of Koorie Education, the Faculty is assisting in training Aboriginal Health Workers from across Australia. It is acknowledged that Aboriginal people make the biggest health gains from preventative health measures and the management of chronic disease in the primary health care setting. Aboriginal Health workers have the knowledge and accessibility of issues within their communities.
The Institute of Koorie Education delivers the following degrees within the Faculty of Health:
Bachelor of Nursing
Bachelor of Social Work
Master of Public Health
Graduate Certificate of Diabetes Education
The degrees are offered in community based delivery mode, which allows Aboriginal students to study while living in their communities. The unit content and materials are adapted to incorporate Indigenous knowledge and perspectives. The learning environment encourages students to bring their own knowledge and experience in Aboriginal health to their studies and to ensure their studies have a practical application to their community.
The Faculty and the Institute are currently developing a program to deliver the Bachelor of Medicine Bachelor of Surgery to train Aboriginal doctors.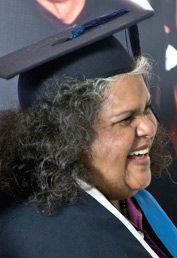 Page custodian: Faculty of Health Last updated: