News @ Werribee
We are making a commitment to share with you our contribution to both the local economy and the communities in which we operate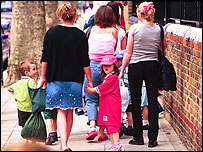 7th August 2014
As a way to strengthen developing partnerships in western metropolitan Melbourne, Professor Andrea Nolan and Dr Anna Kilderry from Deakin University facilitated a workshop for Community Connections: Linking Early Years and Schools last week.
---
30th July 2014
The Hon Nick Wakeling MP, Minister for Higher Education and Skills recently joined Deakin Vice-Chancellor, Professor Jane den Hollander and Chief Executive Officer of The Gordon, Ms Lisa Line to sign a Renewal of Memorandum of Understanding between Deakin University and The Gordon Institute, and, to launch the Deakin / The Gordon Pathways Program (with Guaranteed Entry).
---

11th June 2014
They are yet to begin school and some haven't even started talking, but a group of Werribee's youngest residents is already experiencing the benefits of the tertiary education system, thanks to a partnership between Deakin University and Corpus Christi Primary School.
---
Page custodian: Vice-President (Advancement) Last updated: