Children transitioning to school
7th August 2014
As a way to strengthen developing partnerships in western metropolitan Melbourne, Professor Andrea Nolan and Dr Anna Kilderry from Deakin University facilitated a workshop for Community Connections: Linking Early Years and Schools last week.
The workshop focused on children transitioning to school and looked at the significant milestone of children starting school, with the aim of better resourcing those involved in supporting children and their families making the transition to school. This included exchanging information, providing opportunities to make community connections, engaging with current research in the area and critically reflecting on the key challenges and opportunities.
Participants came away from the workshop with new ideas and understandings about children transitioning to school and how to involve others, newly developed links with local services, and an understanding of the importance of encouraging and advocating networks to prevent barriers, especially around diversity.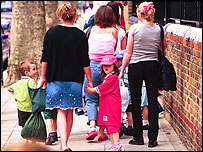 Participants included early childhood educators, kindergarten team leaders, Children's and Youth Services Coordinator, speech pathologists, prep teachers, preschool field officers, maternal and child health nurse, playgroup coordinators, bi-cultural playgroup facilitator, partnership coordinator, and specialist teachers.
The workshop attracted much interest with all places filled before the starting date. It was held at the Wyndham Park Community Centre.
Page custodian: Vice-President (Advancement) Last updated: