Bachelor of Medicine Bachelor of Surgery
Victoria's first rural and regional medical school and has a mission to train work ready graduates to help reduce the chronic shortage of doctors in rural and regional Australia. The course aims to introduce students to rural and regional medical practice through a range of high quality experiences in rural locations during the course.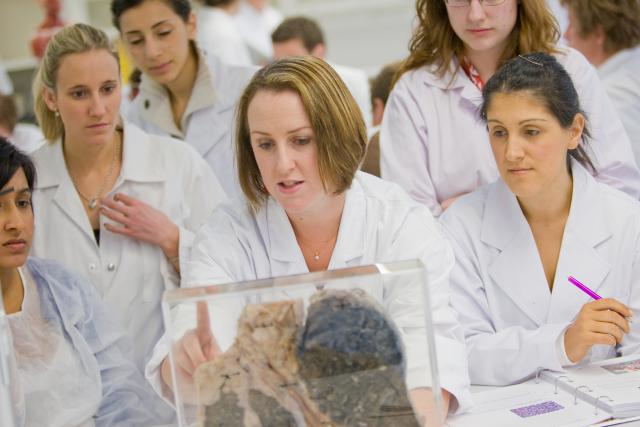 ---
Why study Bachelor of Medicine Bachelor of Surgery?
A degree in medicine provides the opportunity to work across a diverse number of specialties. In the Deakin Bachelor of Medicine Bachelor of Surgery program students are provided with a range of clinical experiences in both rural and urban localities.
All students will undertake a week long Inter-Professional Learning placement at a rural location
Approximately one third of the student cohort will be placed in one of our Rural Clinical Schools based in a regional hospital for the clinical component of the course in Years 3 and 4
A further 20 students will undertake their Year 3 attached to a regional general practice where they will also interact with the local hospital
All students will complete a minimum of 4 weeks training in a rural setting during the course of their studies.
The Bachelor of Medicine Bachelor of Surgery (BMBS) course is a four-year program. Four themes are visible throughout the course.
Knowledge of Health and Illness - the biological and behavioural sciences underpinning the practice of medicine;
Doctor and Patient - the clinical skills required to practice medicine;
Public Health Medicine - a broad theme which includes biostatistics and epidemiology, population and public health, health systems and the effect of culture on health, particularly Indigenous health;
Ethics, Law and Professional Development - the ethical, professional and legal basis of medical practice.
Postgraduate training
On completion of an Australian medical degree, all graduates are required to undertake one year of pre-registration training as interns at accredited hospitals. Graduates who satisfactorily complete the intern year are registered to practice in Australia and New Zealand. The Medical School is collaborating with regional hospitals and the Postgraduate Medical Council of Victoria to expand the number of accredited intern and resident training posts in Western Victoria. The School will also work with Specialty Colleges to expand specialty training in the region.
BMBS inherent requirements
Applications are accepted for the Deakin Bachelor Medicine Bachelor Surgery from students who possess the skills and prerequisites required to complete the course, gain professional certification and practise safely. The inherent requirements of the course are listed in the document, BMBS Inherent Requirements (pdf 75k)
Page custodian: Faculty of Health Last updated: