Internship process for students
An internship experience combines hands-on workplace experience with your discipline-specific skills, and earns academic credit towards your course. Arranging your internship involves three steps: preparing, securing, and registering.
1. Prepare
Complete the Pre-Internship Program in CloudDeakin
These compulsory modules are designed to prepare you for your internship experience: how to find the right placement, how to make a great first impression, and what your rights and responsibilities are as an intern. At your successful completion of the program, an automated email will be forwarded to you and the ArtsEd WIL team. If the Pre-Internship Program is not already appearing in your Sites, you will need to self-register.
To register for the ArtsEd Pre-Internship Program follow the below steps:
Log into https://sync.deakin.edu.au
Select the 'Course Resources' tab to the right of the MY LEARNING heading
Click the '+ Add a resource' button. This take you to the self-registration page in CloudDeakin.
Select 'ArtsEd Pre-Internship Program' and follow prompt to register.
Ensure your Course Map has space for an internship unit
You must have space in your Course Map to accommodate an internship unit - the ArtsEd WIL team are able to assist with this.
Please note that you will not be able to enrol in your internship unit until your Internship Application has been approved (3. Register).
Chat with your ArtsEd WIL team, lecturers, and networks to identify opportunities
There are a world of resources available to help you identify internship opportunities:
Internship vacancies and career preparation workshops are advertised at UniHub
Resume and cover letter review services are available through DeakinTALENT
A calendar of discipline-specific internship sessions run by ArtsEd lecturers is located on the ArtsEd WIL Blog
Remember too, securing your own placement is a fantastic opportunity to sharpen your networking skills!
---
2. Secure
Speak with potential host organisations and confirm your placement
Negotiate your tasks, goals, hours, and supervision arrangements
When speaking with host organisations, please be mindful of your internship unit requirements as per the Handbook (see table below).
If a host organisation asks to speak with a Deakin University representative, the ArtsEd WIL team are on hand to assist.
Insurance for internships
Your host organisation may have questions about insurance for you while you're completing your internship. Deakin University will provide insurance for you during your placement provided your placement has been approved by the university (3. Register).
Please see the Insurance for Students website for more information.
---
3. Register
Submit your completed Internship Application to the ArtsEd WIL team: artsed-wil@deakin.edu.au
Completed forms need to be submitted at least two (2) weeks before commencing placement.
Please note that incomplete forms cannot be approved, and all unapproved placements will be ineligible for insurance coverage or academic credit.
Once your application is approved you will be assigned an academic supervisor from your study area, and insurance coverage for your placement will be confirmed.
If your placement is occurring outside of Australia, the ArtsEd WIL team will assist in ensuring you meet Deakin University's risk management requirements.
---
Funding your internship experience
Pursuing an internship regionally, interstate or overseas needn't break the bank: you could be eligible for financial assistance to help with travel, accommodation and program costs.
---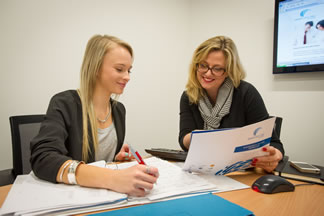 'My internship gave me real life experience and insight into the industry I had been learning about over the years at university. It allowed me to put what I'd been studying into practice and develop knowledge and skills in a way that I wouldn't have been able to through studying alone.'

Georgie Wilson, Bachelor of Arts (Public Relations)
Undergraduate
Internship units have prerequisites and contact hour requirements. Please ensure you are familiar with the eligibility criteria detailed in the Handbook:
COMMUNICATION AND CREATIVE ARTS:
HUMANITIES AND SOCIAL SCIENCES:
Postgraduate
Internship units have prerequisites and contact hour requirements. Please ensure you are familiar with the eligibility criteria detailed in the Handbook:
Advice and support
The ArtsEd WIL team are on hand to assist with every step of your internship experience.
Page custodian: Faculty of Arts & Education Last updated: