Apply for re-admission
Students whose enrolment has been discontinued (e.g. termination for non-payment of fees, withdrawal from studies or allowing their enrolment to lapse) may apply for re-admission. If a student has outstanding fees and charges, these will need to be paid before they can be re-admitted.
All applicants for re-admission will be considered on the basis of their academic performance and the availability of the course and will compete for selection with the total applicant pool at the time.
If you have been excluded for academic reasons, you need to contact your faculty course adviser / enrolment officer for information on re-admission.
Local undergraduate and postgraduate students
Apply by completing the re-admission form and submitting it to the Division of Student Administration.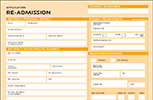 PDF
128 KB
International students
International students should contact Deakin International for further information.