Student Services and Amenities Fee
The Student Services and Amenities Fee (SSAF) enables Deakin to provide students with important services and facilities.
---
What is it for?
The Student Services and Amenities Fee helps to pay for important services such as student counselling, employment/career advice, child care, financial advice, food services, sporting and recreational activities, as well as independent student representation structures.
Students are not forced to join any student organisation and the fee revenue cannot be used to support a political party.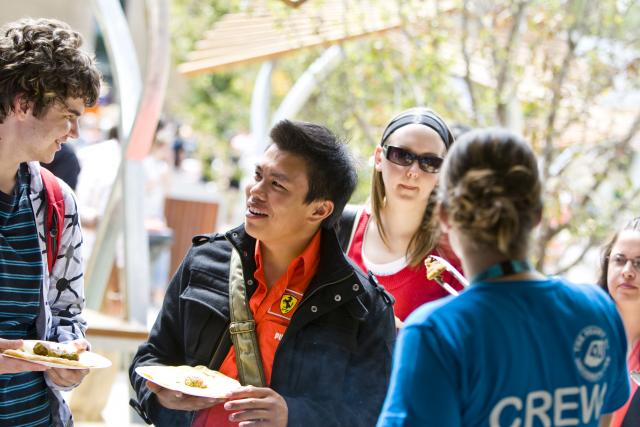 ---
Amount payable
The fee is payable by all domestic students completing undergraduate and postgraduate campus based or Cloud Campus studies.
This fee is charged per study period and if applicable will appear on your invoice. You must pay or if eligible, defer the fee to SA-HELP before the due date on your invoice. You can generate, review and pay your invoice in StudentConnect.
Fees for 2016
2016 SSAF for part time, full time, Campus and Cloud Campus students
On-Campus
Full time (3 credit points or more)
$96 per trimester / semester
Part-time (1 -2 credit points)
$60 per trimester / semester
Cloud Campus
$46 per trimester / semester
Fees for 2017
These haven't been confirmed for 2017, they'll be available soon.
---
Deferring payment (SA-HELP)
Eligible students who do not wish to pay the fee upfront to the University, can request assistance from the Commonwealth and defer the fee through an element of the Higher Education Loan Program (HELP) known as SA-HELP.
Eligible students may choose to pay some of the fee upfront and obtain an SA-HELP loan for the remainder or obtain a loan for the full amount of the fee.
The amount of the loan will be added to the student's accumulated HELP debt. An eligible student will be able to take out an SA-HELP loan even if they do not wish to take out any other HELP loan.
Cross Institutional Students
If you are undertaking cross institutional study, you may be charged SSAF by both providers. If you have already paid your SSAF at your home institution please provide proof of payment for the current study period so we can waive the Deakin SSAF.
As SA-HELP is linked to your course of study, you can only access SA-HELP at the provider where you are enrolled in your actual course of study (i.e. your home provider). Incoming cross institutional students are not eligible to defer a SSAF incurred at Deakin via SA-HELP.
Eligibility requirements
Students must:
be an Australian citizen or a permanent humanitarian visa holder resident in Australia
be enrolled in an eligible course of study with a higher education provider
meet the Australian Tax File Number (TFN) requirements
complete the online SA-HELP form by the census date each Trimester/Semester.
How to apply for SA-HELP
Go to StudentConnect and select the SA-HELP menu option.
SA-HELP is a different scheme to HECS-HELP and FEE-HELP so you will need to apply for this separately if you would like to defer payment of your SSAF.
---
Refunds
Students may be eligible for a full (or partial) refund of the Services and Amenities Fee if they withdraw from units of study prior to the applicable census date.
Withdrawing after the census date
If students withdraw from unit(s) after the applicable census date, the SSAF will still apply and no refund will be given.
If students have elected to defer payment of the SSAF, a SA-HELP debt will still be incurred if they withdraw from unit(s) or courses of study, after the applicable census date. Any amount deferred to the ATO through SA-HELP will not be refunded.
How to apply for a refund
Applications for refunds are made using the Application for Refund of Student Fees form.
---
Paid your Student Services and Amenities Fees?
If you have recently paid your Student Services and Amenities Fee (SSAF) you'll need to allow 3 to 4 University working days, for your invoice to be updated. If your payment status still hasn't changed after this time, contact Deakin Central so they can look into it for you.
Which students do not have to pay?
International students, including Inbound Exchange students, are not charged the SSAF. Their tuition fees include a component for the provision of services required under the Education Services for Overseas Students Act, presently $22 per credit point.
If you are a cross institutional student and have paid SSAF at your home institution, You do not have to pay SSAF at Deakin, provided you supply us with documentary evidence of upfront payment or incurred SA-HELP debt from your home institution.
Higher Degree by Research students are not charged the SSAF.
More information
The Australian Government Study Assist website provides details of the relevant legislation and FAQs on charging and paying the fee, spending fee revenue, and SA-HELP administration.
If you need more information about SSAF (Student Services and Amenities Fee) please contact Deakin Central for help.
Page custodian: Division of Student Administration Last updated: