Journalism
Deakin's journalism courses develop the analytical skills necessary for reporting events in context, with the aim to prepare journalists for the challenges of the twenty-first century.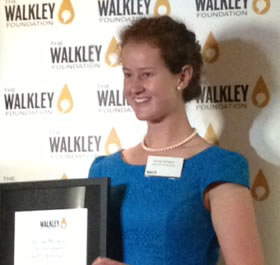 Deakin journalism student wins Jacoby-Walkley Scholarship.
Top journalism student ready for dream placement
---
Why study Journalism at Deakin?
Learn from the best
Paul Bethell is a Senior Lecturer in Journalism in the School of Communication and Creative Arts. He has been at Deakin since 2002 and teaches both undergraduate and postgraduate students in a range of subjects including contemporary journalism, media law and ethics, TV journalism and multimedia reporting. He was appointed Associate Head of School (Teaching and Learning) in 2009.

His academic career began after nearly twenty years as a senior newsroom editor with BBC TV News in London, where he became deputy editor of the 'Nine O'clock News'. He edited nearly seven hundred editions of the programme and was involved in broadcasting events such as the death of Princess Diana, the fall of the Berlin Wall, the election of Nelson Mandela and wars in the Middle East and the Balkans. After moving to Australia in 1999, he continued working links with BBC News, helping co-ordinate coverage from Australia of the Bali bombings in 2002 and working in Northern Sumatra in 2004 on coverage of the Tsunami disaster in Aceh. Paul is a member of the Melbourne Press Club and has worked closely with the Victorian Country Press Association on a number of projects.
Get ready for your new career
To help integrate study with work and personal commitments, Deakin has designed its journalism courses with flexibility and support. On and off-campus study are available for most units, and full or part-time study modes are available.
Career and Industry
The courses enable graduates to move across professional fields by building upon student knowledge bases. The courses are also designed for people working in the journalism industry who are seeking to upgrade their qualifications or to refresh or advance their professional skills.
---
What can I study?
---
Page custodian: Faculty of Arts & Education Last updated: