Apply for a course at DUELI
Applying
We recommend that you lodge your application as soon as possible, as places at DUELI are limited. To apply, please download the DUELI Application form on the right. Once you have complete the application form, please scan or post it to:
Deakin University English Language Institute
Melbourne Burwood Campus
Building LA, Entrance 3
70 Elgar Road
Burwood VIC 3125
Australia
Tel +61 3 9244 5095
Fax +61 3 9244 5094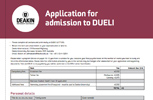 Application for admission to DUELI
PDF
185 KB
After you apply
Please follow these steps:
Wait for a Letter of Offer
Deakin International will let you know if your application has been successful. If it is, you will be sent a Letter of Offer.
Pay your fees
When an offer is made, you will need to pay your fees:

Course tuition fees
Orientation and enrolment fee and,
If applicable, homestay placement fee.

All fees need to be paid in full by bank draft or credit card before you commence your course. If you have received a joint offer to study an award course after your DUELI course, we will advise you of the fees you will need to pay.
Receive a Confirmation of Enrolment Letter and apply for a student visa
Once we receive your fees, an electronic Confirmation of Enrolment (eCOE) will be sent to you. You will need this to apply for a student visa that will allow you to study in Australia. You will be sent a Notification of Arrival form which must be sent back to Deakin International at least 10 days before your arrival. Visit the Arriving in Australia page for more information.
Come to Deakin and study at DUELI
On arrival you will be assessed and placed in an English language course appropriate to your English language skills and study plans.
If you need any further information, please contact us.
Page custodian: Deakin International Last updated: