Global study opportunities
Deakin offers exciting global study opportunities for students at Deakin or from overseas.
---
Deakin students
Study part of your Deakin degree overseas
Short term study programs
Short overseas programs that range from two to eight weeks, including faculty study tours and other short term programs.
Study overseas for one or two trimesters
The student Study Abroad and Exchange Program lets you study overseas for a trimester or two with one of Deakin's partner universities. Come along to an information session to find out how it works, what it costs and where you can go.
Gain international experience and develop values for success in our increasingly global society.
See different options that can help you cover the cost of overseas study - including travel grants, subsidies and scholarships.
Find out all you need to know about overseas study with answers to frequently asked questions.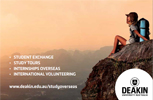 Study abroad and exchange guide 2013 for Deakin students
PDF
180 KB
---
Students from outside Australia
Study part of your degree at Deakin
Students enrolled at overseas universities can study in Australia at Deakin, for one or two trimesters.
Learn about the Study Abroad program and how you can gain international experience and enjoy the Australian lifestyle while studying.
You can stay in our on-campus residences or we'll help you to find off-campus accommodation.
Study abroad and exchange guide 2013 for students outside Australia
PDF
1.7 MB
Page custodian: Marketing Last updated: