Pathway from online to on campus: how it works
Deakin is offering students the chance to start their studies online, then when you have the opportunity to come to Australia, you will complete the remainder of your course full-time and on campus.* The campus you continue your studies at will depend on your chosen degree.
Pathway options
You may be concerned that starting your degree online will be challenging, or that it will take longer to complete your qualification. We want to ensure that you are well supported to succeed in your studies.
As part of the online to on-campus pathway, you can study either one, two, three or four** units online each trimester before starting full-time studies in Australia. This will depend on your situation, as well as the number of units available online per trimester for your chosen course.
Once you enrol in your course, you will be provided with the range of units you can choose from.
And Deakin's unique trimester system means you can still complete your degree on time. We offer intakes in March (Trimester 1), July (Trimester 2) and November (Trimester 3), which means for many of our degrees, you have the option to study three terms per year.
The University recommends either the one or two-unit approach if you have not studied at an Australian institution before: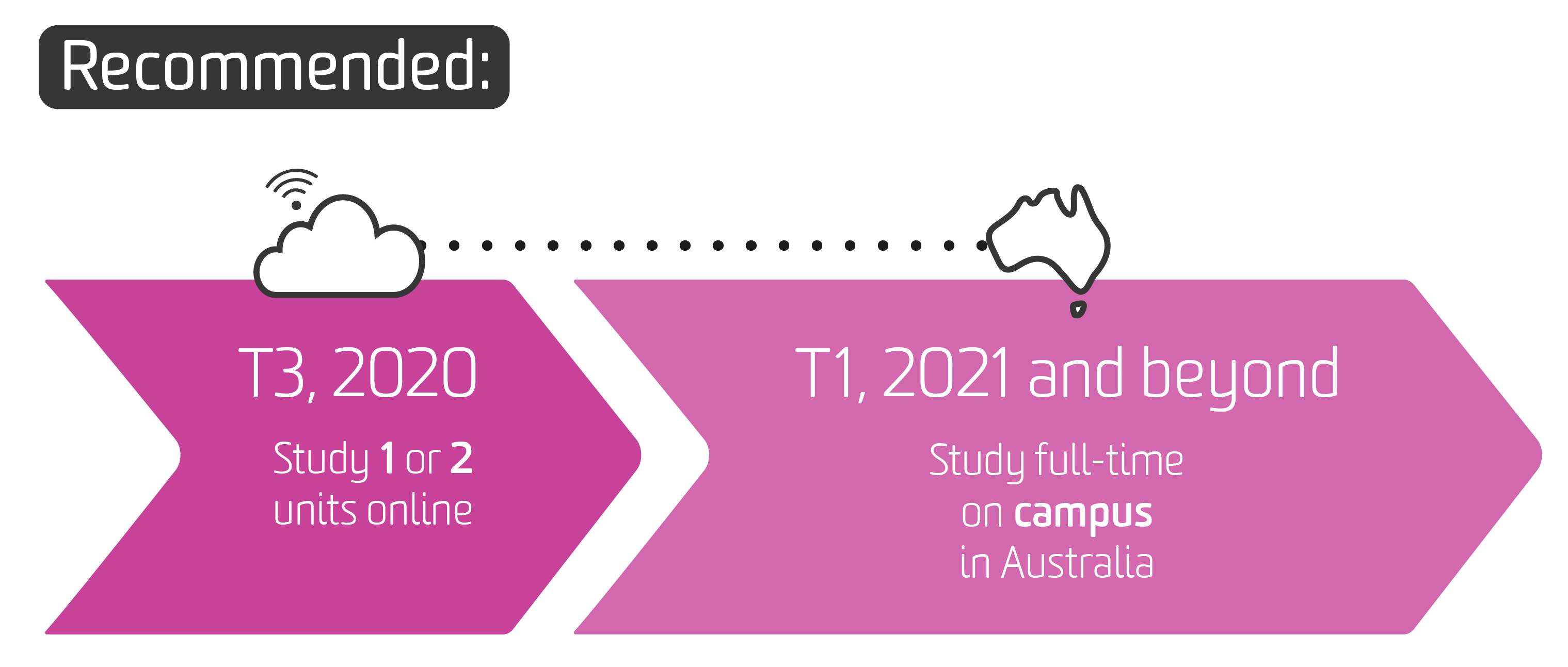 If you have previously studied at an Australian institution, are transferring from one of our partner institutions or are from an English speaking country, you may have the opportunity fast track your studies by completing 3 or 4 units of study online in Trimester 3 (November) 2020:**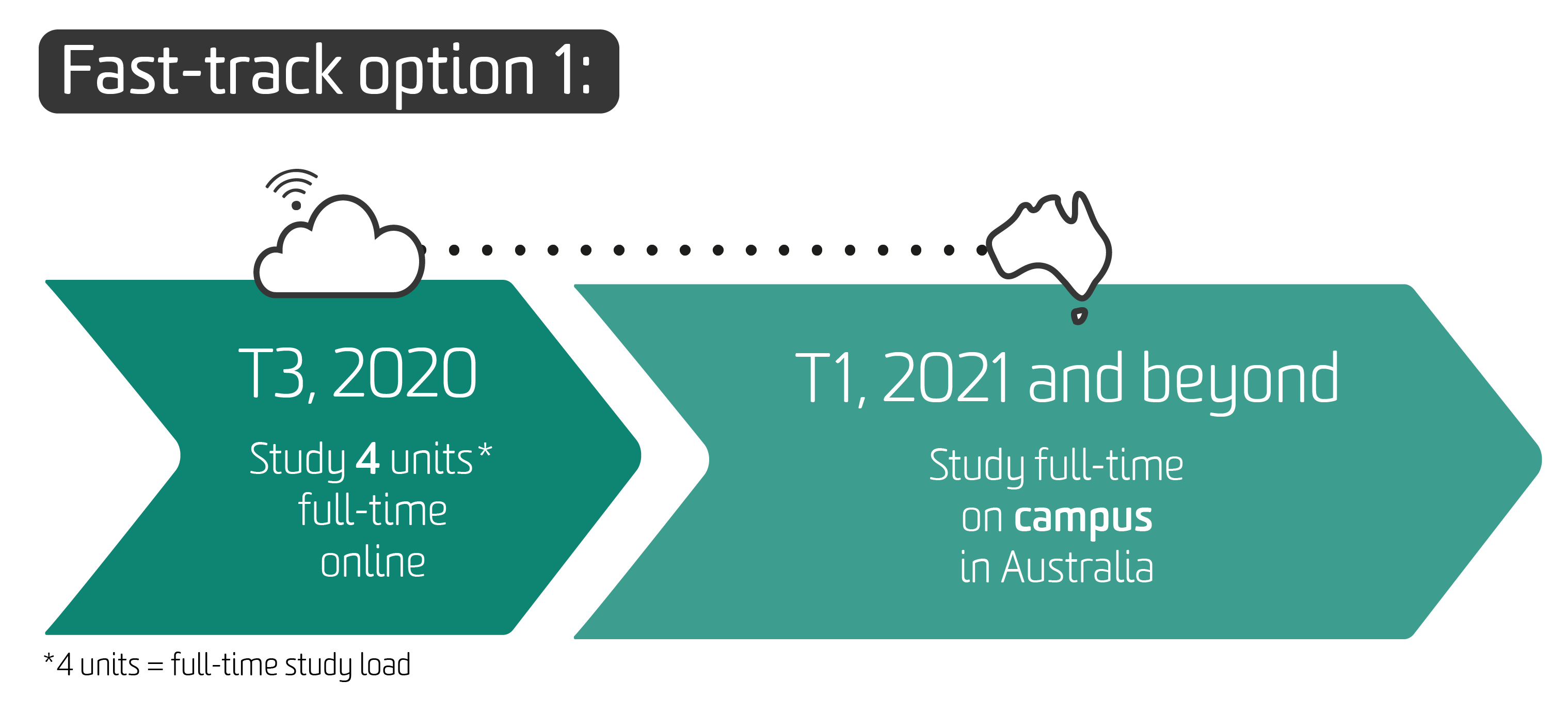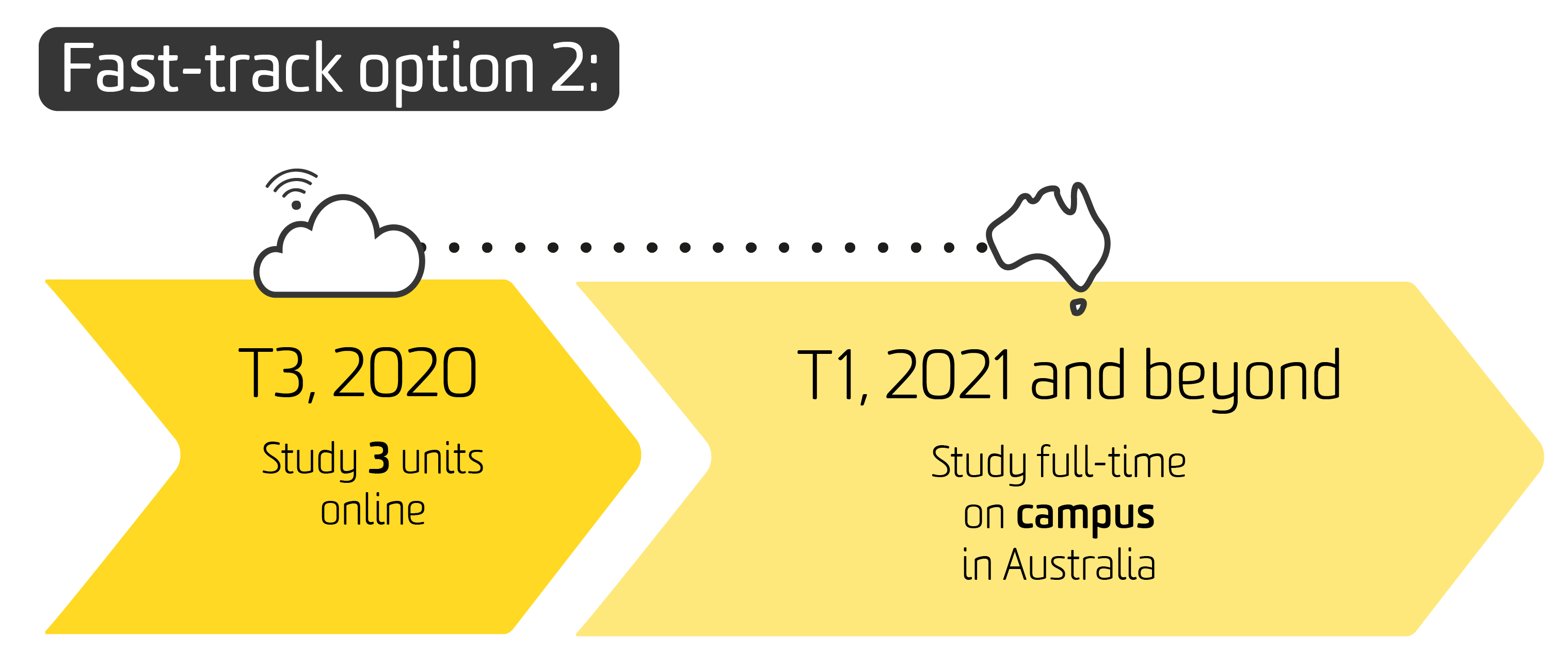 What can I study?
Most of Deakin's degrees are available as part of the online to on campus pathway. You can use our find a course tool to search Deakin programs. Be sure to select 'international student' before searching.
There are select courses that are not available as part of the online to on campus pathway, due to compulsory on-campus components. If you have any questions, contact your agent or email the University directly. We will help in determining the best study option for you.
Deakin English
The Deakin University English Language Institute (DUELI) is now offering our full suite of English language courses online. This is a great opportunity for you to reach your degree's English language requirements from home, preparing you to pursue your chosen Deakin degree in the future.
Post-study work rights
After you have graduated with at least two years of full-time study on campus at Deakin, you may be eligible to live and work in Australia for at least two years with a post-study work rights visa.
If you study at one of Deakin's Geelong campuses, you may be eligible for three years of post-study work rights, and up to four years if you study at Deakin's Warrnambool Campus.
For more details about post-study work rights, visit the Australian Government's Post-Study Work Stream website.
Deakin's online learning platform
Students who study online experience the same quality education as on-campus students. Deakin's Cloud Campus offers lectures, seminars and class discussions via livestream, and you can chat with teaching staff and other students in real-time.
Learn more about the online study experience at Deakin
Discover everything you need to know about studying in Deakin's Cloud Campus in this free online course.
Programs built for online education
Deakin has been a leader in online education for more than 40 years, and provides an innovative learning environment.
A thriving online community
Join Deakin's immersive online learning community of more than 60,000 students.
Learn from our experts
Deakin's online classes are led by the same teachers as on-campus classes.
Online study support services
We make it our priority to ensure that all new international students make a smooth transition to university studies. While studying online, you will have access to the same support services as those available to you when you come to Australia.
You will participate in orientation sessions, and have access to tailored support services and innovative, easy-to-use digital tools and resources to keep you on track.
Deakin provide access to:
a range of student-to-student mentoring programs supporting your transition to university and throughout your studies
orientation and study preparation sessions and resources
easy-to-use online learning tools, including downloadable recordings of classes for you to watch and listen at your convenience
library resources, 24 hours a day, 7 days a week
assignment planners and referencing guides
online language and learning consultations
writing feedback service and online tutoring in selected subjects.
Kaweesha Kulatunge, Sri Lanka – Bachelor of Biomedical Science
'The transition from on-campus to online learning was much easier than anticipated...I get to plan out when to watch a lecture according to my preference. It also helps to save travel time, which makes you feel like you have more hours in the day to get other things done.'
Discover how Kaweesha and other students have transitioned to online learning
Graduate employment
Our unique DeakinTALENT program assists students to enhance their career planning, marketability and employment outcomes in Australia and beyond. Deakin's long-standing relationships with industry organisations mean you will learn what employers are looking for in a graduate.
DeakinTALENT offers the Deakin International Student Careers (DISC) program, which includes workshops each trimester and provides resources and support to help you build your experience; write a strong resume; and prepare your graduate job search. You will hear current students and graduates share their experiences, challenges and success stories about securing jobs and internships while living, working and studying in Australia.
On-campus learning
Students who enrol in online study have the option to transition to on-campus study for the remainder of their degree.* Deakin will provide all the support you need to transition to on-campus learning in Australia – we will even pick you up from the airport.
Scholarships and bursaries
Refund policy
We understand that COVID-19 restrictions have meant that your study plans may be looking different than you thought they would. Deakin is providing flexibility around its refund policy for students who take part in this pathway, commencing in Trimester 2, 2020 (July). A full refund will be provided if you withdraw before the census date (Saturday 15 August, 2020). This means you will have time to get used to studying online and make sure it is the right option for you.
* Studying online does not guarantee students a place in on-campus study. Transition to on-campus study is still subject to Australian Government visa and genuine temporary entrant regulations. Courses that are available to complete on campus are limited. Please contact us to find out if your course is included.
** Applications will be assessed on a case-by-case basis to determine how many units you are eligible to study online. Students coming to Deakin from a partner institution will likely have the opportunity to study more units online.
# MoocLab World University Rankings by MOOC Performance 2019.