Contemporary Small Sculpture Award
Congratulations to the 46 finalists in the 2015 Deakin University Contemporary Small Sculpture Award. This year we received 353 entries the highest number since the award began in 2009, and 73 more than last year.
The standard of entries was very high and judging was extremely difficult.
Thank you to our judges for 2015:
Professor David Cross, Professor of Visual Arts at Deakin University.
Ken Scarlett OAM, writer and curator on Australian sculpture.
Leanne Willis, Manager Art Collection and Galleries, Deakin University.
The exhibition of finalists will be held at the Deakin University Art Gallery from 10 June to 10 July 2015. The winning entry will be announced at the official launch of the exhibition on Tuesday 9 June 2015....
2015 Finalists
Aprile Alexander NSW
Peter Atkins VIC
Terry Barclay VIC
Zoran Bogdanovic VIC
Dean Bowen VIC
Andreas Buisman Austria
Penelope Campbell VIC
Glen Clarke VIC
Julie Collins & Derek John VIC
Luke Cornish NSW
Ted Cross VIC
Augustine Dall'Ava VIC
Ham Darroch ACT
Julia de Ville VIC
Julian Di Martino VIC
Michael Doolan VIC
James Edwards SA
Zoe Ellenberg VIC
Dana Falcini VIC
Jason Fitzgerald QLD
Sarah Hillebrecht Germany
Martin Hodge VIC
Pollyxenia Joannou NSW
Col Jordan NSW
Linda Judge VIC
Neil Laredo NSW
Michael Le Grand ACT
Simon Lloyd VIC
Shirley Macnamara VIC
Chris Mason VIC
Steven McClure VIC
Ian Munday TAS
Kendal Murray NSW
Thomas O'Hara ACT
Sena Park New Zealand
Caroline Phillips VIC
Louis Pratt NSW
Trefor Prest VIC
Emidio Puglielli VIC
Faustas Sadauskas VIC
Sally Smart VIC
Philip Spelman NSW
Richard Stringer VIC
Annette Thas WA
Ian Tully NSW
Peter Vandermark ACT
Previous winners have included:
2014 - Mikala Dwyer, Empty Sculpture
2013 - Michael Sibel, Primitive Dance
2012 - Lisa Roet, Spider Monkey
2011 - Stephen Bird, Boxers.
2010 - Robert Hague, Trojan Hammer (200%)
2009 - Stephen Benwell, Statue, Grey-Pink Man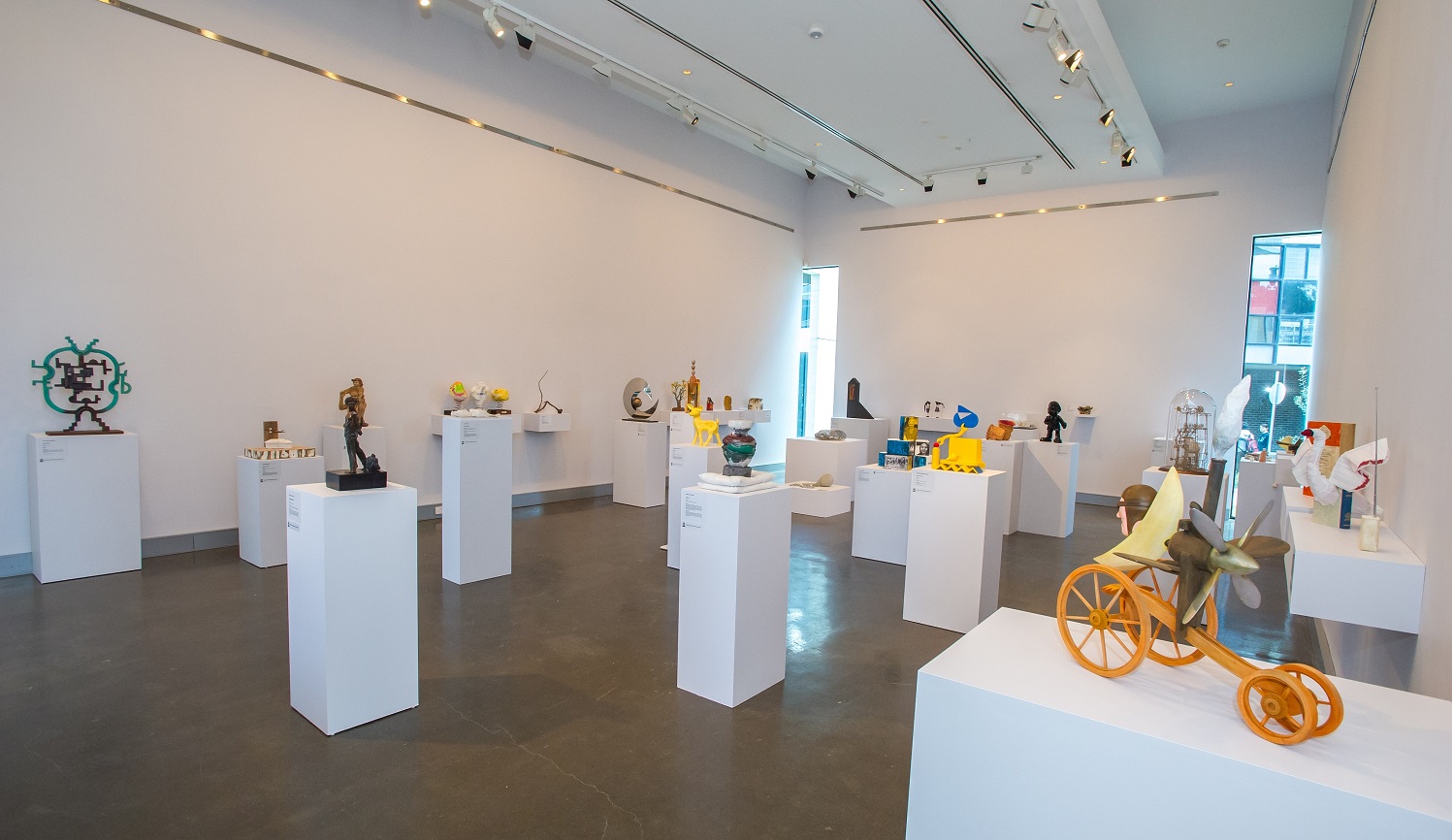 Exhibition of Finalists, 2014 Deakin University Small Sculpture Award
Deakin University Art Gallery
Photo: Simon Peter Fox
Page custodian: Vice-President (Advancement) Last updated: