Contemporary Small Sculpture Award
About the Award
The Deakin University Contemporary Small Sculpture Award has been running for six years. Entries can be in any medium but must be under 70cm in any dimension, under 30 kilograms in weight and must be free standing. The winner receives $10 000 and the sculpture becomes part of the Deakin University Art Collection.
In 2014 the award will be judged by Jane Clark, Senior Research Curator at Museum of Old and New Art (MONA), Hobart; David Hurlston, Curator, Australian Art at the National Gallery of Victoria and Leanne Willis Manager, Art Collection and Galleries, Deakin University.
Past judges have included Jason Smith, Heide Museum of Modern Art and Robert Lindsay, McClelland Gallery and Sculpture Park (2009); Geoffrey Edwards, Geelong Gallery and art writer Ken Scarlett (2010); John Cunningham, Warrnambool Gallery and Kelly Gellatly, then National Gallery of Victoria (2011); Gordon Morrison, Art Gallery of Ballarat and Linda Michael, Heide Museum of Modern Art (2012); and sculptor Geoffrey Bartlett and Jacquie Nichols-Reeves, Whitehorse Artspace (2013).
In 2014, the finalists will be exhibited at Deakin University Art Gallery, Building FA, 221 Burwood Highway, Burwood, from 30 October - 13 December.
Previous winners
Stephen Benwell, Statue, Grey-Pink Man (2009)
Robert Hague, Trojan Hammer (200%) (2010)
Stephen Bird, Boxers (2011)
Lisa Roet, Spider Monkey (2012)
Michael Sibel, Primitive Dance (2013)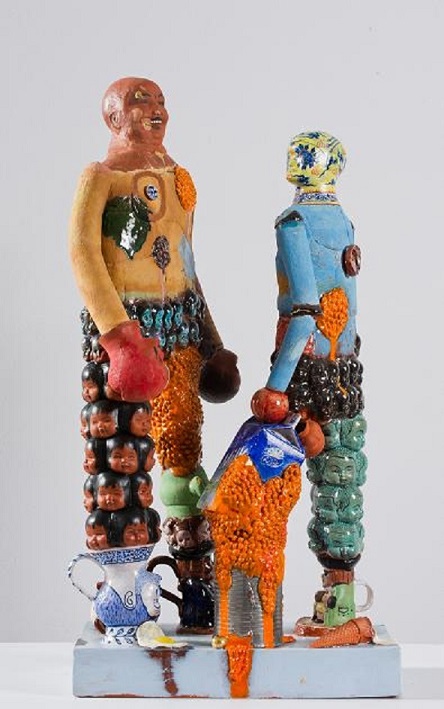 Stephen Bird
Boxers, 2011
clay, pigment, glaze
70 x 38 x 28 cm
Deakin University Art Collection
2014 Finalists
| | | |
| --- | --- | --- |
| Name | State | Entry Title |
| Abdul-Rahman Abdullah | WA | The Count |
| Kay Abude | VIC | Piecework (Detail of gold bars on pallet) |
| Daniel Agdag | VIC | The Relic |
| Terry Barclay | VIC | Fly Me to the Moon |
| Jock Clutterbuck | VIC | Small Ethiopia |
| Alan Constable | VIC | Not titled |
| Adam John Cullen | VIC | Settle #5 2014 |
| Alexander Dathe | VIC | Bobble Heads of Past and Present |
| Julia deVille | VIC | Milk |
| Sebastian Di Mauro | QLD | Provenance (Irraggiungibile Madre Patio Versione in Bronzo - Unattaintable Mother Country Bronze Version) |
| Michael Doolan | VIC | Trickster (2014) |
| Mikala Dwyer | NSW | Empty Sculpture |
| William Eicholtz | VIC | Courage Maquetts |
| Mark Eliott | NSW | The Saxaphone Tree (version 1) - Hugerfor Story Series |
| Wendy Fairclough | SA | "Rockets" |
| Ben Fasham | VIC | BJF14 |
| Greg Fullerton | VIC | Untitled White Noise/ Solid State |
| Wanda Gillespie | VIC | The Ceremonial Processions of Dreamers |
| Deanne Gilson | VIC | The Photobox of White Gaze, White Haze |
| Louise Gore Langton | WA | "There was an old lady…" |
| Brigit Heller | VIC | Nostalgia |
| Di Holdsworth | NSW | Beauty and the Beast Tango |
| Oliver Hutchison | VIC | Deconstruction/Reconstruction (Penguin Book 4:1) |
| Jennifer Joseph | VIC | We will arrive where we started and know the place for the first time (for my father) 2014 |
| Linda Judge | VIC | While You Were Sleeping |
| Varuni Kanagasundaram | VIC | Journey of Culture |
| Irianna Kanellopoulou | VIC | Wild Thing II |
| Yvonne Kendall | VIC | On Holy Waters 2013 |
| Janetta Kerr-Grant | VIC | Eight Mile Lane |
| Shirley Macnamara | VIC | Girringulu (Woman) 2014 |
| Nina Magee | VIC | Paradise: Extinct |
| Darren McGinn | VIC | Housing Instinct |
| Vera Möller | VIC | Loan Sharks (2014) |
| Donal Molloy-Drum | VIC | Funky Town on the esplanade |
| Mylyn Nguyen | NSW | Ponytail (Bird) + Ponytail (Short) |
| Luciana Perin | VIC | Reclining Form (Venus) 2014 |
| Simon Perry | VIC | after the fall |
| Ron Robertson-Swann, OAM | NSW | Miro's Dream Bird |
| Peter Tilley | NSW | The Anxiety of Displacement |
| Dan Wollmering | VIC | Old China Chair |
Page custodian: Vice-President (Advancement) Last updated: