Contemporary Small Sculpture Award
In it's seventh year, this annual acquisitive award and exhibition is organised by the Art Collection and Galleries Unit at Deakin University. One outstanding entry will be awarded $10 000 and will become part of the Deakin University At Collection. Entries can be in any media but must be under 70cm in size and free standing. Applications for the award close on 17 April 2015. The winner will be announced at the opening of a four week exhibition of finalists' works.
Our dates are changing
New dates:
Entries close: 17 April 2015
Finalists notified: 1 May 2015
Work delivered by: 2 June 2015
Exhibition display period: 10 June - 10 July 2015
Frequently asked questions
Is the white plinth included in the size measurement?
No. The only thing included in the measurements is the artwork itself and anything needed to make it free standing. The white display box provided by the gallery is not included in the measurement.
Can the work be wall mounted?
No. All works must be free standing, in other words they stand up by themselves. Wall mounted works are not eligible.
Can I enter a drawing of what I think my work will look like?
Yes. You can submit drawings of what you expect the work will look like. If you do it is a good idea to include some images of other work you have produced.
Can I enter pictures of my other work?
Yes, you can. There is a limit of 3 images per entry. If you submit images of an artwork other than the actual work being entered make sure that the photograph of the actual work is clearly labelled as the entry.
Can I bring my own display plinth?
You can bring your own plinth but you do so with the understanding that it will be repainted to match the other plinths in the gallery. Please contact gallery staff prior to delivery to discuss.
Can I submit a late entry?
No. Entries must be hand delivered by 4pm 17 April 2015 or if posted postmarked no later than 17 April 2015.
Can I put my images on a disc?
No, do not send a disc, hard copy photographs only please. If you include a stamped self-addressed envelope we will return your images to you if you are not chosen as a finalist.
---
Announcement of judges for the 2015 Deakin University Contemporary Small Sculpture Award
We are pleased to announce that the judges of the 2015 Deakin University Contemporary Small Sculpture Award will be as follows:
Professor David Cross, Professor of Visual Arts at Deakin University.
Ken Scarlett OAM, writer and curator on Australian sculpture.
Leanne Willis, Manager Art Collection and Galleries, Deakin University.
---
Previous winners have included:
2014 - Mikala Dwyer, Empty Sculpture
2013 - Michael Sibel, Primitive Dance
2012 - Lisa Roet, Spider Monkey
2011 - Stephen Bird, Boxers.
2010 - Robert Hague, Trojan Hammer (200%)
2009 - Stephen Benwell, Statue, Grey-Pink Man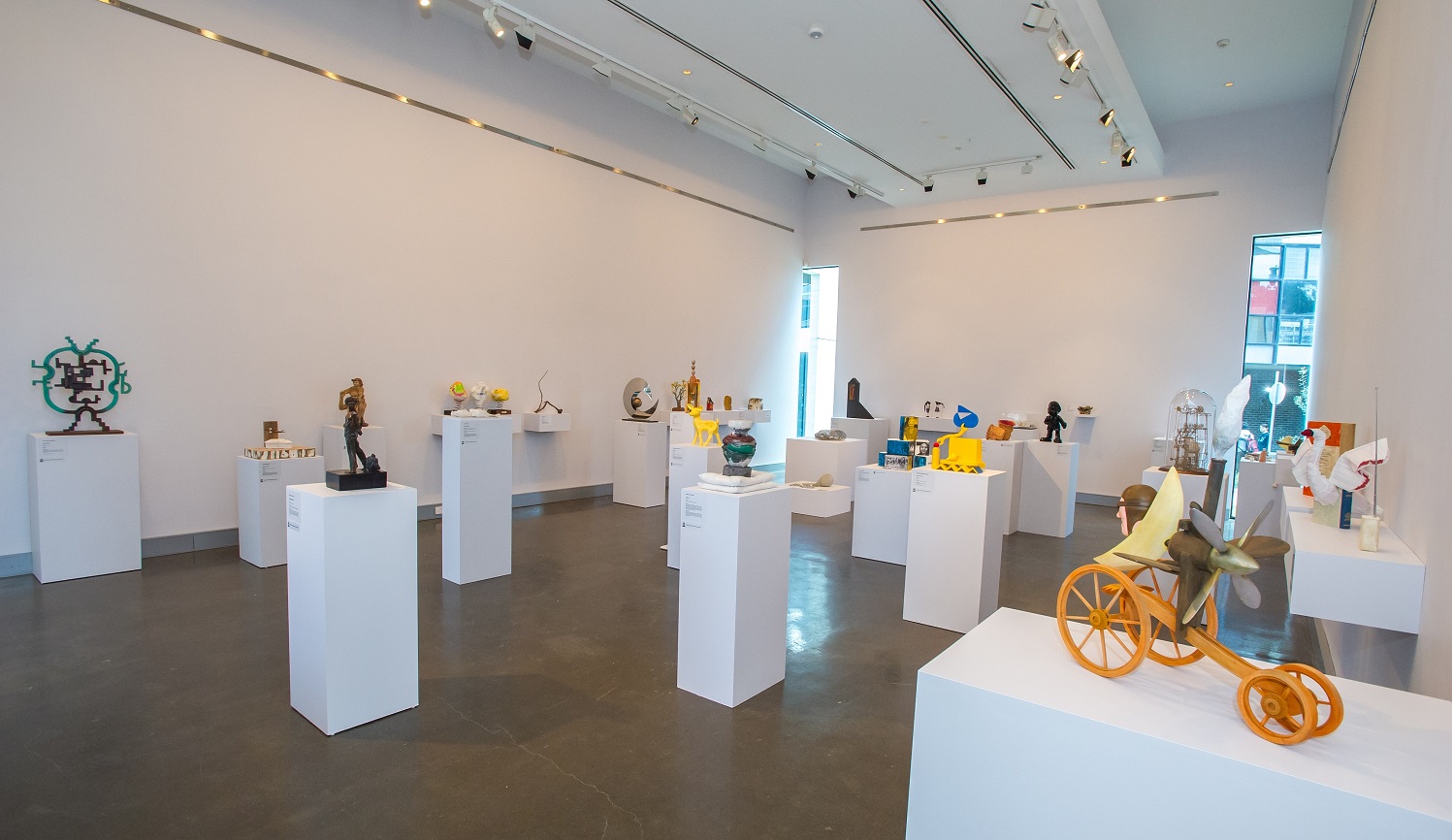 Exhibition of Finalists, 2014 Deakin University Small Sculpture Award
Deakin University Art Gallery
Photo: Simon Peter Fox
Page custodian: Vice-President (Advancement) Last updated: