Contemporary Small Sculpture Award
DEAKIN ANNOUNCES WINNER OF 2015 CONTEMPORARY SMALL SCULPTURE AWARD
Wednesday, 10 June 2015
Australian artist Kendal Murray has been named the winner of this year's Deakin University Contemporary Small Sculpture Award for her entry Provision, Revision, Decision, Division.
Ms Murray's dream-like miniature world was judged the best of an inspiring field of 46 finalists chosen from a record 353 entries.
Deakin Vice-Chancellor Jane den Hollander announced the winner of the $10,000 prize at the official opening of the small sculpture exhibition at the Deakin University Art Gallery in Burwood on Tuesday evening.
Provision, Revision, Decision, Division captivated the judges with its unique combination of whimsy, social observation and ecological insight.
The judges said on a miniaturized scale, this deft and exquisitely made sculpture stood out for its capacity to interrogate nostalgic ideas of family and recreation while offering a fantastical yet disquieting meditation on unseen environmental change.
In discussing her work Ms Murray said Provision, Revision, Decision, Division takes the form of an assemblage of household items from a bygone era which yield a botanical specimen, and a miniature figurative scene.
"The items have been freed from the meanings of their original use and propose a way to re-experience time past, as a dream like experience," she said.
Now in its seventh year, the annual Deakin University Contemporary Small Sculpture Award and exhibition is organised by Deakin's Art Collection and Galleries Unit.
Each sculpture entered must be no bigger than 70 centimetres in size.
The finalists and eventual winner were selected by the judging panel comprising of Professor David Cross – Professor of Visual Arts at Deakin University, Ken Scarlett OAM – writer and curator on Australian sculpture, and Leanne Willis – Manager, Art Collection and Galleries at Deakin.
The exhibition runs until Friday 10 July.
Previous winners include:
2014 - Mikala Dwyer, Empty Sculpture
2013 - Michael Sibel, Primitive Dance
2012 - Lisa Roet, Spider Monkey
2011 - Stephen Bird, Boxers.
2010 - Robert Hague, Trojan Hammer (200%)
2009 - Stephen Benwell, Statue, Grey-Pink Man
Exhibition details
Where: Deakin University Art Gallery, Building FA, 221 Burwood Highway, Burwood.
When: Wednesday 10 June until Friday 10 July 2015. Tuesday to Friday, between 10am and 4pm.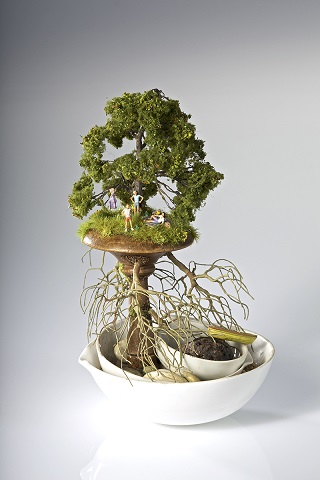 ---
Kendal Murray, Provision, Revision, Decision, Division
Winner of the 2015 Deakin University Contemporary Small Sculpture Award
Photo: Ian Hobbs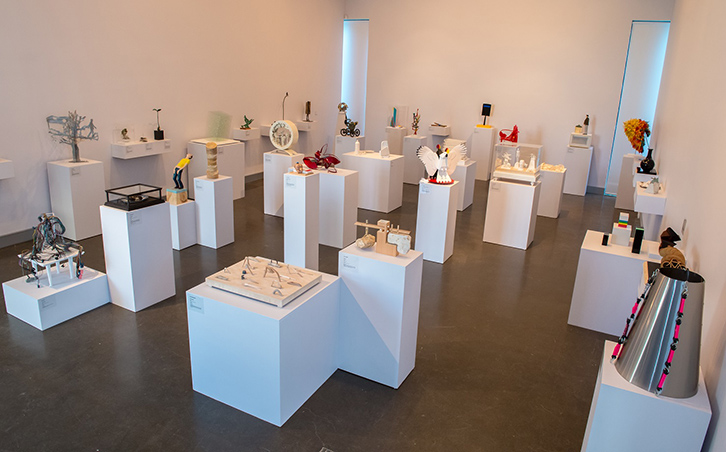 Exhibition of Finalists, 2015 Deakin University Small Sculpture Award
Deakin University Art Gallery
Photo: Simon Peter Fox
Page custodian: Vice-President (Advancement) Last updated: