Key facts
Overall IELTS score of 7.0, with no individual band score less than 7.0. More information is available at www.ielts.org
4 years full-time or part-time equivalent
Current Deakin Students
To access your official course details for the year you started your degree, please visit the handbook
Course information
Get the mix of knowledge and clinical expertise needed to launch your career as a registered diagnostic radiographer. With a degree in medical imaging (also known as Medical Diagnostic Radiography) you will be trained in techniques like ultrasound, magnetic resonance imaging (MRI) and computed tomography (CT scan).
Using the latest equipment, you will learn basic x-ray techniques before advancing to more complex medical imaging procedures such as general radiography, digital vascular imaging, mammography, computed tomography (CT), general ultrasound (U/S) and magnetic resonance imaging (MRI).
You will undertake substantial clinical practice in clinical centres, medical imaging clinics and hospitals, as well as at Deakin's own state-of-the-art medical imaging training unit. Clinical placements typically take place at facilities across rural and regional areas of south-west Victoria. Interstate placements are available and may require some financial input from the participating student.
Other areas of study include medical radiation science linked to principles of medical imaging, biological sciences, plus important professionalism, communication, ethical and legal aspects of health care that will inform and support your future clinical practice.
A degree in medical imaging prepares you for careers in hospital radiology departments, specialist medical facilities and private radiology practices. Final year elective options mean that you can also get the skills to progress into roles in business management, marketing and education within the medical imaging field. Plus, you will develop strong skills in research, which could lead to careers in health or basic science research.
Deakin's Bachelor of Medical Imaging is designed to meet the requirements of the Australian Health Practitioners Regulation Agency (AHPRA). The course has been awarded the title of 'accreditation with conditions' by AHPRA, with statutory direction provided by the Medical Radiation Practice Board of Australia (MRPBA). Possession of an AHPRA/MRPBA Statement of Accreditation means that you are eligible to work in Australia, New Zealand, the UK and Canada.
Read More
Course structure
To complete the Bachelor of Medical Imaging students must attain 32 credit points. Units (think of units as 'subjects') may be worth 1, 2 or 3 credit points - check each unit for its credit point value in the course structure below. Most students choose to study 4 credit points per semester. The course is delivered over eight consecutive semesters. All the units in the course are core (these are compulsory) other than a choice of one of three units in the final semester of the course.
Students must pass all first year units, or be granted Recognition of Prior Learning for these units, before proceeding to second year.
Units
Year 1 - Semester 1

Year 1 - Semester 2
Year 2 - Semester 1
Year 2 - Semester 2
Year 3 - Semester 1
Year 3 - Semester 2
Year 4 - Semester 1
Units commence 2018
Year 4 - Semester 2
and one of:
OR
Key information
Award granted
Bachelor of Medical Imaging
Year
2019 course information
VTAC code
1400310211 - Waurn Ponds (Geelong), Commonwealth Supported Place (HECS)
1400310481 - Waurn Ponds (Geelong), Commonwealth Supported Place (HECS)
Approval status
This course is approved by the University under the Higher Education Standards Framework.
Australian Qualifications Framework (AQF) recognition
The award conferred upon completion is recognised in the Australian Qualifications Framework at Level 7.
Campuses by intake
Campus availability varies per semester. This means that a course offered in Semester 1 may not be offered in the same location for Semester 2. Read more to learn where this course will be offered throughout the year.
Additional course information
Course duration - additional information
Course duration may be affected by delays in completing course requirements, such as accessing or completing work placements.
Mandatory student checks
In accordance with Department of Human Services policy, all students are required to undertake a National Police Record Check prior to clinical placements in each calendar year of their course.
In accordance with the Department of Justice 2007, Working with Children Act 2005, amended 2017, all students are required to undertake a Working with Children Check at the commencement of their course. Students who fail to obtain a Police Record Check and a Working with Children Check prior to the commencement of clinical placement will not be able to undertake clinical placement and this will impede progress in the course.
Students may also be required to declare their immunisation status to satisfy the requirements of health organisations where they will be undertaking their clinical learning experience. A health organisation may refuse to accept a student for placement if the student's immunisation status is not satisfactory to the health organisation.
Workload
As a student in the Faculty of Health, you can expect to participate in a range of teaching activities each week. This could include classes, seminars, practicals and on-line interaction. You can refer to the individual unit details in the course structure for more information. You will also need to study and complete assessment tasks in your own time.
Participation requirements
The course involves compulsory clinical placements in each year. The sequence of eight clinical practice units is delivered over four years and is divided into two components, each representing two years of focussed development and supervised clinical experience. These placements may require travel to rural areas.
Work experience
Work Integrated Learning and clinical practice
During part of each semester of the four years of the course there will be opportunities to convert theory to competent practice, working under supervision with real patients in clinical environments. You will be rostered to placements in a broad range of hospitals and private radiology clinics throughout south-eastern Australia and, if necessary, you will be assisted to seek nearby accommodation. Further skills practice and consolidation will be conducted in the medical imaging training unit at the Waurn Ponds (Geelong) campus.
Entry information
General admission requirements for entry into undergraduate courses for international students at Deakin are summarised in the undergraduate admission requirements table.
Entry for applicants with recent secondary education (previous three years): a study score of at least 25 in one of Biology, Chemistry or Physics; and a study score of at least 22 in one of Maths: Mathematical Methods (CAS) or Maths: Specialist Mathematics or a study score of at least 30 in Maths: Further Mathematics.
Entry for applicants with previous Tertiary, VET, life or work experience will be the same as secondary education applicant's requirements (above) or equivalent, OR Completed bachelor degree in Mathematics, Science or Health Sciences. Overseas qualifications must be recognised as equivalent to an Australian Bachelor degree.
Applicants qualifications will be assessed for equivalency as part of the application process.
All applicants must meet the minimum English language requirements.
Deakin has submitted the application for accreditation for international student enrolment with Australian Health Practitioner Regulation Agency (AHPRA). Approval is expected in December 2018. Offers to International students into Bachelor of Medical Imaging course will not be issued until the accreditation has been received.
Credit for prior learning
Recognition of Prior Learning is not granted for this course.
Fee information
Estimated tuition fee - full-fee paying place
Fees and charges vary depending on your course, your fee category and the year you started. To find out about the fees and charges that apply to you, visit www.deakin.edu.au/fees.
Scholarship options
A Deakin scholarship could help you pay for your course fees, living costs and study materials. If you've got something special to offer Deakin - or maybe you just need a bit of extra support - we've got a scholarship opportunity for you. Search or browse through our scholarships
How to apply
Apply direct to Deakin
Applications must be made directly to the University through the Applicant Portal. For information on the application process and closing dates, see the Apply web page. Please note that closing dates may vary for individual courses.
Apply through Deakin
---
Deakin International office or Deakin representative
---
Need more information on how to apply?
---
Entry pathways
This course provides a pathway to higher degree by research courses and other postgraduate coursework programs.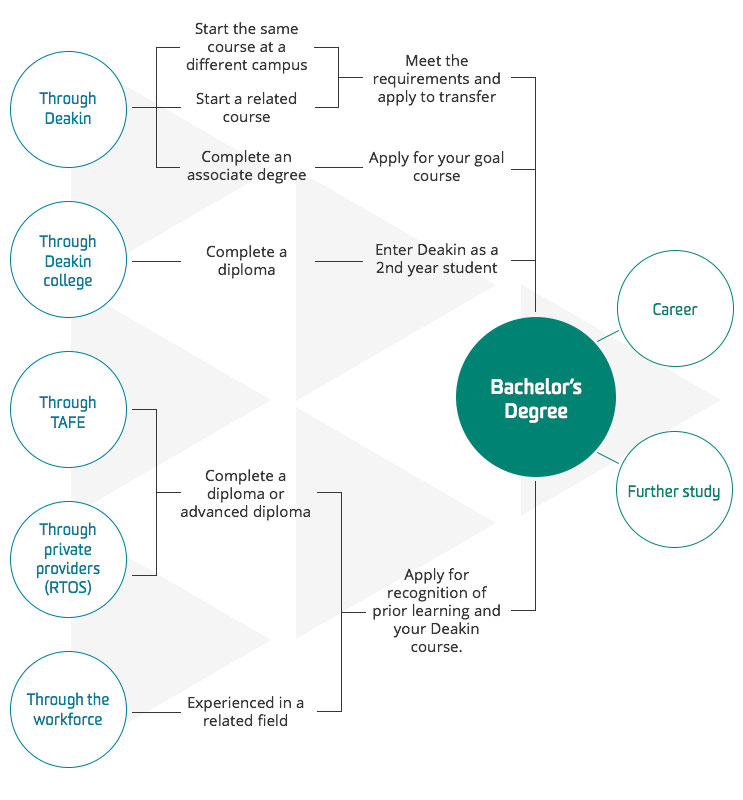 Tap image to expand
Disclaimers:
Through Deakin College and TAFE: Completion of diploma and minimum academic requirements apply to enter Deakin University.
Through Deakin: Transfers within Deakin are subject to availability and meeting minimum academic requirements.
Career outcomes
The four-year H309 Bachelor of Medical Imaging course will prepare graduates who are qualified to work as skilled practitioners in the broad range of diagnostic medical imaging: general radiography, digital vascular imaging, computed tomography and magnetic resonance imaging. The graduates will be eminently employable because the course will provide them with the theoretic grounding, clinical skills, techniques and modality expertise required for independent medical imaging practice.
Possession of an AHPRA/MRPBA Statement of Accreditation enables registered graduates to work in a range of settings, such as small regional clinics, large metropolitan imaging departments, hospitals and specialist medical facilities in Australia, New Zealand, the United Kingdom and Canada.
A projected shortage of skilled medical imaging practitioners, particularly in rural and regional areas, will assist graduates seeking work.
Within the medical imaging profession, opportunities exist for expansion of the roles of radiographers into business management, marketing, education and research. A range of elective studies in the final year of the course are aimed at preparing students for these positions. Students will also develop skills in research, which could potentially lead to a career in health or basic science research.


Professional recognition
The course is designed to meet the requirements of the Australian Health Practitioners Regulation Agency (AHPRA). Deakin University Bachelor of Medical Imaging has been awarded 'accreditation with conditions' by AHPRA, with statutory direction provided by the Medical Radiation Practice Board of Australia (MRPBA).
Note: This course is currently accredited (with conditions) as at the date of publishing.
Course learning outcomes
Deakin's graduate learning outcomes describe the knowledge and capabilities graduates can demonstrate at the completion of their course. These outcomes mean that regardless of the Deakin course you undertake, you can rest assured your degree will teach you the skills and professional attributes that employers value. They'll set you up to learn and work effectively in the future.
Graduate Learning Outcomes

Course Learning Outcomes

Discipline Specific knowledge and capabilities

Apply discipline specific knowledge to undertake radiographic procedures in a safe, accurate and ethical environment; develop clinical practices using evidence-based research.

Communication

Use oral, written and interpersonal forms of communication to communicate clearly, effectively and appropriately with a range of professionals, patients and their family/carers, taking into account the particular therapeutic context.

Digital Literacy

Use digital technologies to critically evaluate information (including radiographic images), remain informed about current imaging theories and issues, and disseminate relevant information to professional networks, clients and communities.

Critical thinking

Analyse, evaluate and think critically and reflectively about radiographic factors (for example patient condition, clinical information, exposure) to ensure safe practice, resolve clinical challenges and obtain accurate diagnostic outcomes.

Problem Solving

Evaluate general radiography examinations for a range of patient/client presentations and complexities, problem solve in terms of new procedures and techniques used in medical imaging, and implement solutions.

Recognise the advantages and limitations of available equipment and systems to provide a safe and effective radiographic examination that will ensure an accurate outcome.

Use knowledge of available modalities and patient information to assess the most effective and appropriate means of finding an answer to a particular clinical question.

Self-management

Maintain currency with developments in the field of radiological practice, use reflective practice to become a life-long learner by identifying ongoing learning needs and opportunities; assume responsibility and accept accountability for professional decisions.

Teamwork

Work effectively, ethically and responsibly within inter-disciplinary health care teams, and communicate clearly and professionally with team members to provide safe, high quality patient care.

Global Citizenship

Demonstrate an understanding of one's own cultural perspectives and manage patients in a way that is culturally sensitive, consistent with legislation, professional, ethical and respectful.
---
Still haven't found what you are looking for?