Nanomedicine-Immunology and Molecular Biomedical Research
Research Aims
An immense focus of the group is to develop non-conventional therapeutics involving natural compounds for cancer and other inflammatory diseases. Nanomedicine is the need for the day to develop, synthesise and characterize of nanoformulations that can achieve a more targeted and specific delivery system is being carried out in the laboratory. Extensive research is carried out for development and physico-chemical characterization of biodegradable and biocompatible drug delivery vehicles. Novel targeted delivery systems possessing enhanced permeation retention effect, stability and narrow size range have been successfully synthesised. A number of other developments including microfluidics, nanodevices and microchips for targeted delivery and diagnosis are also our major interests. The principle aim is to achieve a system where there is a diagnostic and therapeutic approach to target cancer and other inflammatory conditions. Recently microfluidic systems being worked upon are targeting an approach to less time consuming and more economic methods for cancer and microbial infection diagnosis.
Current Research
We seek to explore the roles of molecular mediators, antioxidants and cellular communication in the pathophysiological mechanisms of chronic inflammatory, microbial diseases and cancer. LIMBR focuses on the:
cancer and chronic inflammatory diseases targeted nanomedicine based drug delivery
locked nucleic acid (LNA) modified aptamers conjugation with drugs and recombinant proteins or peptides to target cancer and chronic inflammatory diseases
LNA modified aptamers conjugation with nanoparticles for targeted real-time delivery and imaging for cancers and chronic inflammatory diseases
development of novel formulations to clear haze/scarring and inflammation in eye animal model
development of nano-formulations to induce myofibroblast cell specific apoptosis to clear haze/scarring and inflammation, simultaneously in eye animal model
siRNA, miRNA anti-sense targeted gene nanomedicine based technology to target cancer and inflammation
drug discovery with anticancer targets for cancer cell survival, death, arrest, and repair
development of recombinant proteins and searching new immunomodulatory and anti-inflammatory bioactives, proteins and peptides for cancer and neuroprotection
development of complementary alternative medicine from the milk derived proteins including metal binding protein (Lactoferrin), and herbal preparation derived active components with a special focus on the treatment of colon and breast cancers
development of oral and intravenous administration of nanocarriers to overcome the challenging concept of drug resistance in various cancers
development of new generation safe, biodegradable, less toxic, disease targeted natural contrast materials for imaging

Our research combines Immunology with state of the art and cutting edge techniques in Molecular Biology, Biochemistry, Nanobiotechnology and visualization to investigate the pathways in which key molecules are regulated in both normal and disease states. A number of in vitro human cell/tissue based co-culture models for cancers, microbial infections; chronic inflammatory diseases (osteoarthritis, inflammatory bowel disease), gut health, neurodegeneration and immunomodulation have been developed. Our objective is to understand and target the mechanisms involved at the molecular and sub cellular level which gives us an edge over the prevalent targeting techniques. We carry out both academic and commercial research projects and develop new approaches for the diagnosis, treatment, and nanomedicine based new generation delivery systems for the prevention of human diseases like cancer, infectious, inflammatory bowel disease (IBD), neurodegenerative, osteoarthritis, cardiovascular and pulmonary diseases. LIMBR through national and international collaborations aims in near future to translate discoveries into new approaches for the diagnosis, treatment, and prevention of human diseases.

Our recent research focus on locked nucleic acid (LNA) LNA-modified aptamers conjugated "double targeted nano-bullet nanocapsules" with natural anti-tumour proteins which specifically target cancer cells. We are developing natural nano-medicinal based war against cancer cells with double targeted nano-bullet nanocapsules that specifically induce their traumatic death and spare normal body cells. The success behind our team is, working as a unit in creating and maintaining a healthy and work friendly environment.
Survivin is a member of Inhibitor of apoptosis (IAP) family of proteins encoded by BIRC5 gene that plays a key role in cell division and apoptosis. In most cancers- lung, colon, pancreas, prostate, neuronal and breast, survivin is highly overexpressed and survivin has proven to be the most important target for cancer cells. By incorporating a mutant type dominant negative with a Cystine to Alanine at 84th position mutation a new dimer has been formed (SurR9C84A). The anticancer-activity and apoptotic mechanism of dominant negative survivin (SurR9C84A) has been well established in many cell lines such as colon cancer, prostate cancer, breast cancer, liver cancer, skin cancer and glioblastoma. Aptamers have often been used as a tool to selectively target various forms of tumour. Locked nucleic acid (LNA) nucleotide is the most prominent and successful nucleotide analogue among other modified nucleotides developed in recent years.

This is because of the remarkable properties of LNA nucleotides like unprecedented target binding affinity and excellent nuclease resistance. We have previously shown that Fe3O4 nanobullets conjugated with multi-targeted LNA-aptamer complexes and loaded with anticancer protein Fe-bLf has shown specific killing of tumour cells without causing any cytotoxicity in normal human cells both in vitro and in vivo. The selective tumour forming cells in most cancers show overexpression of cancer stem cell markers such as CD44, CD133 and possess stem cell like characteristics. Studies have clearly shown that CD133 positive cancer stem cells resist chemotherapy which is mainly due higher expression of IAP proteins. It has been also observed that the colony formation of CD133 positive cells is quite higher when compared to CD133 negative cells mainly due to overexpression of IAP proteins. Thus cancer stem cells must be the primary target of all anticancer therapies. Our current focus is on cancer cell as well as cancer stem cell targeted locked nucleic acid modified aptamer targeted nanobullets that possess extreme specificity and are able to efficiently deliver the cell permeable SurR9C84A.
Our interests also focus on development and loading of nano materials like silk, oxides of iron, gold and ceramics which are routinely characterised by powder XRD, SEM, TEM, FT-IR, for their magnetic susceptibility and N2 adsorption-desorption. We are interested in developing novel nano-carriers such as quantum dot bio-conjugate libraries for multiplexed bio-sensing, proteomics, cellular and tissue imaging and drug delivery. Our research interests focus on the development of novel nanodevices or nanotechnology for medical applications for stem cell tracking and overcoming multidrug resistance (MDR) of cancer. These novel disease targeted nanocarriers designed for diverse applications in vaccines, immunotherapy, and drug delivery of protein or peptide antigens immunostimulatory ligands to dendritic cells and subsequent stimuli to T- lymphocytes, B-lymphocytes and TH17 cells. Our research seeks novel nanomaterials and multifunctional nanotechnologies in order to develop advanced targeted drug delivery systems with highly interdisciplinary and translational research.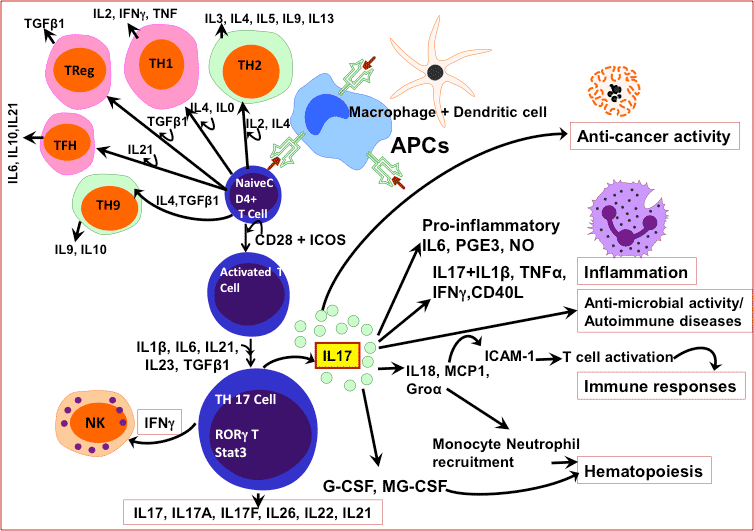 Figure. TH17 differentiation and activation of immune cells for immune responses, inflammation, anti-cancer activity and hematopoiesis through bovine lactoferrin (bLf). http://www.intechopen.com/books/recent-advances-in-immunology-to-target-cancer-inflammation-and-infections/th17-cells-in-cancer-related-inflammation
Recently our group is focused on exploiting various Lab-on-a-Chip, or Microfluidic devices used in biomedical diagnostics and develop knowledge for fundamental research in microfluidic and nanofluidic phenomena and in the clinic for differential diagnosis and personalized treatment of complex human diseases including cancer, infectious, inflammatory bowel disease (IBD), neurological diseases, osteoarthritis, cardiovascular and pulmonary diseases.
Selected publications
Kanwar JR, Mahidhara G, Kanwar RK. Novel alginate-enclosed chitosan-calcium phosphate-loaded iron-saturated bovine lactoferrin nanocarriers for oral delivery in colon cancer therapy. Nanomedicine (Lond), 2012, 7(10):1521-50.
Subramanian N, Raghunathan V, Kanwar JR, Kanwar RK, Elchuri SV, Khetan V, Krishnakumar S. Target-specific delivery of doxorubicin to retinoblastoma using epithelial cell adhesion molecule aptamer. Mol Vis. 2012;18:2783-95. Epub 2012 Nov 22. PMID:23213278.
Xiu P, Dong X, Dong X, Xu Z, Zhu H, Liu F, Wei Z, Zhai B, Kanwar JR, Jiang H, Li J, Sun X. Secretory clusterin contributes to oxaliplatin resistance by activating Akt pathway in hepatocellular carcinoma. Cancer Sci. 2012 Dec 20. doi: 10.1111/cas.12088. [Epub ahead of print] PMID:23279642.
Kanwar JR, Sriramoju B, Kanwar RK. Neurological disorders and therapeutics targeted to surmount the blood-brain barrier. Int J Nanomedicine, 2012;7:3259-78.
Kanwar JR, Kamalapuram SK, Kanwar RK. Survivin Signaling in Clinical Oncology: A Multifaceted Dragon. Med Res Rev, 2012 Jun 11. doi: 10.1002/med.21264. [Epub ahead of print] PMID:22688671
Baratchi S, Kanwar RK, Kanwar JR. Survivin mutant protects differentiated dopaminergic SK-N-SH cells against oxidative stress, PLoS One, 2011, 6(1):e15865.
Ma L, Qiao H, He C, Yang Q, Cheung CH, Kanwar JR, Sun X. Modulating the interaction of CXCR4 and CXCL12 by low-molecular-weight heparin inhibits hepatic metastasis of colon cancer. Invest New Drugs, 2012, 30(2):508-17.
Baratchi S, Kanwar RK, Cheung CH, Kanwar JR. Proliferative and protective effects of SurR9-C84A on differentiated neural cells. Journal of Neuroimmunology, 2010, 227(1-2):120-32.
Cheung CH, Chen HH, Cheng LT, Lyu KW, Kanwar JR, Chang JY. Targeting Hsp90 with small molecule inhibitors induces the over-expression of the anti-apoptotic molecule, survivin, in human A549, HONE-1 and HT-29 cancer cells. Molecular Cancer, 2010, 9:77.
Kanwar JR, Palmano KP, Sun X, Kanwar RK, Gupta R, Haggarty N, Rowan A, Ram S, Krissansen GW. 'Iron-saturated' lactoferrin is a potent natural adjuvant for augmenting cancer chemotherapy. Immunology and Cell Biology, 2008, 86(3):277-88.
Kanwar JR, Kanwar RK, Krissansen GW. Simultaneous neuroprotection and blockade of inflammation reverses autoimmune encephalomyelitis. Brain, 2004, 127(Pt6):1313-31.
Kanwar JR, Shen WP, Kanwar RK, Berg RW, Krissansen GW. Effects of survivin antagonists on growth of established tumors and B7-1 immunogene therapy. Journal of National Cancer Institute, 2001, 93(20):1541-52.
Page custodian: Faculty of Health Last updated: