Deakin Women In Sport and Exercise (WISE)
The Deakin WISE hub aims to improve women's participation in sport and exercise across their lifespan through world-class research and by strengthening relationships with communities and partners.
The hub is composed of staff from the School of Exercise and Nutrition Sciences, Deakin Business School and the School of Education.
Learn more about Deakin WISE
The Deakin WISE hub was launched in 2015 and is listed as one of five priority areas within Deakin's Centre for Sport Research. Since its inception, Deakin WISE has hosted a number of events and seminars creating opportunities and providing various platforms to share powerful stories and celebrate success.
Deakin WISE is unique in Australia, and has the long-term goal of collaborating with similar overseas groups. In the meantime, the group hopes to influence cultural change and promote positive role models with the goal of supporting all levels of female participation and engagement in sport.
Promoting active, healthy and engaging lifestyles among women is vital. In Deakin University, the Boomers know we have a partner that genuinely believes in the direct benefits for women that come from this partnership.
GENERAL MANAGER, DEAKIN MELBOURNE BOOMERS
Deakin women in sport
We support female participation across a range of sports, and we've got the facilities, staff and knowledge to empower successful athletes.
We see our VFL Women's Program as a way to provide pathways for local female athletes in pursuing their passion to play AFL, as well as providing a pathway for Deakin students to forge careers and experience working in the sports industry.
ACADEMY AND VFL MANAGER, GEELONG CATS
News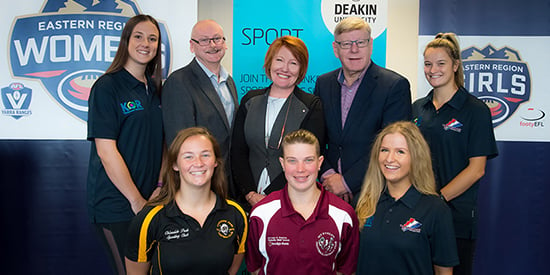 Deakin helps lift women's footy to new heights
16 May 2017
Teams in the newly launched Eastern Region Women's Senior Competition, as well as those in the Eastern Region Girls under-16 and under-18 competitions, will now battle it out for the Deakin Cup, as part of a new sponsorship agreement announced today.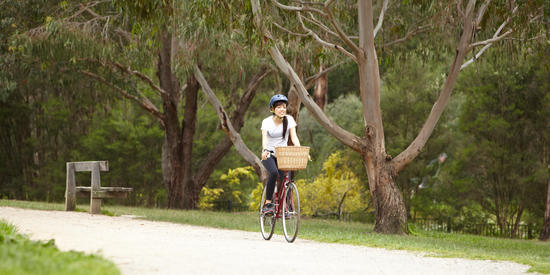 Women's Ride and bicycle training
7 March 2017
Deakin staff, students and members of the Whitehorse community are invited to take part in a series of activities designed to support and encourage women's cycling participation. Run by Deakin, and in partnership with the Whitehorse Council, activities aim to help women get back on their bikes and enjoy the ride!
Dr Natalie Saunders discusses Deakin's focus on women in sport
Dr Natalie Saunders, from the School of Exercise and Nutrition Sciences (the top-ranked sport science school in the world) talks about Deakin University's focus and contribution to women in sport at the Cadel Evans Great Ocean Road Race
Support from the ground up
Building a community of people dedicated to advancing women in sport takes more than talk: it takes programs, facilities and research. At Deakin, we walk the walk.
Our Melbourne Burwood, Warrnambool and Waurn Ponds campuses all have dedicated, fully equipped gyms to train in. The Waurn Ponds Campus even boasts an elite regional sports precinct, with facilities so new that AFL teams like the Geelong Cats use them to train.
Our research is just as innovative. Through our Centre for Sport Research, we aim to improve the health and performance of people through sport. Our research smashes boundaries, from investigating effective coaching techniques to using data analytics to predict and enhance performance.
We're proud to be investing in the next generation of female sporting stars and game changers. It's not just about fuelling the passion of young minds. It's about building a community of women dedicated to breaking the mould.
Elite Athlete-Friendly University program
Deakin can help you stay on top of your studies whilst you train. You can also access our elite sports precinct and train on our MCG-sized AFL oval, eight-lane 400-metre athletics track, FIFA-grade soccer pitch, and more.
Through our research and innovation partnership with Deakin, we explore the big questions and don't know what answers we're going to get. These sorts of projects are a fundamental part of our football program, in an industry where a competitive edge can make all the difference.
DEAKIN ALUMNA AND FOOTBALL OPERATIONS MANAGER – GEELONG CATS