Alumni
As a graduate of Deakin you are invited to become an active member of the Deakin Alumni Community to continue your relationship with your University after graduation from anywhere in the world.
What is the Deakin University Alumni Community?
The Deakin Alumni Community enables you to keep or renew contact with your student and professional networks globally and can help to enhance your career development after you graduate.
What are the benefits of membership?
Deakin Alumni members have access to many exclusive benefits that include: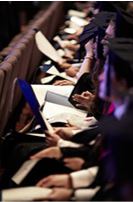 10% bursary on postgraduate course fees (conditions apply)
professional development opportunities
free ongoing library membership
free career development services for 12 months
Alumni of the Year Awards
lifelong learning opportunities
online news services and social media
dKin Magazine
Alumni mentoring
volunteering opportunities
invitations to over 120 networking events globally and
over 20 different company discounts.
Alumni Postgraduate Course Fee Bursary*
Deakin Alumni members, their spouse and children can now apply to receive 10% off the cost per unit on any postgraduate course at Deakin University for the duration of the course. This offer is only available for new course enrolments from T1, 2014 to T3, 2015 inclusive.
*Conditions apply - visit Alumni Postgraduate Course Fees Bursary page for more details.
How much does Deakin University Alumni Community membership cost?
Membership is free of charge.
How do I join the Deakin University Alumni Community?
Activate your alumni membership account on the Alumni Registration page to take advantage of the many benefits.
Where can I obtain further information?
For more information visit the Deakin Alumni website.
Page custodian: Division of Student Administration Last updated: