Alumni
As an alumnus of Deakin you join a globally active network of 200,000 graduates from across 105 countries spanning the globe.
What is the Deakin University Alumni Community?
The Deakin Alumni Community enables you to maintain or reconnect with your student, academic or professional networks by building awareness and by offering programs and opportunities that will benefit and engage alumni throughout your personal and professional lives.
Deakin University offers a varied program of benefits, communications and events that will help you keep in touch and engaged with the University.
What are the benefits of membership?
Deakin Alumni members have global access to a range of exclusive benefits, including: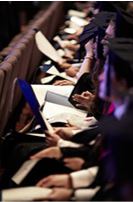 10% bursary on postgraduate course fees (conditions apply)
professional development seminars and webinars
free library membership to be renewed on an annual basis
online news services and social media
dKin print and e-publications
volunteering opportunities
annual invitations to over 100 varied programs and events globally, and
a number of prioritised discounts provided by third parties.
Alumni Postgraduate Course Fee Bursary*
Deakin Alumni members, their spouses and children can now apply to receive a10% discount on the cost per unit of any postgraduate award course at Deakin University for the duration of the course. This offer is only available for new course enrolments from Trimester 1, 2016 to Trimester 3 2016 inclusive.
*Conditions apply - visit Alumni Postgraduate Course Fees Bursary page for more details.
How much does Deakin University Alumni Community membership cost?
Membership is free of charge.
How do I join the Deakin University Alumni Community?
Activate your alumni membership account on the Alumni Community Portal to take advantage of the many benefits.
Where can I obtain further information?
For more information visit the Deakin Alumni website.
Let's continue our conversation together and build a vibrant national and international alumni community. Share your stories and progress after graduation. Give us your feedback. Keep in touch. The University values your interaction.
Page custodian: Division of Student Administration Last updated: