Architecture and built environment
If you're seeking a career creating sustainable design concepts for our towns and cities, or project managing large-scale commercial developments, Deakin's architecture and construction project management courses can help make your dream a reality.
Our courses incorporate technology, philosophy and electronic media and are hands on from the beginning, allowing you to turn imaginative ideas into solid objects.
---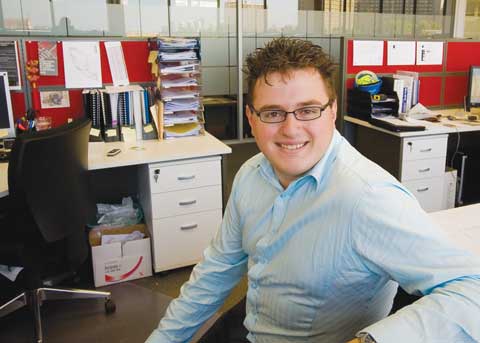 Graduate snapshot
Christopher Grima
Bachelor of Design (Architecture) / Bachelor of Construction Management, Geelong Waterfront Campus
'I chose Deakin firstly because of its reputation in the industry for providing the most practical graduates.'
'Secondly, it is the only university in the area that offers an architecture/construction management combined course. Studying two areas of the industry allows me more flexibility with my career path.
'The units are structured to give you a taste of every career linked with the industry and the lecturers are always there for support. The learning doesn't stay at uni - there are constant field trips too. I have been able to create a pathway for myself into the architecture industry that if I hadn't gone to Deakin, would not have been possible.'
---
What can I study?
---
Why study architecture and built environment at Deakin?
Modern facilities and technology
At Deakin, we incorporate the very latest technology - in both design and construction - to support you on your path to becoming a built environment professional.
Facilities include an expansive modern design studio, fully equipped workshop, a photographic studio and computer laboratories. You'll have access to the latest computer-aided modelling, and the processes of parametric modelling.
Industry based learning
Industry Based Learning (IBL) involves working full or part time in industry as part of your degree program and plays a valuable role in preparing for graduate employment.
The placement is incorporated into a unit of study and credited towards your degree. You are given an opportunity to apply and consolidate knowledge gained at university, experience workplace culture and work practices, explore career options and develop a professional network.
Research and teaching excellence
We are a leading Bentley Systems software user. Our teaching is first class with many prize-winning and innovative lecturers who have developed teaching models specific to architecture and construction management learning, including e-learning support through Deakin Studies Online, experiential teaching strategies and collaborative problem solving.
The School's considerable research activity has been recognised by peer review with the award of ARC and STI grants for projects in various fields. The number of refereed publications produced in the School is also high.
---
Careers for architecture and built environment graduates
Professional accreditation
Deakin's courses in architecture and the built environment can provide students with professionally accredited qualifications. This high level of accreditation translates into excellent job and career opportunities for Deakin graduates.
Career opportunities for graduates include but are not limited to:
Architecture
Private architecture firms
Government organisations
Building companies
Property development companies
Construction management
Chartered quantity surveyors
Construction managers
Contract administrators
Estimators
Project managers
---
Study overseas

Give yourself the competitive edge after graduation. Discover and live in a new country and make friends all around the world. With a Deakin Education Abroad program, your degree can take you where you want to go.
Exchange and Education Abroad programs are available to all students, including international, postgraduate and off-campus students.
The Faculty of Science, Engineering and Built Environment is introducing the new Global Science and Technology Program to help high-achieving students add an international experience to their studies.
---
Architecture and built environment courses
View all architecture and built environment courses at Deakin. Courses include but are not limited to:
Undergraduate studies
Bachelor of Construction Management
Bachelor of Design (Architecture)
Bachelor of Design (Architecture)/ Bachelor of Construction Management
Postgraduate studies by coursework
Master of Architecture
Master of Architecture (Design)
Master of Construction Management
Master of Landscape Architecture
Master of Planning (Professional)
Master of Urban Design
Postgraduate studies by research
Master of Architecture (Research)
Master of Construction Management (Research)
Doctor of Philosophy