Fisheries and aquaculture
Learn about fisheries and aquaculture from a global perspective. Gain comprehensive training in fisheries resource management, aquaculture management, and fisheries biology, with a focus on environmental sustainability, particularly renewable resource exploitation and culture of marine and freshwater species.
Why study fisheries and aquaculture at Deakin?
A combined program in fisheries and aquaculture
Study topics such as fish markets, nutrition and farm certification processes, the history of Australian fisheries, fisheries methods and impacts of fishing. The course also includes studies in marine and freshwater biodiversity, ecology and behaviour, research methods, Geographic Information Systems (GIS) and remote sensing, and environmental chemistry.
See our students in action and experience what studying environmental science at Deakin is really like!
Follow the adventures of our students and staff. From experiences out on field trips to travels around the World, this website showcases the great experiences our students have and the wonderful places they go.
An investment in excellence
Deakin has recently invested $5 million in marine and aquaculture science over a five-year period. This includes upgrading the aquaculture research facility to enable the study of marine species in enhanced genetic and fish nutrition laboratories, a new research vessel, oceanographic equipment to expand Deakin's offshore research capabilities and recruitment of additional research and technical staff.
Learn practical skills
Field trips and professional practice activities provide you with the opportunity to gain practical, hands-on skills. The course is focused on developing graduates with strong research and management capabilities with skill sets for a wide variety of work environments. You have the opportunity to complete a professional practice unit, which involves a placement for a minimum of two weeks within a relevant, course-related organisation.
Want to study overseas as part of your degree?
Maybe you should apply for the Global Science and Technology Program. The program enables students to achieve their dreams of a truly global education and includes a $3000 scholarship. Visit the Global Science and Technology Program website to find out more about the program, how it works and where our students are studying overseas. You will also find information about how to apply for this amazing opportunity.
Honours study
Honours in fisheries and aquaculture gives you the opportunity to develop an in-depth knowledge of your particular discipline through research, additional coursework and training in research techniques. It can offer you a competitive edge in the job market along with providing a pathway to a higher degree – including a PhD.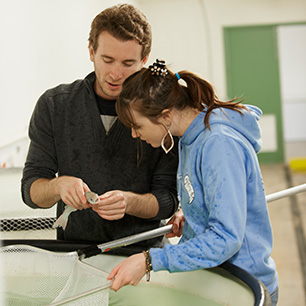 Career opportunities
Fisheries and aquaculture are growing fields with good job prospects around Australia. In addition to employment in the fisheries and aquaculture fields, graduates may also find career opportunities in areas such as recreational (sport) fishing industry, food and agriculture based industries, quarantine, wildlife biology, government environmental monitoring, private environmental consulting and museums. Graduating students may also have the opportunity to undertake further studies in existing honours and PhD programs.
Page custodian: Faculty of Science, Engineering & Built Environment Last updated: