Get work-ready
Our work-integrated learning program allows you to credit a full or part-time industry placement towards your degree. While our industry-based learning placement gives you two weeks professional practice, allowing you to develop your networks and occupational opportunities. With these two highly valuable experiences to your name, you'll graduate ahead of the pack.
Undergraduate
Undergraduate (your first degree)
An undergraduate degree is generally completed between two to four years, depending on the pattern of study and any recognition of prior learning you may have. Associate degrees, bachelor and bachelor with honours are all undergraduate degrees.
Postgraduate
Postgraduate (further study)
A postgraduate qualification can be undertaken by students who have already completed an undergraduate degree or possess significant, demonstrable work experience. Postgraduate courses include graduate certificates, graduate diplomas, masters and PhDs, as well as specialist programs for industry professionals.
Research
Higher Degrees by Research (supervised research)
Research degrees are research based master's or PhD programs that focus on a single area of expertise. They provide students the opportunity to carry out highly specialised research under expert supervision.
Career opportunities
Looking to make a real difference in the world? There are variety of career pathways as a biomedical science graduate, including:
honours or postgraduate studies (in more specialised areas of medicine that will enhance your professional development as a scientist)
genetic engineering
laboratory technology
medical research
pharmaceutical industry
pharmaceutical/medical sales.
Deakin is ranked in the top 1% globally for life sciences and medicine.* This rating highlights Deakin's world-class facilities, academic reputation, employer reputation and research impact.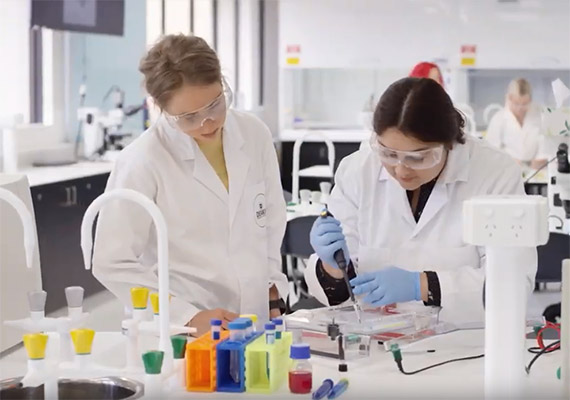 Science and biomedical science at Deakin
Hear from two students as they reveal their passion for science and biomedical Science, the diverse study opportunities and the benefits of the hands-on, practical approach at Deakin.
Life and environmental science facilities
Explore Deakin's life and environmental science facilities at our Melbourne Burwood Campus, featuring modern labs and equipment, and the ability to conduct practical work in the natural reserve and creek right by campus.
Inspiring research
Does the future of medical science interest you? We can expand your learning horizons beyond graduation. Our teaching and research staff are experts with broad international links and experience. Much of our biomedical science research is conducted in partnership with government departments, industry and leading international scientists.
I am fascinated by the sciences behind life and how the human body works and how different diseases can affect it.
Letitia Roberts
Bachelor of Biomedical Science
Learn more about Letitia's experiences
'When I walked around the Waurn Ponds Campus on Open Day and spoke to different people about the Biomedical Science course and their experiences at Deakin, I knew this was where I wanted to be. The feeling on campus was like no other and the course included everything I had hoped for and more.
I completed professional work placements at Healthscope Pathology and at Djerriwarrh Health Services, a regional health service. It showed me what it is like to work in these areas and what my future jobs could be when I completed my studies. Whether I was performing simple tasks or just observing, the whole experience proved to me that I am passionate about working in Healthcare and I was able to connect to people who are in the industry.
My experiences at Deakin have taught me to be open to anything and take any opportunity that comes your way, which has had a real impact on my life. I've met so many people and made some great friends in my course and through volunteering at Deakin.'
Industry connections
The School of Life and Environmental Sciences runs an annual careers evening for current students every September, in conjunction with student-led societies and guest industry speakers (who are often past students).
The popular and successful Life and Environmental Sciences Careers Evening is held at our Melbourne Burwood, Geelong Waurn Ponds and Warrnambool campuses. These events give our students and staff the opportunity to network with industry.
To become work-ready graduates, students also complete an 80-hour work placement within industry or a relevant company as part of our professional practice units. Students have the option of completing placements locally or internationally, in addition to the study abroad and international study tour options.
Browse other disciplines within science
Choose an area that you're interested in and learn how Deakin's extensive range of study options and experiences can help turn your dreams into reality.
Footnotes
*2022 Times Higher Education World University Rankings by Subject.