Law
If you are aspiring to be a first-class lawyer, trained in each of the major areas of legal practice, studies in law at Deakin can help you achieve your dreams.
Deakin Law School is a centre for excellence for commercial law, an important and challenging area of practice, and meets the academic requirement for admission to practise as a barrister or solicitor.
Our commercial law focus allows study in a diverse range of areas including human rights law, family law, Chinese commercial law, Indian law and environmental law.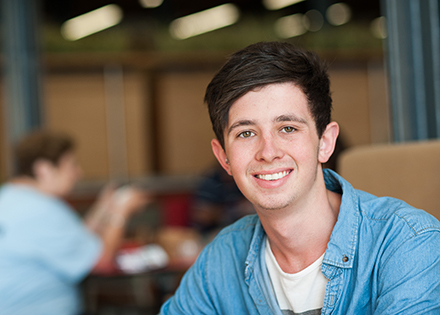 Rohan Kelly
Current student
Bachelor of Criminology/Bachelor of Laws
Read Rohan's story
---
Get practical about practising law
Deakin's LLB has been developed in conjunction with practising respected lawyers, which ensures the curriculum we're delivering is producing graduates who are suited to practise law or enter a range of law‑related careers. Our students engage in legal reasoning and legal skills, including negotiation, mediation, court appearances, legal drafting, statutory interpretation, professional work experience and Legal Internship.
In your final year, you will undertake a unique capstone unit, 'Legal Problem-Solving and Persuasion', which will teach you about the science of persuasion and approaching problems in a clear-minded manner in order to achieve optimum outcomes. In the process you will develop presentation skills and experience presenting in the court room.
---
Admission to practise
Deakin's LLB satisfies the academic requirements to become a barrister and solicitor in Victoria as set by the Council of Legal Education.
A person wishing to practise as a barrister or solicitor is required to complete a 12-month traineeship or clerkship, or a six-month legal practice course in addition to an approved LLB.
Deakin law students ruled best in the world
Deakin Law School has taken out one of the world's most prestigious law student competitions, winning the teams award in the Willem C. Vis International Commercial Arbitration Moot in Vienna.
Why study at Deakin?
Deakin's Law School
internationally ranked
Deakin Law School has been ranked as one of Victoria's top law schools, in the prestigious QS World University Rankings.
The QS rankings are based on several different criteria including research, teaching, employability, facilities and internationalisation and engagement.
Diverse range of electives
Our LLB offers exciting and challenging elective units that allow you to experience a diverse range of legal specialisations including Human Rights Law, Superannuation Law, Mining & Energy Law, Family Law, Indian Law and Chinese Commercial Law. An honours year is embedded as part of this degree.

Legal Internship offers real experience
Legal Internship allows you to gain valuable experience in a community legal centre, which extends and deepens your theoretical knowledge and critical thinking skills. Read more.
---
Combined courses with law
Deakin offers combined courses with our Bachelor of Laws, enabling you to complete two degrees in five years. Offerings include -
Bachelor of Arts
Bachelor of Commerce
Bachelor of Criminology
Bachelor of International Studies
Bachelor of Property and real estate
Bachelor of Science
Study abroad
Gain a competitive edge with an international study experience, and earn credit towards your degree.
The Faculty of Business and Law offers a number of unique study tours throughout the year to destinations such as India, Chile, USA, China and Europe. Or consider one of the many study abroad opportunities offered by Deakin. Find out more.
---
Career opportunities for graduates
A Deakin law degree is a qualification that offers un-equalled career opportunities, especially when combined with a degree in arts, international studies, criminology, commerce, management, property and real estate or science.
Alternatively, law graduates may enter other industries such as business, government service, industrial relations, law reform or public administration.
business as a corporate lawyer
company administrator
business manager
government service
industrial relations
Office of the Attorney-General's Department
Parliamentary Counsel
Office of the Director of Public Prosecutions,
Australian Securities and Investments Commission
law reform as a law reform commissioner
research officer
public administration
academic
---
More information
Page custodian: Faculty of Business & Law Last updated: