Deakin Law School
Deakin Law School provides a unique platform for students to find their careers and their passion in law and a wide array of other fields.
We offer a range of disciplines that can be studied across different courses.
Why study law at Deakin University
Will I get a job when I graduate with a law degree? What are employers looking for in a law graduate? Why should I consider studying law at Deakin?
Our academic programs
Deakin offers a broad range of law courses, with a number of majors and specialisations. Note that the Master of Legal Studies is a unit-based Masters with several specialisations.
Deakin Law Clinic
Deakin Law School operates the Deakin Law Clinic, which is a community legal service offering free legal advice.
Deakin Law Students have the opportunity to assist in one of five practice groups, which cover: Civil and Commercial law; Family law; Employment law; Criminal law and information for New Ventures.
How to get practical legal experience while you study
Based in the Melbourne CBD, Deakin Law Clinic is a law firm that gives students the chance to practice law with real clients.
Law newsroom
Keep up to date with relevant law news, browse our events and get important insights from our research team's opinion pieces.
Emoji and the Law
Emoji have become such a prevalent form of communication, their meaning can be used to convict people in court. This is creating an emerging area of law concerning Digital Speech.
Research
Our research in law underpins our teaching and encourages curiosity. Through regular research seminars, we discuss drafts for publications, thesis chapters and articles of interest to our research community.
We believe wholeheartedly in investing in our research strengths as it reflects in the research output of our academic staff and students.
PhD program
Deakin Law School is seeking intellectually curious doctoral applicants with a strong academic track record who are interested in undertaking rigorous, theory-advancing research.
Latest articles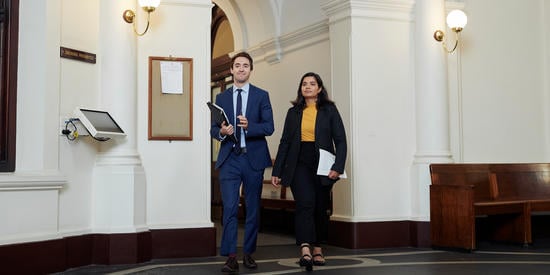 What it's like to study law with the 2020 Australian Barrister of Year
In 2020, Felicity Gerry QC was chosen as the Australian Barrister of the Year for her extensive contribution to the court room and legal profession.
Contact us
Get in touch with Deakin Law School at any of our three campuses.
Deakin Law School enquiries
+61 3 9244 6555
Email Deakin Law School
Melbourne Burwood Campus
Deakin Law School Building
Level 7, Building LC
Elgar Road
Burwood VIC 3125
Geelong Waterfront Campus
Building AD, Level 2
1 Gheringhap Street
Geelong VIC 3220
Warrnambool Campus
Building J, Level 4
Princes Highway
Warrnambool VIC 3280