Key facts
Overall IELTS score of 6.0 with no band less than 6.0 (or equivalent). More information is available at www.ielts.org
Current Deakin Students
To access your official course details for the year you started your degree, please visit the handbook
Course information
Deakin's Bachelor of Criminology/Bachelor of Psychological Science brings together two independent degrees and combines them in an attractive four-year combined course. This course provides an accredited undergraduate sequence in psychology and includes complementary studies in individual and group counselling, health, and behavioural change.
Combining psychology with criminology provides students with broad theoretical and applied knowledge and skills concerning the meaning of crime; the forms, causes and consequences of crime; and the different institutions and processes involved in preventing and controlling crime. You will be provided with broad theoretical and applied knowledge and skills in relation to policy development, policing and security, and related fields. Topic areas include crime, justice, security and surveillance.
You should consider this degree if you are interested in pursuing a career in psychology or criminology, and particularly the many areas where psychology and criminology overlap.
You will have the opportunity to complete the Criminology Practicum in your final year of study, a unit that brings the professions to the classroom (including online via the 'cloud') with practitioner-driven seminars, activities bridging theory and practice, and the development of an e-portfolio that can be used for employment or career development.
In line with Deakin's commitment to providing flexible study options, you can choose to study the Bachelor of Criminology/Bachelor of Psychological Science full time or part time, at Waurn Ponds (Geelong) campus or via Cloud (online) mode. All subjects provide considerable online activities.
You will also have the opportunity to significantly fast-track your studies using Deakin's trimester system.
Read More
Course structure
Students must complete:
32 credit points of study including 16 cp of Arts course grouped units and 16 cp of Health course grouped units
No more than 10 credit points at level 1
Psychological Science
3 core foundation Health units (HBS107, HPS104, HBS110)
11 credit points of Psychology core units (HPS111, HPS121, HPS201, HPS202, HPS203, HPS204, HPS206, HPS301, HPS307, HPS308, HPS310)
2 credit points of level 3 HPS electives or 1 level 3 HPS and 1 level 3 HXX units.
Criminology
6 credit points of Criminology core units (ACR101, ACR102, ACR201, ACR202, ACR301 and
ACR302)
At least 6 credit points of Criminology electives (ACR coded units) taken at level 2 or above
Up to 4 credit points of electives chosen from Arts course grouped units.
Academic Integrity AAI018
(0 credit point compulsory unit)
Core units
Note: Many of the HPS coded units are also offered in Trimester 3, offering students the opportunity to accelerate their studies.
Criminology core units
Psychological Science core units
*ACR210, ACR211 are offered in Trimesters 1 and 3 in alternating years; Trimester 1 2018, 2020, Trimester 3 2019, 2021
** ACR212, ACR213 are offered in Trimesters 1 and 3 in alternating years; Trimester 3 2018, 2020, Trimester 1 2019, 2021
Electives
Criminology
The remaining Arts course grouped electives can be found within the Bachelor of Arts.
Psychological Science
2 credit points of level 3 HPS electives or 1 level 3 HPS and 1 level 3 HXX units.
Key information
Award granted
Bachelor of Criminology/Bachelor of Psychological Science
Year
2019 course information
VTAC code
1400310041 - Waurn Ponds (Geelong), Commonwealth Supported Place (HECS)
1400510041 - Burwood (Melbourne), Commonwealth Supported Place (HECS)
1400610041 - Cloud (online), Commonwealth Supported Place (HECS)
Approval status
This course is approved by the University under the Higher Education Standards Framework.
Australian Quality Framework (AQF) recognition
The award conferred upon completion is recognised in the Australian Qualifications Framework at Level 7.
Campuses by intake
Campus availability varies per trimester. This means that a course offered in Trimester 1 may not be offered in the same location for Trimester 2 or 3. Read more to learn where this course will be offered throughout the year.
Trimester 1 - March
Start date: March
Available at:

Burwood (Melbourne)
Waurn Ponds (Geelong)
Cloud Campus
Trimester 2 - July
Start date: July
Available at:

Burwood (Melbourne)
Waurn Ponds (Geelong)
Cloud Campus
Deakin splits the academic year into three terms, known as trimesters. Most students usually undertake two trimesters each year (March-June, July-November).
Additional course information
Course duration - additional information
Course duration may be affected by delays in completing course requirements, such as accessing or completing work placements.
Mandatory student checks
Any unit which contains work integrated learning, a community placement or interaction with the community may require a police check, Working with Children Check or other check.
Work experience
Elective units may provide the opportunity for Work Integrated Learning experiences.
Entry information
General admission requirements for entry into undergraduate courses for international students at Deakin are summarised in the undergraduate admission requirements table.
Some courses may have additional entry requirements.
Students must also meet the undergraduate English language requirements.
Entry for applicants with recent secondary education (previous three years) will be based on their performance in a Senior Secondary Certificate of Education, with pre-requisite units 3 and 4; a study score of at least 30 in English EAL (English as an additional language) or 25 in English other than EAL. Applicants will be selected in accordance with the published Australian Tertiary Admission Rank (ATAR) for that year. Refer to the VTAC Guide for the latest pre-requisite information www.vtac.edu.au
Entry for applicants with previous Tertiary, VET, life or work experience will be based on their performance in:
a Certificate IV in a related discipline OR
a Diploma in any discipline or 50% completion of a Diploma in a related discipline OR
successful completion of relevant study at an accredited higher education institution equivalent to at least two Deakin University units OR
other evidence of academic capability judged to be equivalent for example relevant work or life experience
IELTS / English language requirements Please note that English language requirements exist for entry to this course and you will be required to meet the English language level requirement that is applicable in the year of your commencement of studies. It is the students' responsibility to ensure that she/he has the required IELTS score to register with any external accredited courses. (more details)
For more information on the Admission Criteria and Selection (Higher Education Courses) Policy visit the Deakin Policy Library.
Fee information
Estimated tuition fee - full-fee paying place
The tuition fees you pay are calculated depending on the course you choose.
The 'Estimated tuition fee' is provided as a guide only based on a typical enrolment of students completing the first year of this course. The cost will vary depending on the units you choose, your study load, the length of your course and any approved Credit for Prior Learning you have.
Each unit you enrol in has a credit point value. The 'Estimated tuition fee' is calculated by adding together 8 credit points of a typical combination of units for that course. Eight credit points is used as it represents a typical full-time enrolment load for a year.
You can find the credit point value of each unit under the Unit Description by searching for the unit in the Handbook.
Learn more about fees and available payment options.
Scholarship options
A Deakin scholarship could help you pay for your course fees, living costs and study materials. If you've got something special to offer Deakin - or maybe you just need a bit of extra support - we've got a scholarship opportunity for you. Search or browse through our scholarships
Career outcomes
Promising career opportunities await in the areas of criminology and psychology. Graduates may find employment in areas such as government agencies, state and federal police, security and intelligence agencies, research and policy development, correctional services, community services, and private security and consultative industries, as well as the many fields open to traditional psychology graduates.
For more information go to DeakinTALENT
Professional recognition
This course is recognised for registration purposes by the Psychology Board of Australia, accredited by the Australian Psychology Accreditation Council (APAC) and enables you to undertake additional study in pursuit of professional registration.
Course learning outcomes
Deakin's graduate learning outcomes describe the knowledge and capabilities graduates can demonstrate at the completion of their course. These outcomes mean that regardless of the Deakin course you undertake, you can rest assured your degree will teach you the skills and professional attributes that employers value. They'll set you up to learn and work effectively in the future.
See course entry for Bachelor of Criminology (A329) or Bachelor of Psychological Science (H344)
Entry pathways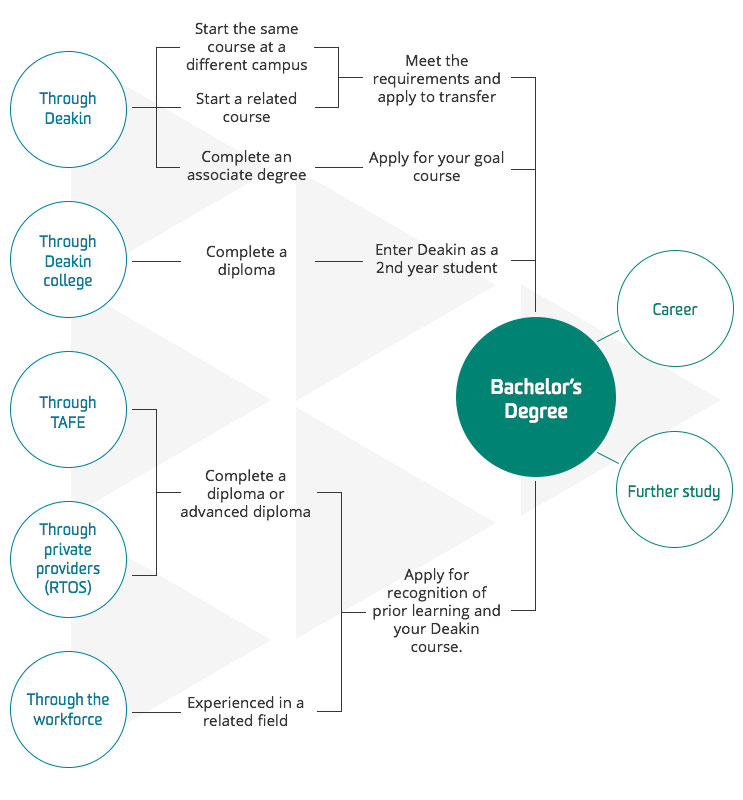 Tap image to expand
Disclaimers:
Through Deakin College and TAFE: Completion of diploma and minimum academic requirements apply to enter Deakin University.
Through Deakin: Transfers within Deakin are subject to availability and meeting minimum academic requirements.
Alternative exits
Credit for prior learning
If you have completed previous studies which you believe may reduce the number of units you have to complete at Deakin, indicate in the appropriate section on your application that you wish to be considered for credit transfer. You will need to provide a certified copy of your previous course details so your credit can be determined. If you are eligible, your offer letter will then contain information about your credit transfer.
Your credit transfer is formally approved prior to your enrolment at Deakin during the Enrolment and Orientation Program. You must bring original documents relating to your previous study so that this approval can occur.

You can also refer to the Credit for Prior Learning System which outlines the credit that may be granted towards a Deakin University degree.
Still haven't found what you are looking for?