Career opportunities
Deakin architecture graduates have worked in China, Dubai, Oslo, Berlin, Malaysia, America, the UK and the Middle East. Organisations that have employed recent graduates include:
Daryl Jackson Architecture
Denton Corker Marshall
Fender Katsilidis Architects
Elenberg Fraser Architects
Jackson Clements Burrows Architects
McGlashan Everist
Peddle Thorp Architects
REDSTUDIO.
Undergraduate
Undergraduate (your first degree)
An undergraduate degree is generally completed between two to four years, depending on the pattern of study and any credit for prior learning you may have. Associate degrees, bachelor's and bachelor's with honours are all undergraduate degrees.
Postgraduate
Postgraduate (further study)
A postgraduate qualification can be undertaken by students who have already completed an undergraduate degree or possess significant, demonstrable work experience. Postgraduate courses include graduate certificates, graduate diplomas, master's and PhDs, as well as specialist programs for industry professionals.
Research
Higher Degrees by Research (supervised research)
Research degrees are research based master's or PhD programs that focus on a single area of expertise. They provide students the opportunity to carry out highly specialised research under expert supervision.
My passion towards uncovering methods to contribute to human well-being led me to choose architecture as an academic major.
PhD, School of Architecture and Built Environment
Skills and experience employers want
The industry will appreciate your practical experience upon graduation. You'll also collaborate with construction management students during your course through our unique integrated learning approach – just as you will in the real-world – making you an invaluable candidate for employment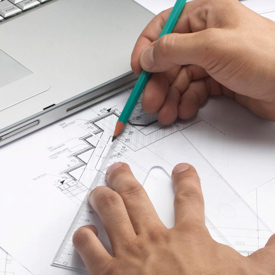 Research with us
The School of Architecture and Built Environment operates an interdisciplinary research program. Our staff are active researchers who work with built professions and governments, and on consultancy-based projects. This direct connection gives you the opportunity to be involved, have a rewarding experience, and make a difference.
Accreditation
Our Bachelor of Architecture (Design) is accredited (within Australia) by the Australian Institute of Architects (AIA), Architects Registration Board of Victoria (ARVB) and Architects Accreditation Council of Australia (AACA) when it is followed by successful completion of the Master of Architecture coursework program.
Our Bachelor of Architecture (Design)/Bachelor of Construction Management (Honours) combined degree offers accreditation for the architecture component by AIA, ARVB and AACA when it is followed by successful completion of the Master of Architecture (Design Management) coursework program.
Student showcase
Take the time to check out our Paper Space Exhibition – an annual expo featuring outstanding undergraduate and master's degree student work.
What do our students and staff say?
Architecture and built environment – a staff perspective
See why our architecture and built environment staff love working at Deakin.
Deakin Paper Space Exhibition
A Deakin architecture exhibition featuring outstanding work from architecture and built environment's undergraduate and master's degree students.
Browse other disciplines within architecture and built environment
Choose an area that you're interested in and learn how Deakin's extensive range of study options and experiences can help turn your dreams into reality.
Still haven't found what you are looking for?