Deakin Curriculum Framework
LIVE the future: Agenda 2020, launched July 2012, encapsulates Deakin University's plan to bring the opportunities of the digital age into the real world of Learning, Ideas, Value and Experience (LIVE).
These four important and interconnecting elements make up the Deakin Promise. As a worldly university, informed by its Australian context and engaged with the communities it serves, Deakin promises to advance:
Learning: Offer brilliant education where you are and where you want to go.
Ideas: Make a difference through world-class innovation and research.
Value: Strengthen our communities, enable our partners and enhance our enterprise.
Experience: Delight our students, our alumni, our staff and our friends.
---
Deakin promises to educate learners for the jobs and skills of the future (graduate employability) through courses enhanced for highly personal, engaging and relevant learning experiences (premium cloud and located learning). The Deakin Promises related to Learning include:
welcoming committed and capable learners
empowering learners for the jobs and skills of the future
providing cloud learning globally and locally
enabling learners to achieve at their own pace and space
strengthening the evidence base of learning.
The literature in teaching and learning in higher education consistently confirms that excellent student learning is most likely to be achieved when:
learning outcomes are clearly articulated and relevant to graduate destinations
assessment and feedback are carefully designed opportunities to enable students to demonstrate, improve and evidence achievement of graduate learning outcomes
educators engage, enthuse and inspire
learning experiences, on campus or in the cloud, are highly and personal interactive and focused on engaging learners in authentic tasks and work-integrated challenges.
---
Key strategies:
The Graduate Learning Outcomes are key to Deakin's graduate employability agenda:
Through course enhancement, Deakin's Graduate Learning Outcomes and Standards are contextualised to the discipline; communicated as course learning outcomes and minimum standards; and embedded and assessed in units as shown in the Course Evidence Portfolio.
Assessment is re-framed as an opportunity for students to create evidence of their achievement of the Graduate Learning Outcomes. All students are encouraged to curate the evidence in a portfolio - this could be an e-portfolio in CloudDeakin, a personal digital space or professional social media channels.
Students are encouraged to articulate their achievement of the Graduate Learning Outcomes by taking advantage of the 'Me in a Minute' offer, where they are assisted to produce a one minute video pitch to potential employers. Students are encouraged to share the video in DeakinSync, professional social media channels or both.
In 2015, Deakin will pilot Hallmarks - using digital credentialing technologies to recognise, in partnership with industry and the professions, outstanding achievement in Graduate Learning Outcomes. Students are encouraged to share these digital credentials in professional social media channels.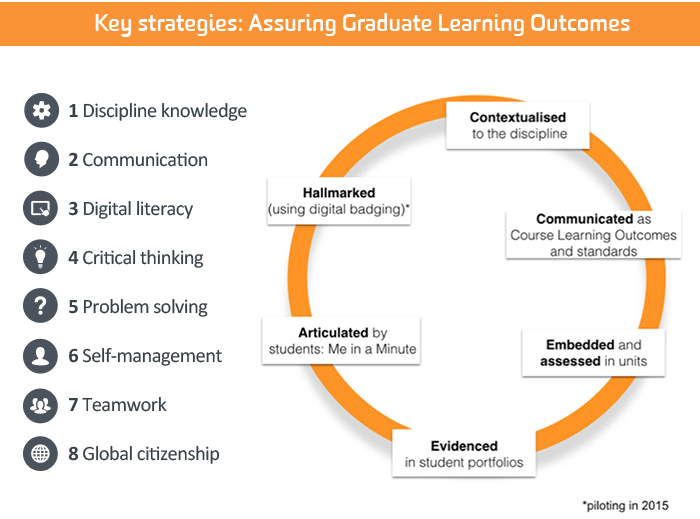 ---
Engaging learning experiences on campus and in the cloud:
All Deakin students have access to DeakinSync—a 21st-century digital access point for student support and learning. DeakinSync is students' direct connection with their course and units in CloudDeakin; with other students and their teachers (via email and videoconferencing); and with the Library, administrative and other help. DeakinSync also hosts students' profiles, where they can store and display their 'Me in a Minute'; Hallmarks and other achievements; and link to social media.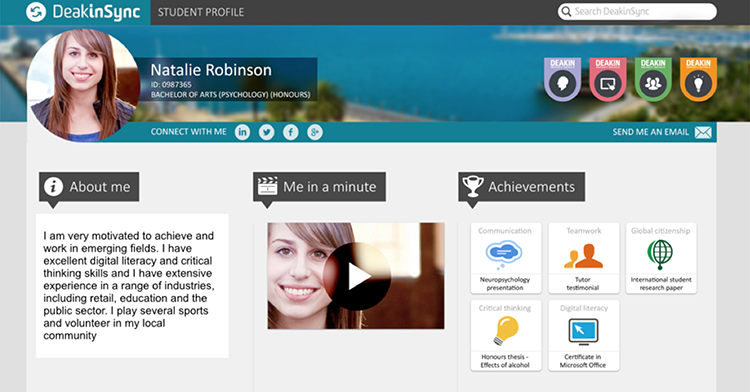 Page custodian: Office of the DVC (Education) Last updated: