Information technology
If you want a career that gives you the opportunity to be at the forefront of technology with employment opportunities in just about every industry, IT @ Deakin is the best place to start.
What can I study?
Our undergraduate and postgraduate courses in information technology provide you with the knowledge, skills and experience necessary to keep abreast of this rapidly changing field, whilst being flexible enough to enable you to tailor your studies to your own interests and IT specific career aspirations.
Deakin's postgraduate IT courses provide a combination of leading-edge theory and technical knowledge plus hands-on practical experience to prepare you for a successful career as an IT professional in Australia and around the world.
Computer science and software development at Deakin provides an understanding of the technology on which systems are built, as well as how to develop software systems and applications, and form an environment to acquire skills needed for software development.
Games design and development provides you with the knowledge and skills to thrive in this dynamic field. You will be exposed to hands-on computer games design and development in a dynamic learning environment and have access to games studios where you can interact and develop team-based projects.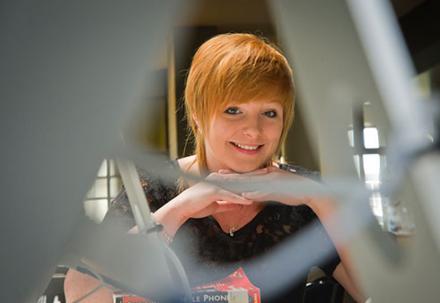 Cass Cassidy
Bachelor of Information Technology (Computer Science and Software Development)
Read Cass' story
Gain practical and theoretical knowledge in this critical aspect of IT with an emphasis on understanding and assessing the need for IT security in a working environment, knowledge of the security solutions available and an understanding of the business, ethical and legal implications of risk management.
Gain the knowledge and skills to design and develop apps on modern mobile platforms, enabling you to innovate and thrive in this fast-growing field. Acquire practical skills in mobile apps design and development – from front-end mobile devices all the way to the back-end systems that support mobile apps.
---
Why study information technology at Deakin?
Enhance the digital future
Be at the forefront of technology and use your IT skills to enhance the digital future. IT skills are applicable in more than just the ICT sector and can open up employment opportunities in just about any industry. The possibilities are almost endless, so where will you let IT@Deakin take you?
Shape your IT degree
With a diverse range of study areas available, you can shape your IT degree to achieve your career goals. You may choose to undertake the flexible Bachelor of Information Technology and select up to two of the seven specialised areas offered, or target your chosen field from day one with one of Deakin's specialised IT degrees.
Interactive learning environments
Experiential learning and hands-on exposure to current and emerging technology is a key feature of Deakin's IT courses. You will also have access to top software in fully-equipped, specialised computer laboratories right from the beginning of your course.
Flexible study options
IT@Deakin is distinctive in that the majority of course and specialisations are available both on and off-campus, meaning you can study IT anytime and anywhere with modern learning technology. This gives you the flexibility to fit your studies around your lifestyle, work and other commitments. You can even switch between on campus, off campus, full time or part time study modes and choose the option that suits you best.
The best of both worlds
Enjoy the best of both worlds with a combined degree in information systems and information technology, and gain the practical and theoretical knowledge in ICT that can lead to a spectrum of highly sought-after graduate roles. This course provides you with a thorough grounding in software development, web design, database, networking and project management.
Targeting cyber-crime
Over the last decade cyber issues have attracted enormous attention, both in terms of every day issues such as internet banking and internet 'scams' through to cyber-terrorism and cyber-warfare. If you're interested in tackling cyber-crime and cyber-security head-on, then Deakin's new Bachelor of Criminology/Bachelor of Information Technology (IT Security) is a great place to start.
Strong industry links
We maintain strong industry links through joint research and education programs, so our students have the opportunity to be involved in industry projects and work experience. Our connection to industry leading organisations including IBM, Telstra, ANZ and Computershare ensure our courses have industry input and our curriculum remains relevant to changing workplace needs.
Practical industry experience
The Work-Integrated Learning (WIL) program provides the opportunity to apply to undertake a full time or part-time discipline-specific industry placement. The WIL placements are designed as elective units and are credited towards your degree. Some placements also come with an industry-funded scholarship.
Work-ready graduates
In today's IT job market multi-skilling, multi-tasking and cross-skilling are highly valued and Deakin graduates are well placed for a successful career in this industry. We aim for our graduates to be well-rounded IT professionals with significant exposure to a diverse range of IT practices and the ability to meet the future needs of this ever-evolving, fast-moving industry.
Professional accreditation
Our Bachelor of IT and Master of IT are accredited by the Australian Computer Society (ACS), providing international recognition and allowing graduates to be eligible for membership of the ACS. Deakin's IT courses also give you the option to study units leading to CISCO certification as part of your normal course sequence.
Postgraduate opportunities
Our postgraduate IT programs aim to strengthen, build and extend the principles required for successful IT careers in Australia and overseas. You will gain technical skills, a positive approach to problem solving and the ability to work as part of a team while focussing on practical experience and a supervised research or industry project that provides you with the advanced project management skills required to tackle complex, industrially-focused problems head on.
Global Science and Technology Program
The Global Science and Technology Program aims to recognise, reward and support high-achieving undergraduate students in the Faculty of Science, Engineering and Built Environment who would like to conduct part of their studies overseas to help them develop new skills and a broader world view. Successful applicants will be offered a monetary scholarship to assist with travel costs and will be required to participate in the Deakin Global Citizenship Program.
Scholarships
Deakin University offers scholarships for academic excellence, access and equity, accommodation and Aboriginal and Torres Strait Islanders, ensuring higher education is accessible for all members of the community. Scholarships in the Faculty of Science, Engineering and Built Environment for IT students include the IGNITED (Initiative for a Girls' Network in Information Technology and Engineering @ Deakin) Scholarship.
---
Career opportunities for graduates
A career in IT has almost endless possibilities. Deakin's IT courses reflect industry needs, offering areas of study that are of crucial importance to IT development and applications, and are tailored to produce the graduate skills that employers are looking for.
Our graduates are entering an industry in which their skills and knowledge are in high demand. Depending on which subject area you specialise in, you may work in a range of fields including computer science and software development, games design and development, information systems, IT security and business security management, interactive media or mobile and apps development. You could work as a computer games designer, a security specialist, a software engineer, a business consultant, an information officer, a system or business analyst, a network engineer or 3D graphic designer.