Information technology
If you want a career that gives you the opportunity to be at the forefront of technology with employment opportunities in just about every industry, a Deakin Information Technology (IT) or Business Information Systems (BIS) course is a great start.
---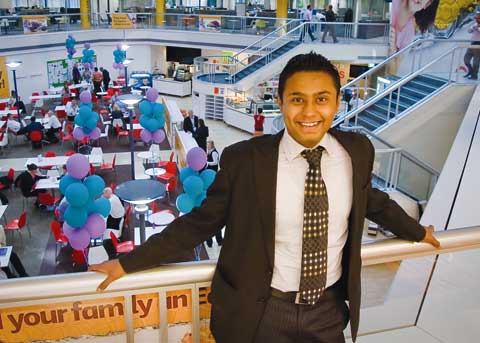 Graduate snapshot
Nishad Shah
Master of Information Technology (Professional), 2008
Melbourne Burwood Campus
Employed: IT Business Analyst, Coles Liquor Group
Nishad Shah researched many universities world-wide before choosing to study at Deakin for a masters degree in information technology.
'I found that Deakin provided the best academic exposure with a great opportunity to work in corporate industry,' Nishad says.
'It is also IT-accredited at the highest level by the Australian Computer Society and Deakin's IT degree is well recognised internationally.'
---
What can I study?
Choose from a wide range of study area and tailor your degree to meet your interests.
---
Why study information technology at Deakin?
Industry learning
The Science and Technology Work-Integrated Learning (WIL) program provides the opportunity to apply to undertake a full time or part-time discipline-specific industry placement. The WIL placements are designed as elective units and are credited towards your degree. Some placements also come with an industry-funded scholarship.
Deakin also offers a Bachelor of Information Technology (Professional Practice) course that includes a 6 - 12 month Work Integrated Learning placement as part of the degree. Students enrolled in the Bachelor of Business Information Systems have the opportunity to gain business experience in their area of specialisation through the Business Internship Program.
State-of-the-art facilities
You will have access to fully equipped computing laboratories and specialised computing facilities right from the beginning of your course.
---
Careers for information technology graduates
Most of Deakin's IT and BIS degrees are accredited by the Australian Computer Society (ACS), providing international recognition and allowing graduates to be eligible for membership of the ACS.
Deakin's IT courses also give you the option to study units leading to CISCO certification as part of your normal course sequence.
You could work as a computer games designer, a security specialist, a software engineer, a system or business analyst, a network engineer or 3D graphic designer.
Career opportunities for graduates include but are not limited to:
computer science and software development
games design and development
business information systems
IT security and business security management
interactive media
mobile and apps development.
---
Study overseas
Give yourself the competitive edge after graduation. Discover and live in a new country and make friends all around the world. With a Deakin Education Abroad program, your degree can take you where you want to go.
Exchange and Education Abroad programs are available to all students, including international, postgraduate and off-campus students.
The Faculty of Science, Engineering and Built Environment is introducing the new Global Science and Technology Program to help high-achieving students add an international experience to their studies.
---
Information technology courses
View all information technology courses at Deakin. Courses include but are not limited to:
Undergraduate studies
Bachelor of Business Information Systems
Bachelor of Information Technology
Bachelor of Commerce
Postgraduate studies by coursework
Graduate Certificate of Information Technology
Graduate Diploma of Information Technology
Master of Information Technology
Master of Information Technology/Master of Business Administration (International)
Master of Information Technology/Master of Commerce
Master of Information Technology/Master of Information Systems
Master of Networking and Security
Postgraduate studies by research
Master of Commerce
Doctor of Philosophy