Information technology
The IT industry is thriving! As an essential component to innovation and productivity across a wide range of sectors, it is also at the very centre of the way we work, learn, communicate, socialise and entertain ourselves. This creates exciting career opportunities, so studying IT can be one of the best preparations for the future.
What can I study?
Studying information technology provides you with the knowledge, skills and experience necessary to keep abreast of this rapidly changing field. In addition to gaining a core set of IT skills that are relevant in almost every industry, you have the opportunity to choose from a diverse range of IT specialisations, from technical (cloud computing and programming) to the creative (interactive media design and game development), depending on your interests and career aspirations.
Computer science equips you with the skills to design and develop advanced software and systems, along with the capacity to create and integrate new computing technologies that enhance effective business operations in today's digital age. With a focus on the technological aspects of IT, including analytics, cloud computing, programming, software engineering and database development and administration, develop the knowledge, skills and competencies to build a wide range of applications to solve the technological challenges of today and tomorrow.
The design and development of computer games requires a balanced mix of creative skills along with technical programming skills. Studies in game design and development provide foundation skills and the necessary knowledge to develop modern computer game software. Learn how to design, build and manage computer game projects through multidisciplinary teams, using industry standard approaches and programming languages, within dynamic development environments.
Data is the new frontier of the 21st century, data analysts are in extremely high demand due to the lack of skilled professionals in this area. Data analytics is the process of examining and analysing mass amounts of raw data. There is a need for data analyst graduates who can use their expertise to help businesses and governments make sense of the large pools of data they have access to, better informing their strategic decision-making processes.
The modern digital society is central to the way we live, work, communicate and conduct business, hence it is vital that data and systems providing these services be safeguarded by ethical professionals. With a focus on the technical elements and the development of a solution-based mindset, gain a cyber security skill set that will be pertinent to securing the interconnected globe of the future. An additional option is available to combine cyber security and criminology and develop an understanding of the meaning of crime, whilst gaining skills to investigate, analyse and provide solutions to cyber crime.
* From 2017 this course will be retitled Bachelor of Cyber Security.
A new course from Trimester 1, 2017 Deakin's Bachelor of Software Engineering (Honours) focuses on software engineering, cyberphysical systems and robotics applications, producing sought-after graduates who will create the technologies of the future.
Virtual reality (VR) and augmented reality (AR) are expected to be the next big computing environment. VR and AR are already being integrated into healthcare, tourism advertising, entertainment, automotive, gaming, education and space industries. This area will be an incredibly exciting and innovative field. Deakin is proud to be the first University in the Australian and New Zealand region to offer a dedicated course in this area.
Undergraduate IT at Deakin
Practical experience
As a Deakin information technology (IT) student you gain an edge in the job market through the combination of hands-on experience and high-level theoretical training that our courses provide. You learn by doing, rather than just seeing.
Maintaining relevance
We recognise the importance of being closely aligned with the IT industry, maintaining strong industry links through representatives from organisations such as Telstra, ANZ and Computershare. These industry representatives provide us with curriculum advice, keeping our courses current and relevant to industry needs, which is key in a sector where change is constant.
Professional recognition
Professional accreditation by the Australian Computer Society (ACS) means your degree is recognised in industry, resulting in stronger job outcomes. You can also choose to study units at Deakin that lead to Cisco certification, giving you a relevant, practical qualification.
Flexible study options
Genuine flexibility is a key feature of our courses, where you can study full-time or part time, in Geelong, Melbourne or via cloud learning (off campus and online), where Deakin embraces the best of new and emerging technologies.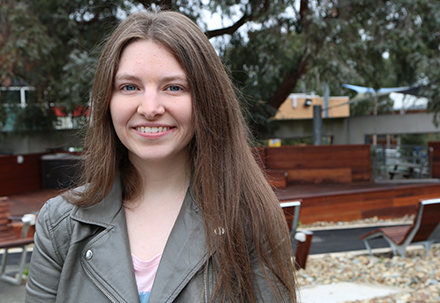 Bethany Smith
Bachelor of Information Technology (Honours)

Melbourne Burwood Campus
Read Bethany's story
Learn from experts
Our staff conduct high quality research, generating new, fundamental knowledge which assists industry to advance their technologies and to maintain a competitive edge.
Modern facilities with the latest technology
Deakin continually invests in its facilities and IT programs, ensuring you have access to the latest software in fully equipped computer labs from day one of your course.
IT Internship
Every undergraduate IT student at Deakin undertakes an internship, providing you with an opportunity to apply your learning and gain valuable industry experience which is credited towards your degree. An internship enables you to experience a professional work environment, develop professional networks and explore career opportunities before you graduate. See the IT student information website
There are also opportunities to apply for full-time, part-time or short-term industry-based learning (IBL) placements, with industry-funded scholarships on offer. For more information on the IBL placements, please refer to the Faculty WIL website
Scholarships
Deakin University is committed to attracting more female students to its information technology courses. Designed to 'ignite' female interest in non-traditional areas of study and work, IGNITED Scholarships are awarded to successful applicants commencing an undergraduate degree in information technology.
Deakin University also offers scholarships for academic excellence, access and equity, accommodation and Aboriginal and Torres Strait Islanders, ensuring higher education is accessible for all members of the community.
Experience the world while you study
Study Abroad
Our Study Abroad and Exchange Office offers various programs, including exchange, study abroad, short-term study programs, study tours and international volunteer opportunities.
Global Science and Technology Program
The Global Science and Technology Program at Deakin is designed to add an international experience to your IT degree, supporting you to develop new skills and a broader world view while studying overseas.
Well-rounded graduates
IT skills are applicable in more than just the information and communications technology (ICT) sector and can open up employment opportunities in just about any industry. You will also develop important employability skills in critical thinking, analysis, investigation and evidence-based decision making.
Postgraduate IT at Deakin
Deakin's postgraduate IT courses provide a combination of leading-edge theory and technical knowledge plus hands-on practical experience to prepare you for a successful career as an IT professional in Australia and around the world. You will gain a positive approach to problem solving while focusing on practical experience and a supervised project that provides you with the advanced project management skills required to tackle complex, industrially-focused problems head on.
Choose your specialisation
Deakin's Master of Information Technology offers the flexibility to tailor your course to suit your own needs. You may choose to specialise in IT Security, IT Services, IT Strategy and Management, Networking, Software Development, Data Analytics or Virtual Reality in addition to selecting units from across a range of areas in order to obtain a broad grounding in IT.
Professional accreditation
Our Master of Information Technology and Master of Information Technology (Professional) are accredited by the Australian Computer Society (ACS), which means your degree is recognised in industry, resulting in stronger job outcomes. Deakin's IT courses give you the option to study units that lead to Cisco certification, giving you a relevant, practical qualification, as well as an advantage over other graduates when applying for jobs.
Flexibility
Deakin offers flexible learning options. Most programs can be studied at our Melbourne Burwood campus, full-time, part-time, as well as via cloud (online) learning, giving you the flexibility to fit your studies around your lifestyle, work and other commitments. Deakin's trimester system also allows you to fast track your studies and complete your program within a shorter timeframe.
Maintaining relevance
Deakin recognises the importance of being closely aligned with industry and maintains strong links through IT representatives from leading organisations such as Telstra, ANZ and Computershare. Consultation with industry ensures our courses are relevant and up-to-date with workplace demand and that our program is designed to meet future industry requirements.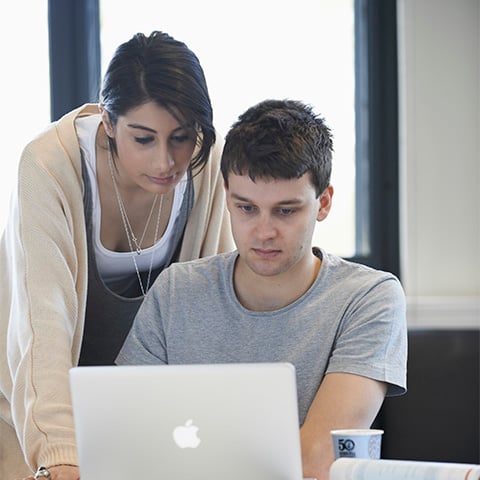 The first course of its kind to be offered at Deakin University, the Master of Science (Research) is distinctive. Comprising a unique combination of coursework and research, it provides the ideal pathway between undergraduate study and a doctoral degree. Students have the flexibility to choose one of a variety of specialisations according to their research interests and career aspirations.
Work-ready graduates
In today's IT job market multi-skilling, multi-tasking and cross-skilling are highly valued and Deakin graduates are well placed for a successful career in this industry. We aim for our graduates to be well-rounded IT professionals with significant exposure to a diverse range of IT practices and the ability to meet the future needs of this ever-evolving, fast-moving industry.
Career opportunities?
A career in IT has almost endless possibilities. In today's IT job market multi-skilling, multi-tasking and cross-skilling are highly valued and Deakin graduates are well placed for a successful career in this industry. Our graduates are well-rounded IT professionals with the ability to meet the future needs of this ever-evolving, fast-moving industry.
Depending on which IT area you specialise in, you may work in a range of fields including software engineering, systems or business analysis, iOS or Android development, games design, network engineering, multimedia system design, 3D graphic design, database and web design, object-oriented and procedural programming or IT security.
Page custodian: Faculty of Science, Engineering & Built Environment Last updated: