Get work-ready
Massive amounts of data are collected every second via the internet, social media, sensors and networks all over the world. Skilled data analysts are in high demand as organisations increasingly rely on skilled specialists to unlock hidden patterns in big data to provide strategic advantage in the competitive business world. Throughout your data science degree you'll gain the necessary skills needed to transform this data into meaningful and persuasive insights that inform decision making, and graduate with skills that are in high demand by employers.
Undergraduate
Undergraduate (your first degree)
An undergraduate degree is generally completed between two to four years, depending on the pattern of study and any recognition of prior learning you may have. Associate degrees, bachelor and bachelor with honours are all undergraduate degrees.
Postgraduate
Postgraduate (further study)
A postgraduate qualification can be undertaken by students who have already completed an undergraduate degree or possess significant, demonstrable work experience. Postgraduate courses include graduate certificates, graduate diplomas, masters and PhDs, as well as specialist programs for industry professionals.
Research
Higher Degrees by Research (supervised research)
Research degrees are research based master's or PhD programs that focus on a single area of expertise. They provide students the opportunity to carry out highly specialised research under expert supervision.
Career opportunities
Skilled data science and analytics professionals are crucial to all industries and organisations are struggling to find people who can turn their data into insights and value, which in turn has created a high demand across the globe for data analysts.
As a graduate, you'll have the skills to be an industry-ready professional with core data analytics, commercial and personal skills which can be applied to a diverse range of business and technology-focused problems. This is highly valued by employers seeking greater efficiencies and competitive advantage through data insights. Typical roles can be found across business and scientific fields, as well as within governments, and include:
analytics consultant
analytics programmer
analytics manager
business analyst
business intelligence specialist
business strategist
computer system analyst
data analyst
data analysis specialist
data scientist
data strategist
information analyst
information manager/information officer
market research analyst
management analyst
market analyst
project manager
predictive modeller
systems

designer

.
Information technology facilities
Discover Deakin's fully equipped computer labs and spaces, specialised equipment and technologies found in our IT facilities at our Melbourne Burwood Campus.
Accreditation
Most of our IT courses are accredited by the Australian Computer Society (ACS), ensuring a high quality of education and providing you with international recognition as an ICT industry professional, so you stand out to future employers.
Industry connections
Industry-informed teaching
Deakin's teaching and research staff are experts in their fields, with broad international links and connections with industry. Our courses are designed to take into account the needs of industry to ensure that what we teach is up-to-date and reflects what organisations need. You'll also have the opportunity to learn from professionals in the field through industry guest lecturers, and can contribute to research and development projects.
Industry-based learning
Industry placements provide you with an opportunity to immerse yourself in a professional workplace, developing your practical and job-ready skills that employers will regard highly. Developing these professional networks while you study opens up a world of possibilities.
We embrace advances in technology and encourage our students to get out of their comfort zone, and motivate them to achieve high standards in their studies.
Vicky Mak
Senior Lecturer, School of Information Technology
Research with us
Flesh out your own theories and ideas at a highly conceptual level. Research in this area can bring real value and practical benefits to your place of employment – not just academia. Research anything from examining big data through to data science and manipulation.
We're here to help
If you're dreaming of an exciting and rewarding career in data science, we'll help get you there.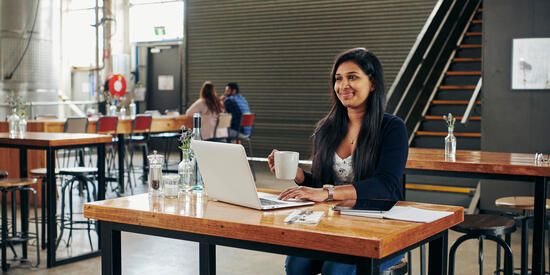 Looking for a career change? Here's how online study can help
Looking for a career change? Learn how former accountant Glen kick-started his new career with online study in Deakin's Master of Business (Sport Management).
Browse other disciplines within data science and analytics
Choose an area that you're interested in and learn how Deakin's extensive range of study options and experiences can help turn your dreams into reality.
Browse other disciplines within information technology and cyber security
Choose an area that you're interested in and learn how Deakin's extensive range of study options and experiences can help turn your dreams into reality.