Psychology
Psychology is a scientific discipline which studies the mind and its processes, behaviour and mental states.
---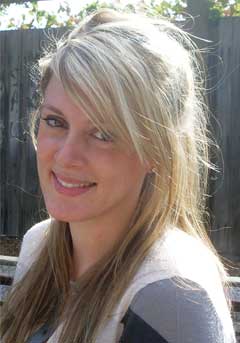 Graduate snapshot
Marcele De Sanctis
Bachelor of Applied Science (Psychology), Deakin University, 2005
Graduate Diploma of Psychology, Deakin University, 2006
Master of Psychology (Industrial and Organisational), Deakin University, 2008
Currently: Doctor of Philosophy
'The staff have always been so helpful at Deakin. The quality of teaching, academic supervision, opportunities to learn and become involved, in addition to the convenience, approachability and friendliness of all staff was invaluable.
'I have always been interested in the business side of psychology but did not want to complete an accounting or commerce degree. Deakin offers a range of diverse courses within the School of Psychology, including the Master of Psychology (Industrial and Organisational)'.
---
What can I study?
Our psychology courses are community-relevant, solution-focused and aim to contribute to the production of high-quality, professional practitioners, who are adequately equipped to work in a broad range of settings and contexts.
Clinical psychology
Industrial and organisational psychology
---
Why study psychology at Deakin?
Get ready for the workforce
Teaching and research excellence
Work readiness is a key feature of psychology at Deakin. As an undergraduate psychology student you have the opportunity to undertake relevant work experience in psychology and participate in transition-to-work activities such as developing a professional portfolio, writing a resume and interviewing skills.

Our lecturers are well qualified, enthusiastic teachers and researchers with broad local and international links and experiences. You will learn from academic staff who are internationally recognised researchers with specialist skills developed through their work with outside agencies, their research and community involvement. This experience reflects and informs our teaching programs.
The School of Psychology's teaching is underpinned by excellence in research across a range of fields, including cognitive and behavioural neuroscience, social psychology, developmental psychology, forensic psychology, organisational psychology and clinical psychology. In particular, research reflects clinical, health and forensic issues; industrial and organisational psychology; human factors; and quality of life.
---
Career opportunities for psychology graduates
Studying psychology at Deakin gives you entry into one of the fastest growing and most diverse professional fields in Australia and around the world.
Career opportunities for graduates include but are not limited to:
mental health rehabilitation
social work / youth work
human services
research psychology
human resources management
organisational development
counselling
public relations
education
child protection
market research.
---
Study overseas
Give yourself the competitive edge after graduation. Discover and live in a new country and make friends all around the world. With a Deakin Education Abroad program, your degree can take you where you want to go.
Exchange and Education Abroad programs are available to all students, including international, postgraduate and off-campus students.
---
Psychology courses
View all psychology courses at Deakin. Courses include but are not limited to:
Undergraduate studies
Bachelor of Psychology
Bachelor of Applied Science (Psychology)
Bachelor of Health Sciences
Honours
Postgraduate by coursework
Graduate Certificate in Coaching and Counselling
Graduate Diploma in Coaching and Counselling
Graduate Diploma of Psychological Studies
Graduate Diploma of Psychology
Master of Psychology (Clinical)
Master of Psychology (Industrial and Organisational)
Doctor of Psychology (Clinical, Health or Forensic)
Postgraduate by research
Master of Applied Science
Master of Arts
Master of Psychology
Master of Science
Doctor of Philosophy (PhD)