Student profiles
Siyu Xie
Siyu chose DUELI following her father's recommendation. 'My dad found the DUELI program for me and he's happy with how it's going.' After two years of studying in Beijing, Siyu moved to Australia to complete her bachelors degree but needed to improve her English language skills first, which is where DUELI came in.
DUELI offered direct access to her chosen course at Deakin, something that appealed to Siyu and her father. 'DUELI stood out because of its pathway program and knowing English is a big career advantage in China. ' Another bonus is that some of Siyu's classmates had also chosen DUELI.
Siyu has now completed her Bachelor of Nursing at Deakin and is a Registered Nurse in Australia, where she is required to use English every day. 'My writing and speaking skills have greatly improved thanks to presentations, debates and written assignments - I even learnt some funny Australian slang!' she says.
Siyu has also enjoyed meeting people from all over the world at DUELI and is planning to meet up with some friends in their home countries. 'I now have friends from Vietnam, India, Fiji, Germany, and South Korea everywhere! My Indian DUELI classmates even helped me plan a major trip to India - I can't wait!'
Andres Duque Tobon
Within four months of Andres' arrival in Australia and commencing classes at DUELI, he was able to hold a fairly long conversation in English. 'I did study English back in school, but did not make as much progress as I wanted to. Since starting studies at DUELI my English skills have improved by leaps and bounds,' he says.
For someone who's graduated school not so long ago, Andres has a very clear career path chalked out ahead of him. 'I want to study Mechanical Engineering and join the automotive industry back in Colombia. And with the industry growing in terms of international trade, a good command over English will not only give me an edge in the employment market, but will also help me make a successful career,' he says.
Whilst on the one hand Andres aspires to make a career in the very tangible world of automobiles, he is a self-confessed buff of the fantastical world of action and superhero movies, on the other. 'I always enjoyed watching English movies, but now I do so without needing sub-titles which gives the movie-viewing experience a new and an additional dimension,' he exclaims proudly. 'The ILC is where I get to work on reading, writing and listening skills taught in class with the help of movies, music and magazines. And it's so much fun,' he says. DUELI's Independent Learning Centre (ILC) is a vast and varied resource hub where students can engage in learning English through means other than just textbooks
Beyond English, Andres attributes the learning of several important life skills to Deakin and his overall Australian experience. 'I feel that I have grown up a lot since coming to Deakin. I am more confident, more independent and more responsible a person now than I was when I had arrived. I believe these aptitudes, along with my English skills, will help me succeed in both my professional and personal careers,' he says.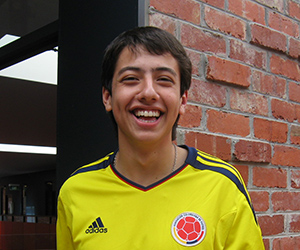 Page custodian: Deakin International Last updated: