Mr David Joyce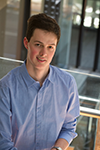 Mr David Joyce is a third year Commerce/International Studies student. He is the President of Deakin University Student Association (DUSA), an incorporated association with an annual turnover of $16 million. Previously David served as the Clubs and Societies officer for DUSA, overseeing all clubs and societies at Deakin. He has completed training in the legal responsibilities of board members and in strategy, risk, innovation, leadership and governance.
David has served on various University committees and working groups, including the Planning and Resources Committee, Alumni Relations Committee, the Teaching and Learning Committee and the Engaged and eRich Learning component of the curriculum renewal project.
David is a member of the Legislation Committee.
Page custodian: Office of the Vice-Chancellor Last updated: