Key facts
4.5 years full-time or part-time equivalent
Key dates
Direct applications to Deakin for Trimester 1 2019 close 24 February 2019

Current Deakin Students
To access your official course details for the year you started your degree, please visit the handbook
Course information
The Bachelor of Arts / Master of Arts (International Relations) aims to produce graduates who are able to demonstrate high level skills of theoretical and empirical analysis and interpretation of global issues and events. In addition, the course will give students a substantial understanding of the complexities of contemporary international relations.
Our course is unique, providing students with the knowledge to examine key contemporary issues in a global context. Students gain skills in policy analysis and develop a systematic understanding of the threats to peace and security, and the global forces shaping political, social and economic life.
The program also offers study abroad and internship programs, giving students the opportunity to gain international and professional experience.
Read More
Course structure
To qualify for the award of Bachelor of Arts (Years 1 to 3), students must complete 24 credit points as follows:
An approved Arts major sequence in International Relations
An approved Arts minor sequence of at least 4 credit points, or a second approved Arts major sequence of at least 8 credit points as listed below
No more than 10 credit points of units at level 1
A minimum of 4 credit points at level 3.
Note: Students completing minors in Arabic, Chinese, Indonesian and Spanish are permitted to complete 4 cp across any 2 levels, i.e. students may complete 2 credit points at level 2 and 2 credit points at level 3
* Students must have completed 24 credit points of study successfully and achieved a WAM of 60 to continue through to the Master of Arts (International Relations). Students not having fulfilled this requirement are eligible to graduate with the Bachelor of Arts as an alternative exit.
To qualify for the award of Master of Arts (International Relations), students must complete 12 credit points including two core units and one of the following streams:
- 2 core units AIR726 and AIR728
Option 1
6 credit points of research project units (AIX706; AIX707 or AIX708; AIX702 (2cps); AIX703 (2cps))
4 credit points of electives chosen from the specialisations or general electives
Option 2
4 credit points of research units (AIX704; AIX705; AIX706; AIX707 or AIX708)
6 credit points of electives chosen from the specialisations or general electives
Option 3
2 credit point of research units (AIX701 and AIX706)
8 credit points of electives chosen from the specialisations or general electives
Students must also complete
Academic Integrity AAI018
Academic Integrity (0-credit-point compulsory unit)
The Faculty offers two units AIX160 Introduction to University Study and AIX117 Professional Writing for Work, that are specifically designed to ease the transition into university study. New students are encouraged to enrol in one or both of these units in their first year.
Key information
Award granted
Bachelor of Arts / Master of Arts (International Relations)
Year
2019 course information
VTAC code
1400510411 - Burwood (Melbourne), Commonwealth Supported Place (HECS)
1400610411 - Cloud (online), Commonwealth Supported Place (HECS)
Approval status
This course is approved by the University under the Higher Education Standards Framework.
Australian Qualifications Framework (AQF) recognition
The award conferred upon completion is recognised in the Australian Qualifications Framework at Level 7/9.
Campuses by intake
Campus availability varies per trimester. This means that a course offered in Trimester 1 may not be offered in the same location for Trimester 2 or 3. Read more to learn where this course will be offered throughout the year.
Trimester 1 - March
Start date: March
Available at:

Burwood (Melbourne)
Cloud (online)
Trimester 2 - July
Start date: July
Available at:

Burwood (Melbourne)
Cloud (online)
Deakin splits the academic year into three terms, known as trimesters. Most students usually undertake two trimesters each year (March-June, July-November).
Additional course information
Course duration - additional information
Course duration may be affected by delays in completing course requirements, such as accessing or completing work placements.
Mandatory student checks
Any unit which contains work integrated learning, a community placement or interaction with the community may require a police check, Working with Children Check or other check.
Participation requirements
Reasonable adjustments to participation and other course requirements will be made for students with a disability. Click here for more information.
Work experience
Elective units may provide the opportunity for Work Integrated Learning experiences.
Need help?
Ask a question about studying a at Deakin
Entry information
Deakin University offers admission to undergraduate courses through a number of Admission categories.
In all categories of admission, selection is based primarily on academic merit as indicated by an applicant's previous academic record.
For more information on the Admission Criteria and Selection Policy visit The Guide.
Applicants should have successfully completed a Senior Secondary Certificate of Education, including Units 3 and 4–a study score of at least 25 in English (EAL) or 20 in English other than EAL.
The Faculty offers alternative entry options for mature age and other special categories of applicants. Information about these is available in the VTAC guide and on the Deakin University's website at https://www.deakin.edu.au/courses/entry-pathways
Recognition of prior learning
The University aims to provide students with as much credit as possible for approved prior study or informal learning which exceeds the normal entrance requirements for the course and is within the constraints of the course regulations. Students are required to complete a minimum of one-third of the course at Deakin University, or four credit points, whichever is the greater. In the case of certificates, including graduate certificates, a minimum of two credit points within the course must be completed at Deakin.

You can also refer to the Recognition of Prior Learning System which outlines the credit that may be granted towards a Deakin University degree and how to apply for credit.
Fee information
Estimated tuition fee - full-fee paying place
Not applicable
Estimated tuition fee - (CSP)?
The tuition fees you pay will depend on the units you choose to study as each unit has its own costs. The 'Estimated tuition fee' is provided as a guide only based on a typical enrolment of students undertaking the first year of this course. The cost will vary depending on the units you choose, your study load, the time it takes to complete your course and any approved Recognition of Prior Learning you have.
Each unit you enrol in has a credit point value. The 'Estimated tuition fee' is calculated by adding together 8 credit points of a typical combination of units for that course. Eight credit points is used as it represents a typical full-time enrolment load for a year.
You can find the credit point value of each unit under the Unit Description by searching for the unit in the Handbook.
Learn more about fees and available payment options.
Scholarship options
A Deakin scholarship could help you pay for your course fees, living costs and study materials. If you've got something special to offer Deakin - or maybe you just need a bit of extra support - we've got a scholarship opportunity for you. Search or browse through our scholarships
Entry pathways
View pathways into the Bachelor of Arts/Master of Arts (International Relations) with our pathways finder.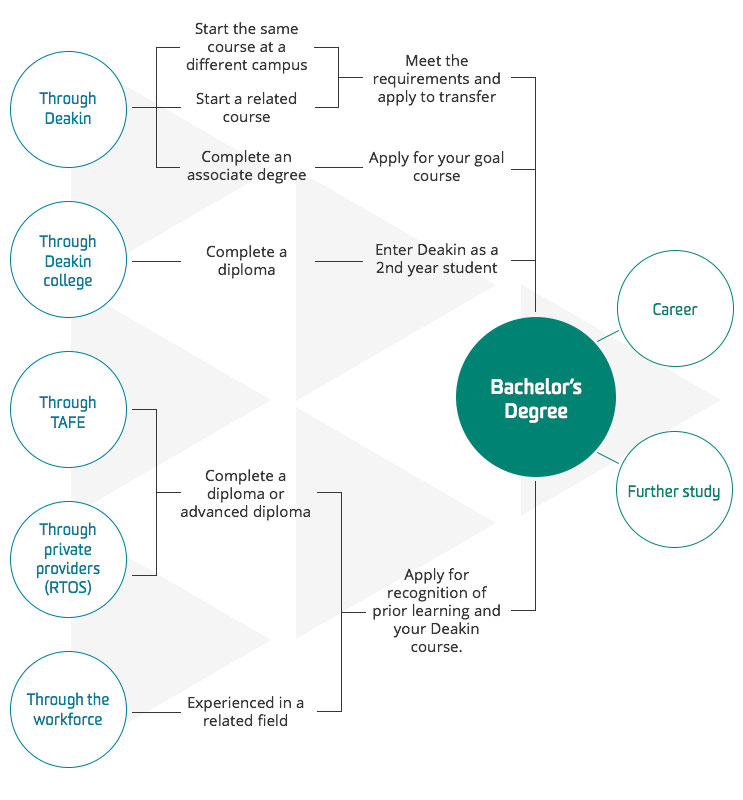 Tap image to expand
Disclaimers:
Through Deakin College and TAFE: Completion of diploma and minimum academic requirements apply to enter Deakin University.
Through Deakin: Transfers within Deakin are subject to availability and meeting minimum academic requirements.
Faculty contact information
Course learning outcomes
Deakin's graduate learning outcomes describe the knowledge and capabilities graduates can demonstrate at the completion of their course. These outcomes mean that regardless of the Deakin course you undertake, you can rest assured your degree will teach you the skills and professional attributes that employers value. They'll set you up to learn and work effectively in the future.
Deakin Graduate Learning Outcomes

Course Learning Outcomes
Bachelor of Arts

Course Learning Outcomes
Master of Arts (International Relations)

Discipline specific knowledge and capabilities

Demonstrate a broad and coherent body of knowledge in the Arts disciplines, with depth in the underlying principles and concepts in one or more disciplines or areas of practice.
Review and analyse major theoretical, conceptual and policy debates and disputes in International Relations pertaining to foreign policy, conflict and security, international and regional politics, globalisation, and international law with reference to empirical cases.

Communication

Demonstrate highly developed skills in oral, written and electronic communication and the ability to communicate research outcomes, and produce scholarly papers.
Effectively communicate the findings and analyses of International Relations theories, concepts and their application to real-world contexts, in a selection of written, oral and digital formats, to a range of audiences.

Digital literacy

Research, analyse, synthesise and disseminate information using a range of appropriate technologies and resources in a rapidly-changing global environment.
Employ a range of digital communication technologies and platforms appropriately to conduct research, engage in debate, communicate findings, and deliver reports and presentations to a diverse range of audiences.

Critical thinking

Use critical and analytical thinking and judgment in selecting and applying appropriate theories and methodologies to evaluate information and knowledge about society, culture and the arts.
Analyse, critically evaluate and synthesise theoretical conceptualisations of international politics and policy responses by a range of actors in the context of the changing international political system.

Problem solving

Apply cognitive, technical and creative skills to generate solutions to unpredictable and sometimes complex problems in the Humanities, Social Sciences and the Creative Arts, including cross-disciplinary approaches.
Employ initiative and creativity in conjunction with appropriate Social Science methods of research and analysis to investigate complex real-world problems in a systematic manner and generate and evaluate potential responses to issues in the areas of conflict and security, globalization, international crises and risks, foreign policy and international law.

Self-management

Demonstrate autonomy, responsibility and accountability for personal actions and a continued commitment to learning in personal, professional, and scholarly contexts.
Demonstrate autonomy, responsibility, accountability and a continued commitment to learning and skill development personally, academically and professionally in the field of International Relations.

Teamwork

Work and learn collaboratively with colleagues, other professionals and members of the wider community.
Work and learn collaboratively with others in the field of International Relations and from other backgrounds while still maintaining responsibility for their own learning.

Global citizenship

Demonstrate an awareness of ethical issues, cultural diversity, and social responsibility when engaging in scholarship and professional roles in the local, national or international community.
Analyse and respond to issues in global politics in domestic, regional and international contexts as a reflective scholar and practitioner, taking into account cultural and socio-economic diversity, social and environmental responsibility and adherence to professional and academic ethical standards.

Approved by Faculty Board
* Application close dates vary. Some courses have limited places, apply early to avoid missing out.
Still haven't found what you are looking for?