Overview
Science at Deakin offers a broad range of study areas, which lets you specialise in whatever you'd one day like to work in. Whether your interest is in understanding the biology of cells or plants, chemistry, working with animals or discovering the history of botany and zoology, our courses have something for you.
Endless possibilities
Our Bachelor of Science allows you to start with a broad program of science in first year, before specialising in your interest area in the following years. With over 10 specialty areas to choose from, our course prepares you for a range of real-life settings.
The most important aspect of Deakin is the hands on practical experiences with small class numbers.
Science student majoring in Animal Biology
Learn more about Shenae's experiences
I originally started my degree at another university but wasn't receiving the help that I needed due to extremely large class numbers. I left that university and applied to Deakin with no regrets whatsoever.
During high school, I was told to pick another career to work towards as my grades weren't high enough to be a vet. Even though I really tried, my teachers were correct. However since leaving high school and focusing solely on animal biology, I have excelled and even received outstanding achievement awards in my animal biology units. With the right help and resources from Deakin, I have been able to successfully complete my units with great results. Once I finish, I hope to do further study in Veterinary Medicine and become a vet.
All of the teachers have been more than approachable, friendly and happy to help. There are amazing facilities that are available to students, as well as many events and student clubs.
Science courses
Study with Deakin and we'll help you transform your passion into a successful and rewarding career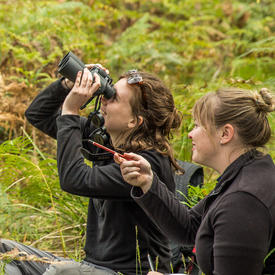 Research with us
The School of Life and Environmental Sciences covers a variety of research areas, from wildlife and conservation biology through to synthetic chemistry and physiology. If you've specialised in an area and would like to develop your thoughts even further, take on a higher degree by research with us.
Recent Deakin research
Fish oil replacement in Australian Aquafeed
This research project is helping Australian aquaculturists plan for a more economically and environmentally secure future. It works by reducing dependence on imported fish oil as an ingredient in aquafeed.
Australia's aquafeed industry quickly took up project findings and developed new, cost-effective and more sustainable diets for the Australasian market.
Work-integrated learning
Our Work Integrated Learning (WIL) program lets you incorporate a full or part-time industry placement as part of your degree, enabling you to develop the skills employers value. It also prepares you for the real-life settings in which today's science graduates work.
WIL placements are designed as elective units and are credited towards your degree. Some placements also come with an industry-funded scholarship.
Career opportunities
Studying science with us gives you potential opportunities to be involved with scientific developments that hold the key to the future, with breakthroughs being discovered every day.
A science degree can lead to work in fields of:
agriculture
biotechnology
the general health and medical industry
pharmaceuticals
animal health
forensics
food technology
education.
What do our students and staff say?
Science at Deakin – a student perspective
Jaimie McGlashan and Karinda Henry talk about their pathways through the Bachelor of Science and taking on further study.
Browse other disciplines within sciences
Choose an area that you're interested in and learn how Deakin's extensive range of study options and experiences can help turn your dreams into reality.
Still haven't found what you are looking for?