Change your enrolment details
Students should ensure that all enrolment changes are completed before the enrolment closing dates.
Change of name
If you change your name, you must email Customer Service to notify them and attach certified documentation to support the change, such as a marriage certificate or Registry of Births, Deaths and Marriages Change of Name form.
Change of address
If you move, you should change your address details online in StudentConnect within 7 days.
Off-campus students should also amend their nominated examination location, if required, by contacting ext-exam@deakin.edu.au.
Deakin University cannot accept responsibility for problems that occur as a consequence of incorrect or inadequate address information having been provided.
Adding or deleting units
If you want to change your enrolment in any trimester of study, you can vary your enrolment online in StudentConnect or by completing and submitting an Enrolment Variation form.
Enrolment variations must be consistent with the course and unit rules for your course. Therefore you are strongly recommended to seek advice from a faculty course adviser before making any changes.
Variations to enrolment may result in the reassessment of tuition fees and the Student Services and Amenities Fee (if applicable), so you should check your revised fees in StudentConnect.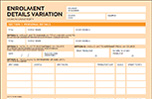 PDF
91 KB
If you receive any kind of Commonwealth financial assistance or a scholarship, you should check whether the changes will affect your eligibility for the scholarship or Youth Allowance before changing your enrolment and ensure that HECS-HELP, FEE-HELP and University deadlines are met (refer to the Important Dates). If you are an international student, you should check if the change will breach the terms of your student visa.
Students are responsible for ensuring that their enrolment is correct in every detail. Any changes to enrolment must be made by the relevant dates; late changes may incur academic and/or financial penalties.
---
Transfer, withdraw or intermit from your course
If you want to apply for a course transfer, to intermit your studies or withdraw from your course, see Enrol, defer, withdraw or transfer.
---