Medicine
Deakin's medicine course provides you with a comprehensive understanding of the practice of medicine. There is an emphasis on the early development of clinical, communication and procedural skills, diagnosis and management of chronic diseases, and multidisciplinary teamwork, as well as an emphasis on rural and regional medicine. Honours and PhD courses in medicine are available. For graduates of medicine and allied health we offer a Master of Clinical Leadership.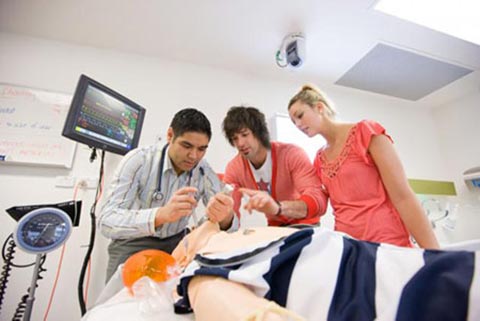 What can I study?
The Bachelor of Medicine Bachelor of Surgery (BMBS) is a four-year, graduate-entry program and is accredited by the Australian Medical Council (AMC).
Four themes are visible throughout the course:
Knowledge of Health and Illness - the biological and behavioural sciences underpinning the practice of medicine;
Doctor and Patient - the clinical skills required to practice medicine;
Doctors, Peoples Cultures and Institutions - a broad theme which includes biostatistics and epidemiology, population and public health, health systems and the effect of culture on health, particularly Indigenous health;
Ethics, Law and Professional Development - the ethical, professional and legal basis of medical practice.
Graduates who satisfactorily complete an accredited intern year following successful completion of this course will qualify as registered medical practitioners in Australia and New Zealand.
For those wanting to build on their leadership or clinical skills, the following postgraduate study options are available to you:
AgriculturalHealth and Medicine
ClinicalLeadership
---
Why study at Deakin?
Problem-based and multidisciplinary learning
In the first two years, you'll mainly learn via problem-based learning. You'll analyse real cases in small groups to learn the basic sciences required to practise medicine. There is a strong emphasis on information technology, which has become an essential part of clinical practice, and on early clinical experience including simulation-based teaching.
You'll also work with students and practitioners from a range of other health disciplines including nursing, psychology, social work, occupational therapy and dietetics. This experience introduces you to working in multidisciplinary teams and develops your understanding of the expertise and role of different health professionals.
Practical work experience and clinical based learning
The first two years of the medicine course are based at the Geelong Waurn Pond's Campus. During this time, you'll attend clinical sites such as hospitals, general practices and community health centres in the Geelong region.
For the third and fourth years of the course, you'll choose one of four clinical schools in Geelong, Ballarat, Warrnambool or Box Hill. Some third year students will have the opportunity to spend the year attached to a general practice in one of a number of rural centres in Western Victoria as part of the Integrated Model of Medical Education in Rural Settings (IMMERSe) program.
Teaching and research excellence
Students are taught and supervised by dedicated and experienced academic staff and clinicians.
The School of Medicine houses a vibrant program of research, including more than 30 research staff, as well as a growing cohort of research students. The school has already established a reputation for research excellence, underpinned by success in National Health and Medical Research Council and other competitive funding schemes, and research publications in high-impact journals. In the 2012 Excellence in Research for Australia (ERA) assessment Deakin received the highest possible ranking (5/5 – well above world standard) for research in Medical and Health Sciences. Only seven of Australia's 39 universities were ranked at this level.
Research that matters
Medical research spans from basic biology through to development and testing of new therapeutics, to epidemiological and health outcome studies. There is a strong emphasis on investigating the causes, prevention and management of common chronic diseases. Our medical research is underpinned by strong strategic partnerships.
---
Study overseas
There is an elective term in the fourth year of the course where students can arrange clinical placements interstate or overseas.
Career opportunities for graduates
General practice
Surgery Pathology
Emergency medicine
Obstetrics
Gynaecology
Paediatrics
Anaesthetics
Geriatric medicine
Radiology
Medical research
Medical administration