Medicine
Medicine at Deakin provides you with a comprehensive understanding of the practice of medicine. There is an emphasis on the early development of clinical, communication and procedural skills, diagnosis and management of chronic diseases, and multidisciplinary teamwork.
The Deakin Medical School, based at the Geelong Waurn Ponds Campus, is the first rural and regional medical school in Victoria.
---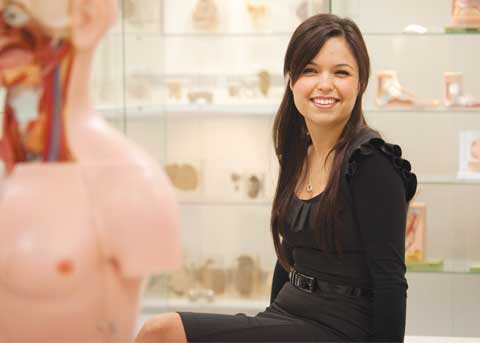 Graduate snapshot
Mahila Abbass
Bachelor of Medicine Bachelor of Surgery
Geelong Waurn Ponds Campus


'Being on the frontline of health and having the ability to promote healthy living behaviours and ensure good health is a great privilege.'
The 'hands-on approach' of the Bachelor of Medicine Bachelor of Surgery program was one of the key reasons Mahila Abbass chose to study at Deakin. That, and the lifestyle that comes with studying in Geelong.
'I love living in the Geelong region and experiencing the waterfront and the coast,' she says.
Aside from the chance to take part in a variety of clinical placements from an early stage in her course, Mahila says other highlights have included the two years she has spent at The Geelong Hospital - where she has been involved in clinical research in the neuroscience department, an area in which she's keen to undertake further study.
---
What can I study?
Why study medicine at Deakin?
The Bachelor of Medicine Bachelor of Surgery (BMBS) is a four-year, graduate-entry program and is accredited by the Australian Medical Council (AMC).
Graduates who satisfactorily complete an accredited intern year following successful completion of this course will qualify as registered medical practitioners in Australia and New Zealand.
Research in Medicine
Doctor of Philosophy
Master of Applied Science
Problem-based and multidisciplinary learning
The main teaching method for the first two years is problem-based learning. You'll analyse real cases in small groups to learn the basic sciences required to practice medicine.
You'll also work with students and practitioners from a range of other health disciplines including nursing, psychology, social work, occupational therapy and dietetics. This experience introduces you to working in multidisciplinary teams and develops your understanding of the expertise and role of different health professionals.
Teaching and research excellence
Students are taught and supervised by dedicated and experienced academic staff and clinicians. The School of Medicine houses a vibrant program of research. Research spans basic biology through to development and testing of new therapeutics, to epidemiological and health outcome studies. There is a strong emphasis on investigating the causes, prevention and management of common chronic diseases.
---
Study overseas
There is an elective term in the fourth year of the course where students can arrange clinical placements interstate or overseas.
---
Medicine courses
View all medicine courses at Deakin. Courses include but are not limited to:
Undergraduate studies
Bachelor of Health and Medical Science (Honours)
Graduate entry
Bachelor of Medicine Bachelor of Surgery
Postgraduate studies by coursework
Graduate Certificate of Agricultural Health and Medicine
Master of Clinical Leadership
Postgraduate studies by research
Master of Applied Science
Doctor of Philosophy (PhD)