Get work-ready
Clinical placements are an integral part of your learning. You'll undertake a variety of short-term industry placements and spend time as a student resident in one of a range of clinical optometric and medical settings. These experiences take place in both metropolitan and regional or rural settings, and will enable you to consolidate your knowledge and skills under the supervision of qualified optometrists.
Undergraduate
Undergraduate (your first degree)
An undergraduate degree is generally completed between two to four years, depending on the pattern of study and any recognition of prior learning you may have. Associate degrees, bachelor and bachelor with honours are all undergraduate degrees.
Postgraduate
Postgraduate (further study)
A postgraduate qualification can be undertaken by students who have already completed an undergraduate degree or possess significant, demonstrable work experience. Postgraduate courses include graduate certificates, graduate diplomas, masters and PhDs, as well as specialist programs for industry professionals.
Career opportunities
Always wondered what an optometrist does? On any given day, an Australian optometrist may perform primary visual assessments, treat advanced eye disease and dispense both prescription medicines and optical aids. As such, optometrists share traits with general practitioners, ophthalmologists and pharmacists. At the same time, most optometrists are business owners providing clinical care and dispensing optical appliances.
If you're after a work-life balance in the health field, optometry could be for you. Why? Work is very flexible if you go into private practice (around 75% of graduates do). However, you're also perfectly placed to explore other employment opportunities, such as para-medical practice, research and work within vision-related non-government organisations.
Indigenous Entry Stream
Aspiring to a career in optometry? In partnership with the National Indigenous Knowledge Education Research Innovation (NIKERI) Institute, we offer a direct entry pathway exclusively for Aboriginal and Torres Strait Islander applicants to study optometry at Deakin.
Regional and Remote Entry Scheme
Do you want to boost your chances of getting into your dream degree? To help address workforce shortages in regional and remote areas, we offer an alternative entry pathway into the Bachelor of Vision Science/Master of Optometry.
With an endemic spread of myopia across the world, I wanted to learn about and practice the skill of a profession that dealt first hand with combating this disease.
Zara Danehsvar
Bachelor of Vision Science/Master in Optometry
Choose an optometry degree that will get you work ready
Discover how clinical placements and a focus on evidence-based practice will ensure you graduate with the crucial skills to launch a successful career as an optometrist.
Learn from the best
Being an optometry student at Deakin means that you'll be exposed to a team of industry-leading experts, ensuring you'll graduate with the confidence and experience needed to thrive in the workplace.
Graduate sooner
Unlike any other optometry course in Australia, you can complete your Bachelor of Vision Science/Master of Optometry in just three-and-a-half years of full-time study.
Medicine and optometry at Deakin
Learn more about our innovative Doctor of Medicine – a unique four-year graduate-entry program aiming to improve the health and wellbeing of rural and regional Australians.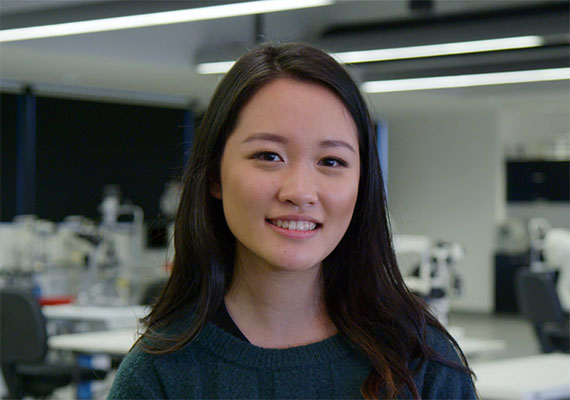 Study optometry at Deakin
Change the way people see the world. Gain practical experience through placements and graduate work-ready.
Accreditation
Graduates are eligible to apply for registration with the Australian Health Practitioner Regulation Agency (AHPRA) and Medicare Service Providers.
Research with us
If you're excited about making a breakthrough and curious about the future of optometry, a higher degree by research could be for you.
We're here to help
If you're dreaming of an exciting and rewarding career in optometry, we'll help get you there.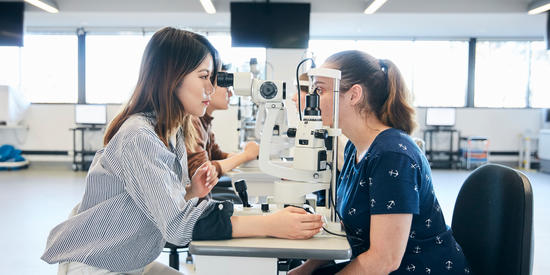 How our optometry courses focus on practical learning virtually
Keen to study optometry? Find out how you can master the skills to treat people's vision with Deakin's Bachelor of Vision Science/Master of Optometry.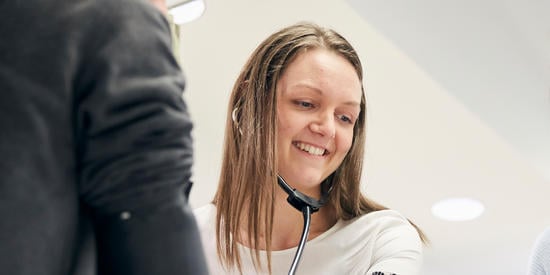 How Deakin's Indigenous Entry Stream opens up a world of opportunity
The Indigenous Entry Stream offers places to study the Bachelor of Vision Science/Master of Optometry, Bachelor of Medical Imaging or Doctor of Medicine.